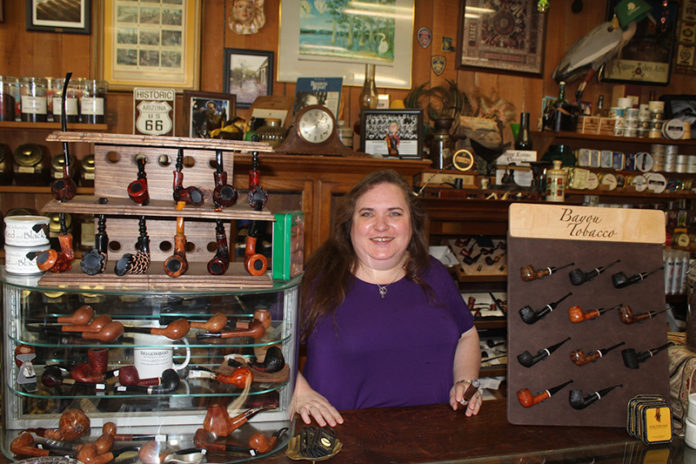 In her wildest imagination, Sarah McCauley never dreamed of owning a premium tobacco store, but sometimes opportunities that might seem out of reach are actually within our grasp—all we need is a little bit of encouragement and help from our friends. And that's exactly what Sarah and her husband Mike received when their favorite cigar store seemed destined to close forever.
A massage therapist interested in cigars, Sarah began hanging out at Bayou Humidor, a shop that could trace its history to 1968 when it opened as House of Briar. Though Bayou Humidor was a male-dominated environment at the time, the regulars soon discovered that Sarah, whose personality mixes feistiness, Southern charm, determination, feminine grace and conservative political views, fit in well, and she became an integral part of
the crowd.
In 2001, Bayou Humidor's owner, Phillip Eversburg, passed away, and the store closed. The regulars needed a place to smoke and continue to gather, so they turned to Sarah and Mike to find a solution. Mike had been in the retail tobacco trade for more than 20 years at that point and had been the longtime manager of House of Briar/Bayou Humidor since the 1980s. He and Sarah had struck up a growing friendship (which turned to marriage in 2008), and the regulars urged them to open a new store.
"After the funeral, we went to lunch with a bunch of guys from the shop," Sarah recalls. "They looked at us and asked, 'What are y'all going to do?' I wondered what they meant by 'y'all.' A year ago I had been just a girl that they didn't want hanging out here, and now they wanted me to save the place. They pretty much browbeat Mike and I to look into it."
The more they thought about the idea of replacing the store, the more they liked it, especially Sarah. After all, Bayou Humidor had become something of a home away from home for her. And it reminded her of her childhood, when her great-grandfather had owned a general store that had become a community gathering place for neighbors to exchange hellos, gossip and solve all the world's problems. She felt it would be a shame to let the friendships and camaraderie that developed at Bayou Humidor disappear forever.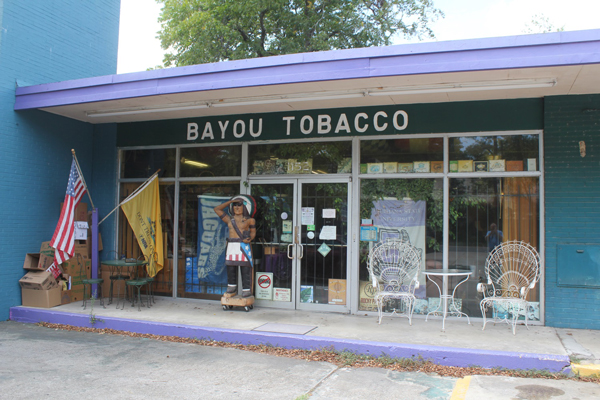 "I had worked briefly with a competitor, so I knew that I could work in the industry," says Sarah. "It all just sort of fell into our laps. We started talking and we realized that we could do it. We got a loan and six weeks later we owned a tobacco store, and I wasn't quite sure how it happened. I had been a massage therapist working two days a week, and now I'm a partner in a tobacco store working six days a week. It happened so fast."
Buying the store, of course, was just the beginning. They were still looking at a lot of work to update it. Money was tight, but that solid group of regulars, who like to call themselves "The Committee," pitched in once again to save their smoking clubhouse.
"They helped us rebuild it," she says. "We opened a new shop. All the regulars took what belonged to them out of Bayou Humidor, and then the day that we opened Bayou Tobacco they brought it all back into the store. In the middle of all that, we had to demolish the interior. One of our longtime customers and my father built the walk-in humidor. We installed new cypress paneling and painted the floors. It was really a community effort to reopen the store."
The community atmosphere at Bayou Tobacco remains strong. Almost all of the furnishings inside the store were donated by regulars. The same is true of the eclectic wall art ranging from photos of nearby Louisiana State University's sports teams to pictures of cigar celebrities, ads for various cigar and pipe brands, and other local paraphernalia, such as Mardi Gras beads. The result is a charming mishmash of decor that adds more character to the already rich atmosphere. Bayou Tobacco has such a comfy, down-home feel to it that it's mighty tempting to act as if you're in your own home. And that's the way the McCauleys like it.
"We're the place to come and be comfortable and smoke in peace," Sarah says. "We're a family-owned business, and when you add our regulars to the mix it's
like a big family here."
With the focus on family at Bayou Tobacco, it should come as no surprise that the McCauleys have a natural affinity for family-owned cigar companies. Brands like Los Blancos, Rocky Patel, Arturo Fuente, Oliva, Gran Habano, Perdomo and La Aurora are prominent inside the humidor.