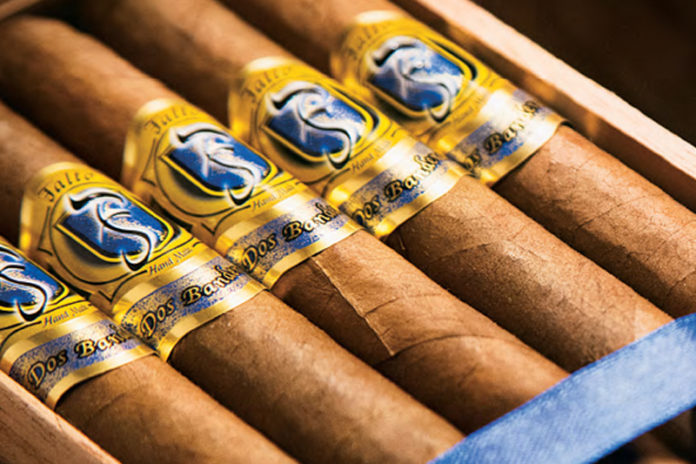 It may be easy to track down Luis Juan Falto, founder of Tabacalera Falto-he always has his phone nearby. When you reach him via phone call or text, however, there's no telling where he might be. He could be at his home in Puerto Rico, managing the day-to-day operations of the business. He could be in the Dominican Republic, testing and retesting tobacco blends for his next creation. Or he could be on the road, visiting customers, or friends as they soon become, sharing his passion for his business and the culture behind premium tobacco.
For Falto, cigars are in his blood. But this isn't a story of a long tradition of tobacco growers or a five generation family of cigar rollers with origins in Cuba. It's a story of an ambitious young upstart who began smoking cigars by stealing them from his father as a teenager and then enjoying them in earnest during the '90s Cigar Boom as a college student in Washington, D.C., and decided he wanted to create a cigar his way.
"There weren't a lot of good cigars back then, so that's how I got the idea," says Falto. "I went to my father, and he gave me the seed money to begin. My idea was to have a very small production of cigars—one blend, one size. So we set up meetings in the Dominican to see who could help us make them."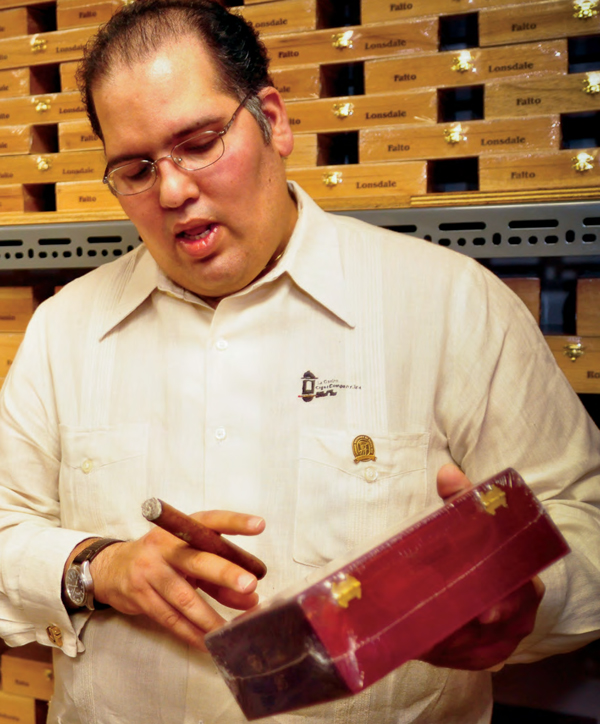 Indeed, Falto and his father went directly to the source, the Cibao Valley of the Dominican Republic, "the mecca of Dominican cigars," as Falto describes it. But with nearly a dozen meetings lined up, the visit didn't quite go as planned. Some of the factories were on
the shadier side, with small operations and even smaller doses of professionalism. Other visits were at more established factories, but they weren't buying Falto's business concept:
"One blend, one size? Nobody does that." Discouraged, but not deterred, they journeyed to their last meeting with La Aurora—the oldest cigar manufacturer in the Dominican Republic, founded by 18-year-old Eduardo Leon Jimenes in 1903.
"It was a bit intimidating, thinking back, because La Aurora was such a big company with other businesses besides cigars," says Falto. "I met Guillermo [Leon Herbert, president of the company] and their master blender, Manuel Inoa, who had just started working for La Aurora. At first, they tried to talk me out of it. Guillermo asked, 'Is this going to be a hobby?' I said, 'No, I'm determined to make cigars on my own.' Then he said I was crazy to do one blend, one size. But in the end, they said yes. I really don't know why they took a
chance on me. Maybe it was fate. Now I've been with them for 23 years—more than half of my life, so we're all family."
With a manufacturing partner in place, Falto believed it was essential to keep focused on his small production concept, believing smaller quantities would ensure strict quality control. From the start, he also integrated himself into each step in the creative process, from choosing the blend to personally knowing each of the torcedores to the design of the box.
"It was important to know everyone in the making of my cigars," he says. "I need to know the face of each cigar person. I need to have a relationship with them, talk to them [and] see how they're doing, because I believe it gives me and them something more special."
This team approach has served Falto well, ever since his first cigar debuted in 1995. And the one blend, one size philosophy has never faltered, as production of each cigar is capped at 100 boxes.
"I call myself an ultra-boutique cigar brand," he says. "I don't want to grow inventory or more production. I don't want to be just any other cigar. I want it to be special. I'm not interested in being just anywhere. My production is for very special customers in very special places."