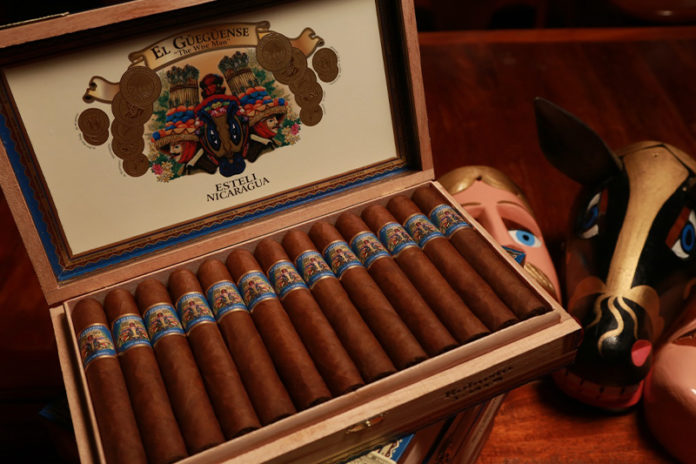 "Tobacco is like a baby. Gotta keep it warm. Keep it sheltered … all the time care. All the time work … and in the end you get nothing but trouble." – Parrish
Parrish, Mildred Savage's 1958 novel and the 1961 film adaptation about tobacco growing in the Connecticut River Valley, might not have won any prizes for literature or Academy Awards, but it has served as something of an inspiration for Nicholas Melillo, owner of Foundation Cigar Company, who keeps a copy of the movie at his Connecticut home and quotes from it occasionally.
"Tobacco is surprising all the time," Melillo explains. "Savage understood that it has a life all of its own. It talks, and you have to be able to listen to it. That's what the best tobacco guys are able to do. It doesn't react the same way all the time. I learned a little about it from Parrish, but seeing it firsthand brought to me how much care it truly needs. Tobacco growing causes some sleepless nights."
Melillo would know. For the past 15 years he's been intimately involved with tobacco growing, tobacco processing and cigar blending—first with Drew Estate and, since last year, with his own company, Foundation Cigar Company. His journey has taken him around the world and led him to adopting Nicaragua, where he spends much of his time working, as a second home. The Southbury, Connecticut, native grew up about an hour west of the Connecticut River Valley's historic tobacco farms, and as a young man, he became fascinated with the cultural heritage of Connecticut tobacco farming. He was also enamored of the pipes and cigars that his grandfathers enjoyed, and while a teenager, he read as much as he could about tobacco.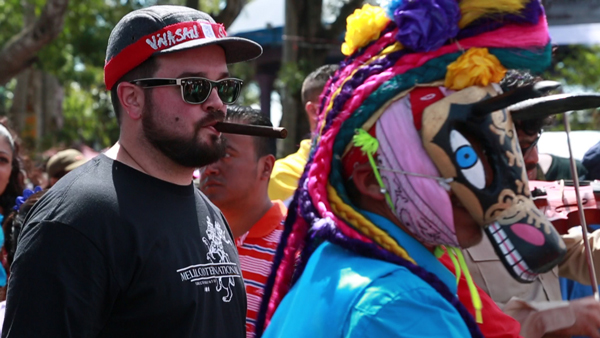 "I was always surrounded by the aroma of broadleaf, and my other grandfather smoked his pipes," Melillo recalls. "I grew up in the enjoyment of the local tobacco, and I started learning about the brands from Connecticut, such as F.D. Grave. I enjoyed a cigar with my grandfather and listened to his old war stories and learned about life. It was part of the ceremony of spending time with him. I was intrigued by the curing, sorting, selecting and the history between Cuba and Connecticut, and the indigenous use of tobacco. By the time I was 18 I knew every brand that was in the market. I knew the blends they were advertising and how much they cost."
In the summer between graduating from high school and enrolling at Quinnipiac University in Hamden, Connecticut, Melillo visited the Calabash Shoppe, a premium tobacco shop that his grandfather had frequented for years. It was 1996 and the height of the Cigar Boom. Melillo saw the long lines at the register and offered to help, giving the shop owner his telephone number. It took a few months, but the week he was set to begin school he got the call and was offered a job.
"They handed me two garbage bags filled with cigars that they had gotten from the RTDA show and told me that I was in charge of ordering new products, and they wanted me to tell them what ones I wanted to bring into the store," he says. "I was in heaven. They weren't huge cigar smokers, and they put me in charge of dealing with all the customers, inventory and new products."
Melillo studied international business at Quinnipiac, and while he might not have harbored any thoughts of working with premium tobacco beyond his college job at Calabash, he began making contacts with manufacturers, including Jonathan Drew from Drew Estate, whom he met in 1999. After graduating in 2000, Melillo found work in Rome serving as a guide to pilgrims visiting the Eternal City for the Grand Jubilee and helping in a soup kitchen. He also followed Ziggy Marley and the Melody Makers around Europe.
After that summer abroad, Melillo returned to the Calabash Shoppe and attended graduate school at Quinnipiac, but the wanderlust had taken hold. A year later, he returned to Italy to work for Italian Passage, a program that guided advanced high school students to the great cultural centers in Italy. From there, he planned to return to the United States the long way, with stops in Spain, France, India, Thailand, China and Japan. While on the trip, he got a call from Drew asking about his plans when he returned to the States.
"I had gone to Honduras the year before to visit Camacho, and that really set things up for me in wanting to learn tobacco," he recalls. "Before Jonathan called, I had planned on taking a trip to Honduras and Nicaragua to learn about tobacco. He knew I was a serious cigar nerd and that I had studied international business, so he offered me a job. I was really excited, but I knew next to nothing about Nicaragua."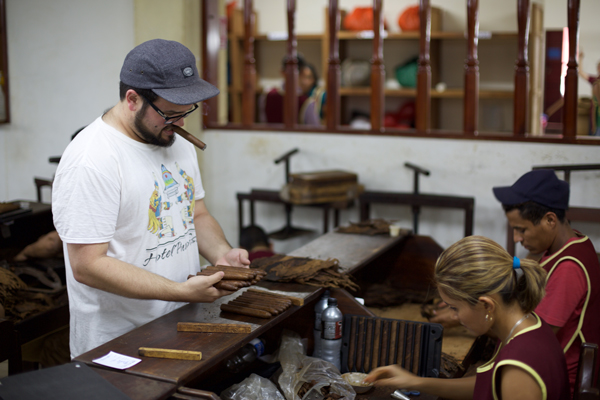 As soon as he landed in San Francisco, Melillo found a bookstore to start a crash-course education about Nicaragua. A month later he was bound for the land of lakes and volcanoes to begin a new job. His education as a tobacco man was about to begin in earnest.
"Up to that point I knew everything only from a book and conversations I had had with cigar makers such as [Carlos Fuente Jr.]," he remembers. "I soaked up anything I could get my hands on and scoured the internet for information so that I was a little familiar with the process. It was a dream because it was the next step in the evolution of learning. I had taken the learning from books and the retail end as far as it could go; now it was time to become a cigar maker myself."
Once he settled in Esteli, Melillo made contacts with tobacco growers in the area. He appreciates the time men like Gustavo Cura from Oliva Tobacco, David Perez from ASP and Fritz Bossert from Universal Leaf spent with him teaching him the art of growing tobacco and blending cigars.
"They taught me a lot about curing, sorting and fermentation," he says. "I began to learn about where the tobacco that gave particular flavor profiles would come from. Nestor Plasencia Sr. and Nestor Plasencia Jr. were always great to me too. It was a dream for me to be able to work with and see the fermentation firsthand. The next evolution for me was to learn how to bunch and roll and then see the fermentation and selection process. I then started blending my own cigars, and some of these became favorites for Drew Estate's fans."
Melillo worked with Drew Estate from March 2003 to May 2014. During his time there, the Drew Estate facility grew to become Nicaragua's biggest cigar factory. After
11 years with Drew Estate, Melillo decided it was time to begin the next step in his career and establish his own company. First, there was Melillo International, a consulting firm, and then he created Foundation Cigar Company.
"It was always my plan to start my own company," he says. "I had always had the entrepreneurial spirit, and if I didn't do it then I would always be second-guessing myself. I'm always learning, and it's a continuous journey. I had started to develop the idea for Foundation and developing a brand. I knew I wanted to do something that would really express my experience of living in Nicaragua. I wanted to tell a story about Nicaragua through the first cigar I made for Foundation."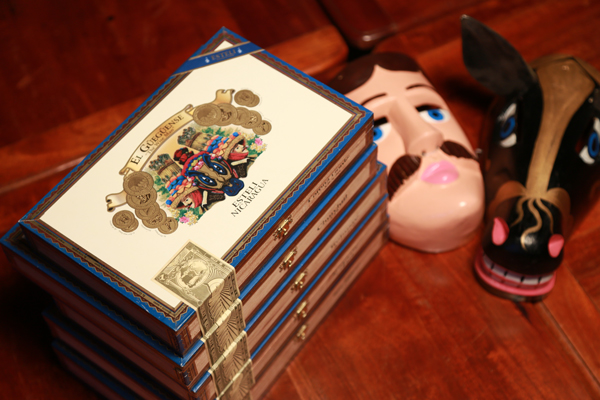 Parrish might have romanticized tobacco growing in Connecticut and captured Melillo's imagination years ago, but a Nicaraguan cultural masterpiece inspired his first cigar, El Gueguense (wah-WHEN-say). El Gueguense is a combination of Nahuatl, the native Nicaraguan language, and Spanish for "The Wise Man." It is a famous and much-loved Nicaraguan folklore character similar in tone to the Brer Rabbit stories shared among slaves in the American South. The wise man might look stupid to the authorities, but his genius is such that he fools his oppressors without their knowing it.
"It is the pride and joy of Nicaraguan culture, and it is recognized by UNESCO," Melillo explains. "It might be a mouthful, and it would score a helluva lot of points in Scrabble, but my Nicaraguan friends wanted it to be true to Nicaragua, so I named the cigars El Gueguense instead of The Wise Man. People have heard a lot about what happened in Nicaragua in the 1980s, and this gives them an introduction to a cultural masterpiece. I really felt like it should be shared with the rest of the world. The word carries recognition even if you can't pronounce it. It's strange and unique, and it's a real passionate project for me because I wanted to put in a cigar box what my experience for the past 12 years living in Nicaragua has meant for me. The cigars are like my biography. If American cigar smokers can't go on a trip to Nicaragua, this introduces them to the history, culture and linguistics of the country. It's like the Statue of Liberty for any Nicaraguan."