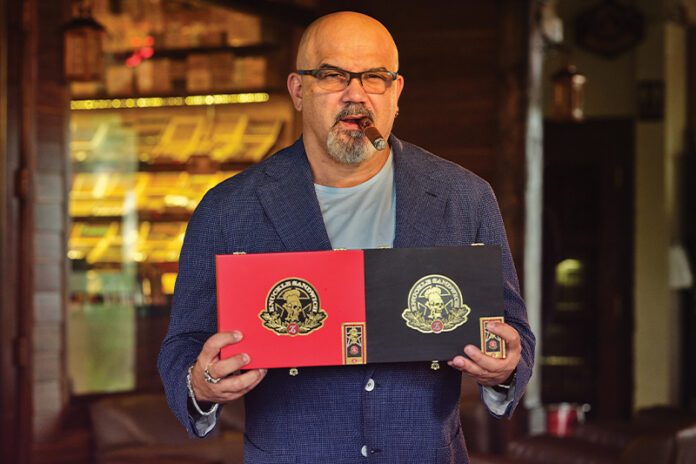 For part 1 of this Tobacco Business cover story featuring Erik Espinosa, click here.
Cooking Up a Hit with Guy Fieri
A big part of Espinosa's business are the cigars the company makes for others. What makes Espinosa Cigars the go-to for many who are seeking a manufacturer for their product is the fact that, regardless of whether the cigar is a Espinosa-banded product or it will be sold and promoted by someone else, it still has to abide by Espinosa's simple rule: It can't be garbage. Quality is everything, and that's something both Espinosa and his business partners have come to realize and accept.
"Here's the thing that a lot of people don't understand: I make more money making cigars for other people than I do for myself," Espinosa explains. "I want those companies to succeed, OK? People will say, 'Wow, this cigar you make for so-and-so was great. Why didn't you make it for yourself?' And I'll say, 'Because that's what they wanted.'"
When working with others, the blending process begins with a simple question: What do you want? To create a cigar, the intended strength is an important characteristic to establish early on. When making cigars for another person or company, Espinosa makes it known that the cigar's success comes down to their actions, not Espinosa's. It's up to the client to promote the cigar, to spend the money that's necessary to advertise it and to pay salespeople to sell it to retailers. When making a cigar for Espinosa Cigars, these responsibilities fall on him; he has to pay for the bands and packaging, commissions on sales, for the marketing of the product. He also has to take the hit on any product that's sent out for salespeople to give away or for special promotions. This is part of the reality of the cigar business that isn't often discussed but that Espinosa understands very well and has no problem discussing.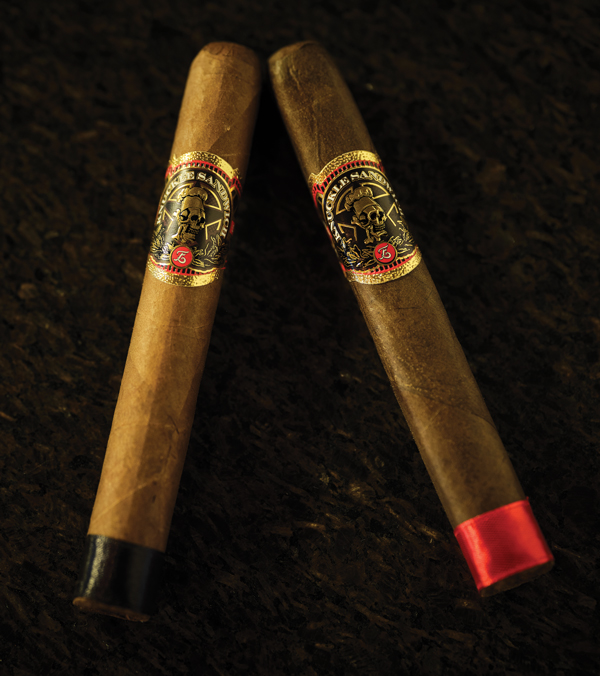 One of Espinosa's most well-known collaborations and projects has been with celebrity chef Guy Fieri, who was referred to Espinosa when he decided he wanted to create his own cigar. When Fieri was in Miami, the two met to discuss the cigar project. Espinosa offered Fieri a cutter and a cigar during their meeting and was surprised when Fieri accepted the cigar but declined the cutter. Fieri grabbed the cigar, bit off the tip and lit up the cigar just as Espinosa himself would. This impressed him because so few people that work in the cigar industry use a cutter, Espinosa explains. This let him know that his partnership with Fieri could be something really different and ultimately produce something really special.
Due to the COVID-19 pandemic, Fieri was unable to travel to the La Zona factory in Nicaragua, so they had to tweak the cigar-making process. Although Fieri is a cigar smoker, there was a lot he still needed to learn in order to make a great cigar, and this was Espinosa's task early on in the process: to teach and to be a mentor.
"He doesn't know what he doesn't know," says Espinosa. "He really loves the business, and he's starting to learn a lot, and I've taught him a lot. From one to 10, when he started, he was a one, but he's getting close to a five and six right now. I want to get him to 10, and he's willing to get to a 10, but in order to get there, he has to go down to Nicaragua and really see everything."
While a 2023 trip to Nicaragua is in the works, there was no real time to wait in terms of creating a blend that Fieri would be willing to attach his name to and then promote. After asking all of the questions that were necessary to figure out what Fieri wanted out of a cigar, the Espinosa Cigars team went to work to create different blends that could fit the outline. Blends were given to Fieri to try, but with the understanding that just because he liked a blend, it didn't mean the work was done. In fact, liking a blend meant the real work was just beginning.
Around 30 different blends were made, and each blend was numbered. Espinosa then gave Fieri a homework assignment: He was to take all of the blends and smoke them over the course of around 15 days—one blend in the morning and one at night. He was also not to smoke any of the samples in between filming or shooting; all of them had to be smoked when he was relaxing and not working. With each blend, he had to write down his thoughts and try to point out which blends appealed to him more. Espinosa and his team did the same assignment. By the end of the process, Fieri met with Espinosa again, and they compared notes. In an unexpected twist, they had chosen the same blends through this process.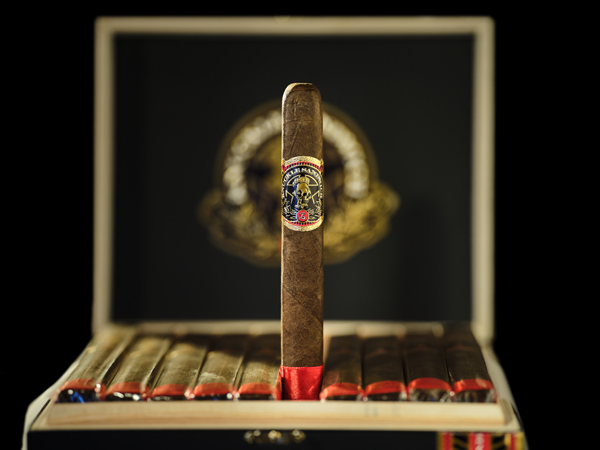 It took nearly 18 months to create the Knuckle Sandwich cigar, and Fieri was involved throughout the entire project. When it was released, it was presented with both an Ecuadorian Habano and Maduro wrapper. The binder and filler for each cigar contains Nicaraguan tobacco grown by A.J. Fernandez's San Lotano factory. Each blend is presented in a Robusto, Toro and Corona Gorda format, and Espinosa knows it's a hit with retailers based solely on the number of reorders.
"It's selling like crazy," Espinosa proclaims. "We've sold more of that cigar than probably any cigar we've ever made here. It's gone crazy. He wears the [Knuckle Sandwich] shirts all the time on "Diners, Drive-Ins and Dives." He was at the basketball all-star game, and he had a cigar in his mouth in the arena. Of course, it wasn't lit, but he was chewing on a cigar. We have meetings once a month with him on how the brand's doing, how we can help. Every time we do an event, he does a little video thanking the retailer for supporting Knuckle Sandwich cigars."
Fieri also made an appearance at the 2022 Premium Cigar Association (PCA) trade show in Las Vegas to support the cigar. Fieri took photos with the show's attendees and signed hats during his appearance and helped make the Espinosa Cigars booth one of the busiest at this year's show. Although Espinosa didn't sell a lot during Fieri's in-booth appearance, his presence had everyone talking about Espinosa Cigars and the company's big energy.
"It was our best show ever," says Espinosa. "He's really a genuine guy. He's a family guy, and he loves the industry. It's great to have a guy like that with his platform. It's going to help everybody in this industry."
At PCA 2022, Espinosa introduced a limited-edition release of Knuckle Sandwich called Chef's Special. This cigar sets itself apart from the rest of the Knuckle Sandwich line because it's a box-pressed 6 1/2 x 52 Figurado with an Ecuadorian Habano wrapper and Nicaraguan filler and binder. Only 2,500 10-count boxes were produced and sold at the PCA trade show.
"We did a limited amount, and we sold them all," Espinosa says of the Knuckle Sandwich Chef's Special. "We got half the order in, and I can't ship it because [if] I do ship it, all hell will break loose. So I'm waiting for the other order to get in to ship it to everybody at the same time. I can sell anything I want to any shop one time. The issue is the reorders—that's how you know if a brand's successful."
Knuckle Sandwich is just one example of a recent Espinosa Cigars release that's captured the attention and excitement of the industry. La Bomba is a full-bodied smoke known for its bold flavor that hits the smoker on the first draw. Earlier this year, the company introduced the eighth release of the 601 La Bomba Warhead series. The 601 La Bomba Warhead VIII is a 6 x 60 box-pressed Gordo featuring all Nicaraguan tobaccos. The Espinosa Las 6 Provincias CMW is the fourth release of this series that was developed in recognition of Cuba's six original provinces. This cigar's tobaccos represent all of Nicaragua's growing regions. The company also had two releases that commemorate the company's 10th anniversary. The La Zona 10 Year Anniversary celebrates the 10th anniversary of the company's factory, and thus this release was blended to be reminiscent of the first cigars produced by the factory. It has a Brazilian wrapper and a Nicaraguan binder and filler. The other "celebratory" cigar is the Espinosa 10 Years Anniversary cigar. This is a Nicaraguan puro that features a Nicaraguan Habano hybrid wrapper and Nicaraguan binder and filler.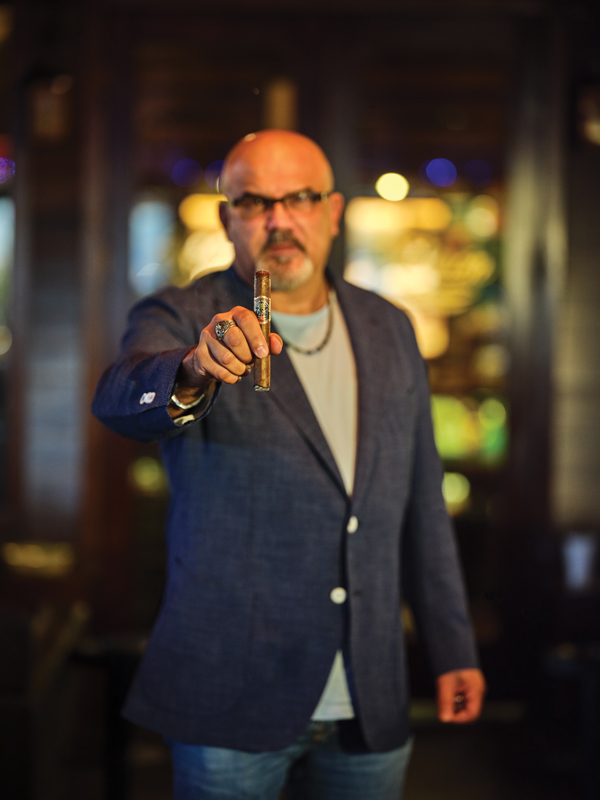 Making Business More Personal
As Knuckle Sandwich and some of Espinosa Cigars' most recent releases demonstrate, Erik Espinosa's company has no problem coming up with blends and releases that get the industry talking. It's packaging that causes problems and disrupts the flow of business for the company. Shipping issues continue to plague the tobacco business even as the pandemic continues to wind down, and that means boxes are harder to get. Those that make cigar bands are in such demand that there's now a backlog and waiting list. Even when a cigar has been rolled and is ready to go, a lack of bands and boxes means there's a delay in the cigars being released when they are ready for market.
"We have to be focused on getting cigars out because if we don't have that, then people are going to try other cigars, and what are the odds of you going back to mine? We have to keep putting them in their face, letting them know we have the cigar," Espinosa explains.