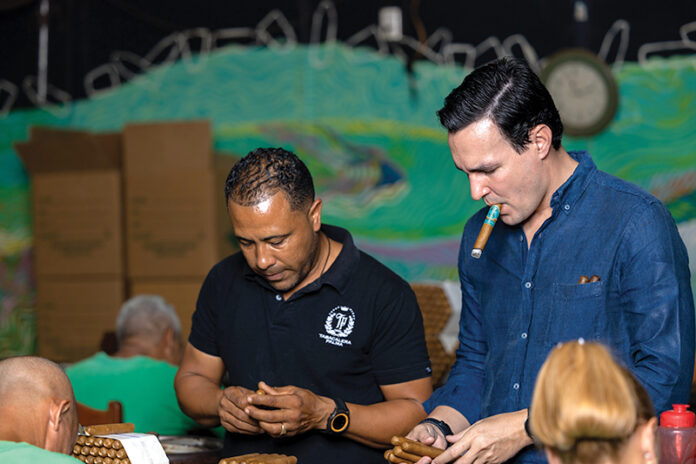 Jose Seijas got his start in the tobacco industry back in 1974. At age 24, he was hired to work at Consolidated Cigar Corp.'s Tabacalera de Garcia, where he was initially responsible for the factory's quality control needs. Jose wasn't really a cigar manufacturer at the time; he was an industrial engineer whose skill sets made him a good choice for directing the factory's engineering department. His department was primarily responsible for sorting and fermenting the factory's Connecticut Shade and Broadleaf tobacco. This was Jose's introduction to the world and business of tobacco. The wrapper processed in the Dominican Republic factory was exported to another factory owned by Consolidated. In 1978, Jose was sent to work in Consolidated's factory located in the Canary Islands.
By 1984, things had changed. For one, the Canary Islands had fallen out of favor as a place to have a manufacturing operation. This change led to a shift back to La Romana's Tabacalera de Garcia, and employees like Jose were tasked with overseeing the transition, a process that included training a new workforce while also remaining competitive.
One of the tasks Jose was entrusted with was training staff in bunching tobacco by hand rather than by machine. This change required more time and was costly, but it led to improved cigar quality. Other cigar making processes that were once handled by machines were eventually transitioned to being done by hand, and Jose found himself leading the way. His experience and expertise eventually landed him in the position of vice president and master blender for the company. The industrial engineer was now a full-fledged cigar man.
Another big event in Jose's life was the birth of his son, Enrique, in 1984. As the years went on, Enrique got to see his father become a prominent figure not just at Tabacalera de Garcia and in the tobacco industry but also as a well-respected community figure.
"I really looked up to my dad not because of what he did cigar-wise but also what he represented in the community: how we help people and the passion that he showed for the business," Enrique explains. "I always wanted to work with him. My dad retired from Tabacalera de Garcia in 2011, I believe, so for me, it was a great opportunity to start working with him."
When Enrique worked with his father at Tabacalera de Garcia, he took a page out of his father's book and did many things within the factory to help him learn more about cigar making. When his father chose to retire, Enrique didn't feel like it was the end of his father's time in the tobacco industry, nor was it his. That's when what Enrique refers to as a "retirement project" presented itself: Why not start their own cigar brand?
Matilde Cigars, though it's now synonymous with the Seijas family, was a brand with a history that dates back long before the 2010s. Matilde was a Dominican brand that was founded in 1876 by Simeon Mencia, who passed away around 1913. Enrique and his father wanted a brand that would pay homage to their home country and their heritage, and Matilde offered them a brand that would not only honor the past but also allow them to carry on the traditions far into the future.
"We were born in the Dominican Republic," Enrique explains. "Eighty percent of all the tobaccos that we use are Dominican, and besides that, we manufacture cigars in the Dominican Republic. We wanted to revive something that had Dominican roots, just as we do. That's why we had a historian looking at different brands of cigars, and Matilde came along. We liked the name. In fact, we loved the name. We liked the logo it had at the time, and we revived it. This project started about 2012, and we actually launched our first line, Matilde Renacer, in 2014. Renacer means 'rebirth' or 'reborn' in English and Spanish. It was a very significant name for us because it was the rebirth of Matilde as a brand but also the rebirth of my dad in a sort of way."
Even with the years of experience Jose had in the tobacco industry, starting a new brand still required the father-and-son team to learn new things about cigar making, but it also came with some new advantages. "If you think about it, he came from managing, I think, almost 5,000 employees and producing millions of cigars to working with about 25 employees and producing a couple thousand cigars," says Enrique. "So, the cool thing for him was that he was able to speak with his rollers and his bunchers and explain what he wanted to achieve."
One challenge the pair faced was adjusting to working in a non-corporate setting. "If you think about it, we come from [the corporate world]," said Enrique. "My dad ran Tabacalera de Garcia as a business unit, so he worked it as a business unit. It was so corporate, and there was a very different dynamic and very different finances. So that's for starters. I mean, finances by themselves are another thing. We come from manufacturing. My dad comes from manufacturing. My dad didn't come from marketing. He didn't come from sales. My dad's a genius when it comes to making the cigar and making it consistent, but after we make cigars, how do we sell them? That was the fun part: getting into that side of the industry, which was the actual distribution, the resale, the promotion, the marketing—that was all a learning curve for us."
Enrique had experience working with distribution within the Dominican Republic, but even that experience didn't entirely prepare him for the distribution needs of a cigar brand. Although Enrique describes the Dominican Republic as a consumer market today, when Matilde first launched, it was more of a travel retail business and required a different type of sales plan. When it came time to try to break into the U.S. market, even that required a new approach to sales and marketing.
"It was a different dynamic," Enrique explains. "The different steps you have to take to import, sell and resell the cigars; the different cost structures. It was a huge learning curve for us, and it's still a learning curve. We're not new, but we're not old either. You learn something new every single day. It's been a ride, I can tell you that."
Today, Enrique has become the face of and driving force behind Matilde Cigars, and his father is now fully retired.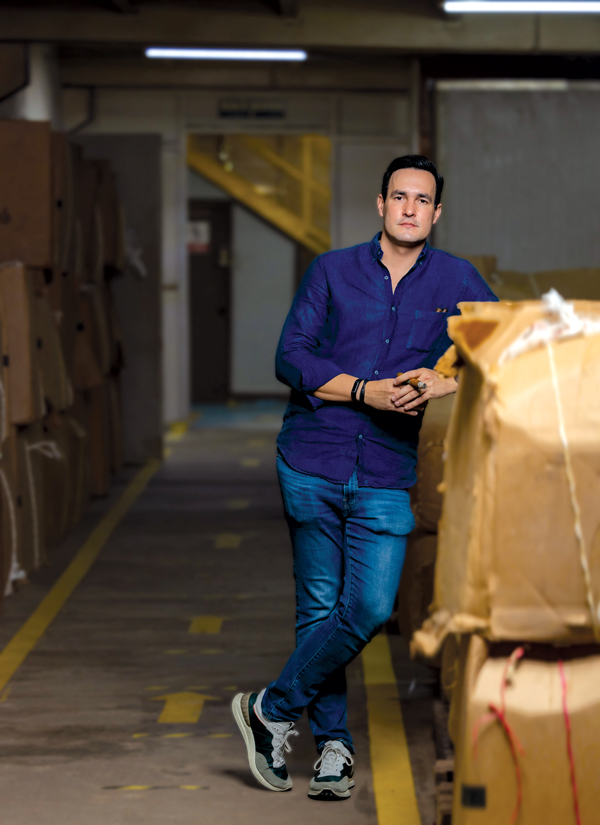 Exposing the Process
Enrique shares his father's love for the cigar making process. He loves the farms and seeing how tobacco is grown. When he worked at Tabacalera de Garcia, Enrique's primary focus was on the manufacturing side of the cigar making process. He spent time learning all he could of the manufacturing side while in Santiago, Dominican Republic, and also by traveling to Mexico, where he spent time working with and learning from the Turrent family. He was particularly intrigued by the seamless way the bunchers and rollers worked and the high quality of the cigars they made.
"What they create is so intensively hard to do," he says. "That specialization that the rollers have and the ease that they have in making a cigar consistent, cigar after cigar, bunch after bunch, is something beautiful that I really enjoy. I enjoy seeing the quality control process when it comes to that. That's something I have in common with my father."
Being an industrial engineer, Enrique's father enjoyed deconstructing every process, even those that were done well, just to figure out if there was anything that could be done better. This is another trait Enrique picked up on and now incorporates into his daily habits. Anytime he visits a factory, he takes notes on his tablet and documents the process: What does he see happening? What new things are on the horizon? What, if anything, can be done better?
"My process is very much documented by pen and paper," he shares. "Digitally, that's something that I need to do more of: social media and my Instagram to document the process and actually expose the process. One of the cool things nowadays is that you can show the process—show what's going on behind the brand, what you're doing, when you're blending something. It's a very interesting side of the industry. I believe as cigar manufacturers or brand owners we should be showing a little bit more of this so people will get to know more of what goes on and understand why cigars are what they are."
Even as a brand owner, Enrique continues to challenge himself to learn more about how cigars are made, and he encourages others in the cigar industry to do the same. He's taken a lot of cigar factory tours and has also conducted a few, especially when Matilde owned its own manufacturing facility. Most of the time, the people that go on cigar tours while visiting a place like the Dominican Republic have never been in a factory, but they're curious about the process or are friends with a cigar smoker and have come along for the experience.
Visiting the factory allows them to see the tobacco sorting process, how the tobacco is conditioned and prepped for blending, and what the bunchers do. The question Enrique has heard the most during these tours is, "Why are cigars so expensive?" It's only by taking a tour and seeing cigars being made and the many processes involved that they get a satisfying answer to that question.