"People notice that cigars are an art form," he says. "It might be an industrialized art because we are an industry, but it's art. Every single cigar that we make is a piece of art, and every single cigar is uniquely different. The coolest part is that for people that don't smoke or aren't passionate about cigars, when they see this process, they're like, 'Wow!' They come out with a different opinion saying, 'Cigars are different; this is an art. It is something that we need to keep. It's something that's beautiful.'"
Making Standout Cigars
While some may visit a factory out of curiosity, for Enrique, the factory is where Matilde really comes to life and where the real work is done. When many factories were shut down during the COVID-19 pandemic, Enrique used the time to reevaluate Matilde's business and to work on new things. During the pandemic, Hostos Fernández Quesada opened Tabacalera La Isla, a new factory located in the Dominican Republic. Enrique has known Quesada since his university days, and both had wanted to work together. The new factory and the unexpected slowdown of business gave both the opportunity to create something new, which is how the Limited Exposure project was born.
"With the Limited Exposure, it's exposed at limited amounts of time," says Enrique. "The concept of the project is having three blends that will be released every six months. So every year you'll only see two of the blends, and then the next year you only see two other blends, to keep the 'what's new' feel because you won't see the blend in 18 months, and we can keep it moving and growing. It's a long-term project that's meant to grow organically within the stores that have it."
Launched in the summer of 2021, Limited Exposure No. 1 is a medium-bodied cigar made with a Mexican San Andrés wrapper and Dominican binder and filler tobaccos that include Piloto, Corojo and HVA. It launched in a Toro size, and during this year's Premium Cigar Association trade show a 6 x 42 Lonsdale was released as a follow-up. At the TPE22 trade show, Matilde introduced Limited Exposure No. 2, which is made with an Ecuadorian Corojo wrapper and four Dominican filler tobaccos. Enrique describes this cigar as having the perfect balance of sweetness and spice as well as aromas that will remind the smoker of a bouquet of flowers.
Limited Exposure is a special project that serves as a complement to Matilde's core lines. The Renecar was Matilde's very first release. It's a robust smoke with a heavy, sweet molasses flavor profile and notes of dark chocolate and black coffee. Serena is Matilde's mild to medium-bodied cigar. It's a cigar blended for morning enjoyment and perfect for the beginner smoker. This cigar features a Connecticut Ecuadorian wrapper, filler from the Dominican Republic and Nicaragua, and a Dominican binder.
For fans of strong cigars, Matilde's Oscura delivers on strength as well as flavor. It has a combination of Dominican, Nicaraguan and Pennsylvanian filler tobaccos wrapped in an Ecuadorian Sumatran binder and finished with a San Andrés wrapper. Cigar enthusiasts can expect notes of black and white pepper with a subtle hint of sweetness. Rounding out the portfolio is Quadrata, a box-pressed medium to full-bodied cigar. This cigar has a Habano Ecuadorian wrapper, a Dominican binder, and filler from both the Dominican Republic and Nicaragua. All of these cigars are manufactured at Jochy Blanco's Tabacalera Palma.
Colors also play an important role in Matilde Cigars' branding efforts. Knowing that different colors can trigger different feelings and actions, Enrique's aim was to use colors in the bands and packaging that would help Matilde's products stand out in the humidor. The challenge was to find colors that wouldn't be too bright but that would still stand out. A pastel color palette was chosen, and it was discovered early on that colors could help retailers and consumers better identify Matilde's various cigar lines.
"With the Limited Exposure lines, I wanted to differentiate them from the more classic look of the core lines," says Enrique. "If you notice the [cigar] rings, they have a brighter color and a lot more gold that pops out compared to our normal ring. If something limited comes out, I want it to stand out a little bit more. The Limited Exposure No. 1, which is this beautiful bright red, is the color of an endemic orchid in the Dominican Republic, and the purple used in Limited Exposure No. 2 is the color of an endemic flower called Campana in the Dominican Republic. I usually take a lot from the [Dominican Republic] as we are Dominican."
The distinctive colors also allow consumers to quickly identify which Matilde cigar they like, making repurchasing a lot easier. Rather than having to memorize the cigar's name, a consumer can instead simply state what color band the cigar had, making it easier for them or the retailer to select the product that they want. Colors and the way the cigar is branded and presented are just part of the sale. For Enrique, every Matilde cigar must have a good burn and draw, and it also needs to be consistent overall. In addition to being well-constructed, there are some subjective aspects of the cigar that are harder to control but have a lot to do with whether a cigar can be considered good or not.
"That's where your brain comes in: your past experiences, your mood," he explains. "I've had cigars that I have not liked because I'm in a bad mood, or sometimes a cigar gets me in a good mood because it reminds me of something. When it comes to that, marketing and perception has a lot to do with it. Perception is huge."
Although price may impact perception to some degree, Enrique goes back to the importance of understanding the process when it comes to making his brand and other premium cigars in general appeal to new smokers. Premium cigars are handmade and are not mass-produced products—that's what makes them special and that's what has to be communicated to the end consumers. The process is what he talks about when he's traveling in support of Matilde Cigars. It's the story of where the tobaccos are grown, the farms and manufacturers the company works with, and how all of its cigars are handmade that make the brand appealing and worth purchasing and smoking. Quality, consistency, good construction and a good story are the best marketing tools for Matilde Cigars.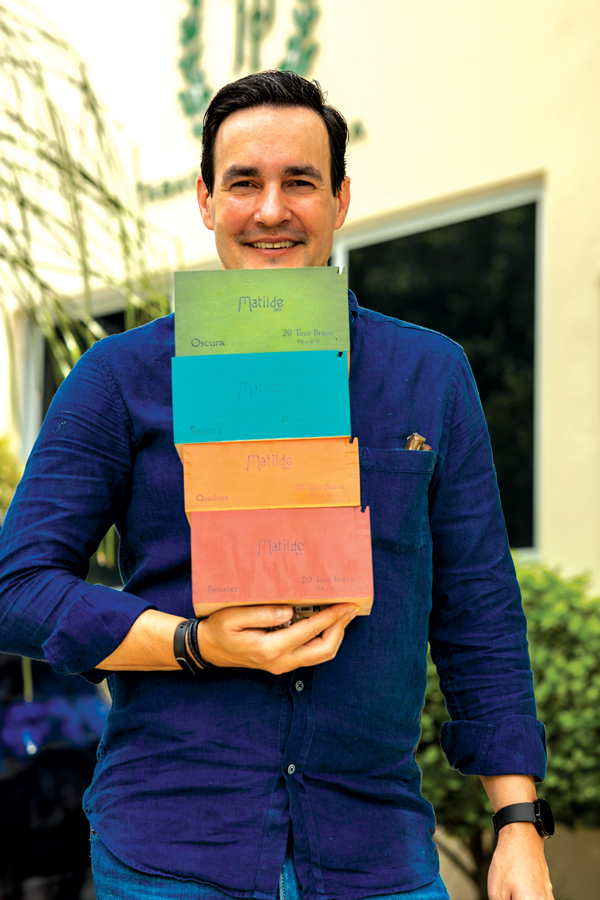 A Father's Business Advice
Many people interested in starting their own cigar brand ask Enrique for advice on how to get started. He offers them the simple advice that a good business starts at home, meaning a cigar brand needs to make it in its country of origin before one even considers going international.
"If you have a cigar brand and you're making it here in the Dominican Republic, if you don't 'make it' in the Dominican Republic, don't think about going to the States or anywhere else," he advises. "If you can't make it in your hometown, it's pretty hard to make it elsewhere."
For Enrique Seijas, "home" is where a business must be situated. He grew up seeing his father spend a lot of time in the factory, and as he himself has worked on building up the Matilde Cigars brand, it's been important for him to find a good work/life balance. He stated early on in his marriage that once he and his wife had children, he'd be cutting back on traveling and would be more present. Now that he's a father, he still goes into the office, but he makes sure he leaves early enough to have a good amount of time to spend with his family. He still makes it out to the big events like industry trade shows, but he also conducts a lot of meetings with retailers and international business partners through Zoom and other virtual conferencing software.
His family is everything to Enrique, and they figure into a lot of what he does and how he conducts himself in business. When asked what's the best advice he can offer other entrepreneurs, he recalls something his father Jose once said that's always stuck with him: It doesn't matter how much money you make; you have to love what you do.
This story first appeared in the November/December 2022 issue of Tobacco Business magazine. You can view the entire issue online for free by clicking here.

– Photography courtesy of Matilde Cigars. Story by Antoine Reid, senior editor and digital director for Tobacco Business Magazine. You can follow him on Instagram @editor.reid.