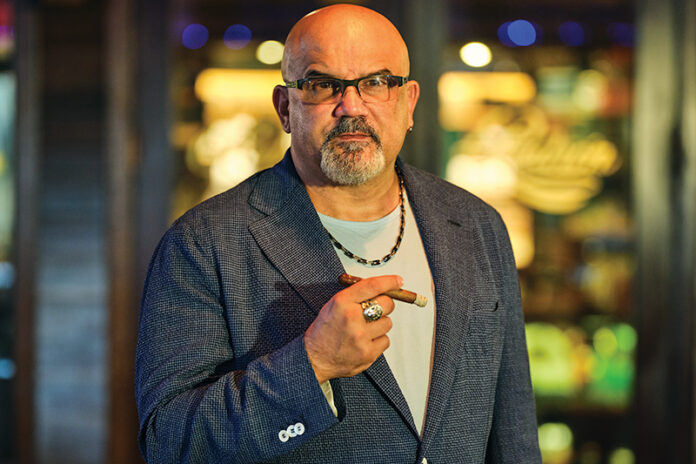 There's no one in the cigar industry quite like Erik Espinosa. He's a businessman but not the type you'll find sitting behind a computer all day wearing a suit and tie. Instead, the 55-year-old has been in the cigar business for over 23 years and has built a reputation and cigar brand that's been recognized for numerous years by Cigar Aficionado for making some of the best cigars—and it even got the attention of celebrity chef Guy Fieri when he was looking for someone to help him make a cigar. Espinosa describes himself as being the "cool dad." He listens to rap music, wears Yeezys and considers the song "Hate it or Love It" by The Game and 50 Cent to be not only his company's anthem but also a good summary of his approach to business.
"Hate it or love it, the underdog's on top, and I'm gon' shine, homie, until my heart stop. Go 'head, envy me; I'm rap's MVP. And I ain't going nowhere, so you can get to know me," he recites the lyrics without missing a beat, as if he himself penned the track.
Espinosa has earned the reputation of being the "alpha dawg" or the "man's man." His company, Espinosa Cigars, has become a juggernaut in the cigar world. At this year's Premium Cigar Association (PCA) trade show, Espinosa Cigars' booth was one of the busiest throughout the show. With an appearance by Guy Fieri and numerous new releases available, retailers have taken notice and are loving what Espinosa Cigars is doing. No longer is Espinosa Cigars the new kid on the block that has to prove itself; Espinosa and his team have tweaked their business's recipe for success over the years to the point that they're now able to dish out hit after hit to the delight of their retail partners and consumers.
What's been the big driver of Espinosa Cigars' success over the years?
"I hate to lose," Espinosa says. "If you find me someone who likes to lose, I'll show you a loser."
Espinosa knows what ingredients are necessary for a good cigar. He knows what flavors his customers are looking for as well as which ones they're not interested in. He knows how the tobacco has to be aged and treated before it gets worked into a blend. He knows how long a cigar must sit before it gets smoked. These things are second nature to him. What he gets about business that's helped him make Espinosa Cigars a powerhouse is the reality of business. With Espinosa Cigars celebrating 11 years of being in business, Espinosa shares the lessons he's learned about leadership, cigar making, and why retailers and consumers have made him and his company the MVP of the cigar industry.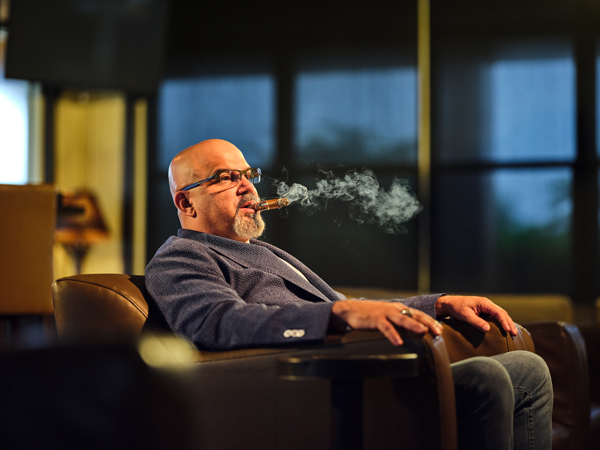 A Brand Born Out of Necessity
Espinosa has been working in the cigar industry for 23 years, 11 of which have been spent running his own company and brand, Espinosa Cigars. The cigar business has obviously changed over the course of the two decades and some odd years since Espinosa first entered the industry. Espinosa notes that the quality of tobacco has gotten better over the years. The type of cigars most consumers smoke today are different from what they smoked when he first started in the industry. Today's cigar smoker is willing to give more brands a try, whether they carry the name of an iconic brand or company or they are produced by a smaller, lesser-known manufacturer. More cigar consumers are also learning about cigars and new products through social media, something that's helped pave the way for Espinosa Cigars and helped the company dominate the cigar business today.
Espinosa is a leader first and boss second. Everyone knows he's in charge at Espinosa Cigars, but any discussion about his company and the success it's experienced hardly includes "I" and instead is all about the "we." When talking about the inspiration for Espinosa Cigars, he shares a story about how his son and family and the desire to take care of them and provide for them inspired him to create his own company and premium cigar brand. His son, who is also named Erik, gets the credit for keeping him in line and helping to build up the reputation of the company and its brands in recent years.
Then there's Hector Alfonso, Espinosa's blender, who has worked on the company's well-known cigars like Laranja, La Bomba, 601 and Crema. Jack Toraño is Espinosa Cigars' director of sales, while Richie Otero handles the company's key accounts. When asked to describe his own role within the company, Espinosa explains that he's head of the company but his primary job is to give everyone who works for him the necessary tools and permission to do what they do best in order to help it grow.
If you ask Espinosa why he launched his own cigar brand, he'll tell you it was done more out of necessity than being a conscious choice. Before Espinosa Cigars was a thing, Espinosa was an independent broker. Before that, he had held a series of different jobs within the industry, from working in a warehouse to being an in-house sales representative. After serving as a sales representative for what today is known as Camacho Cigars, Espinosa tried his hand at being a sales manager before becoming an independent sales representative. In this role, he sold for a number of different well-known brands and companies, including Drew Estate, Rocky Patel, Gurkha and Alec Bradley. Though he had success as a sales representative, he came to realize that no amount of achievements as a sales representative would give him the job security he was looking for.