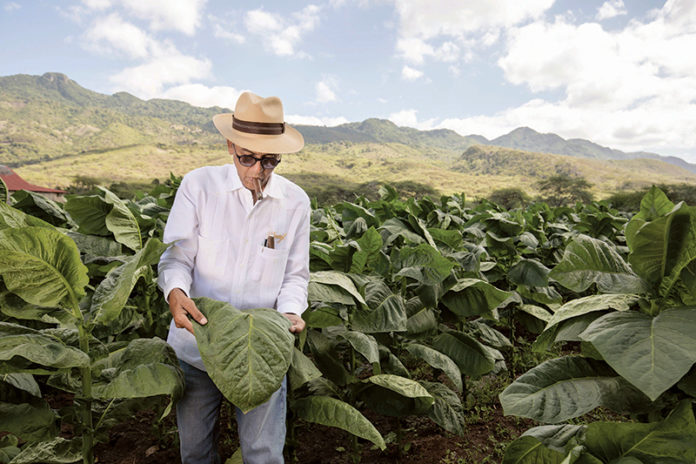 Part 3 of Tobacco Business Magazine's special feature "The Fantastic Four," which looks at the cigar making super team behind Davidoff Cigars. In this part, we take a look at Manuel Peralta, Oettinger Davidoff's chief agronomist. You can read the previous installments on Hendrik Kelner (click here) and Hamlet Espinal (click here).
Manuel Peralta: The Tobacco Whisperer
Those strict quality-control standards extend far beyond the factory and begin with every tobacco seed that Tabadom plants, every priming the company pulls from its fields, every leaf that it hangs in its curing barns and every pilon of fermenting tobacco. Producing the best tobacco takes patience and requires an uncanny ability to determine what the tobacco is telling its producers. With 47 years of experience growing and processing tobacco, Peralta is Tabadom's chief agronomist. Having known no other career, Peralta possesses a depth of knowledge and experience that is nearly unrivaled in the premium tobacco industry, and it's a job that has given him a lot of pleasure throughout the years.
"Working with tobacco is a joy; it is my passion," Peralta explains. "If we give the tobacco our dedication and our attention—a lot of attention—it responds to our efforts and dedication by growing well and strong. This is pure pleasure. Difficulties in growing and processing tobacco occur when we do not dedicate the right amount of time that it needs and merits. The time we dedicate to tobacco is never enough; we are always there to please this friend."
Tabadom contracts with numerous farmers in roughly 15 different growing regions, most of which are located in the Dominican Republic's Cibao Valley. As the company's chief agronomist, Peralta spends a lot of time with these farmers, ensuring that they adhere to the company's strict quality standards. His favorite time of day are his mornings spent in the tobacco fields, when the leaves stretch skyward, soaking in the sun and transporting the dew from the previous night to the root system.
Many of those tobacco plants with which Peralta communes most mornings come from seeds that he has helped Tabadom develop throughout the years. Davidoff has been a leader in developing new seed strains—702 and Yamasa are just two examples. The research and development of new seeds are driven by two goals: creating tobaccos that are stronger and more resilient in the fields and that present new sensory characteristics that meet the demands of an ever-changing cigar market.
"We are prepared to meet the challenges that the different tastes demand because we have a range of soils specially selected to grow the different seeds that make up our blends," Peralta explains. "Tabadom allows me to do so many experiments with different seeds. This allowed us to create a range of specific seeds with great potential to satisfy the most demanding palates of our cigar aficionados. We also have special regions for every single variety of tobacco that enhances our ability to meet consumers' taste needs. Every tobacco variety has different sensory characteristics, and its cultivation can differ in many aspects. For me, the Yamasa region provides the best environmental conditions for tobacco growing as it has a lot of mineral components, in particular a very high content in iron, which gives a cigar a long aftertaste on the palate."
Each day presents different challenges for Peralta. Days in which he might be planning to manage tobacco harvesting might be interrupted by rain, or some other surprises might pop up, but after so many years, the golden leaf itself holds few surprises. He has learned the ➤ language that tobacco speaks and can interpret its needs with ease.
"After all these many years working with tobacco—blending different varieties, types, and sorts of tobacco and having managed to enhance the most desirable sensory characteristics—it does not surprise me anymore," he says.
This story first appeared in the May/June 2019 issue of Tobacco Business magazine. Members of the tobacco industry are eligible for a complimentary subscription to our magazine. Click here for details.
– By Stephen A. Ross, senior editor of Tobacco Business Magazine.