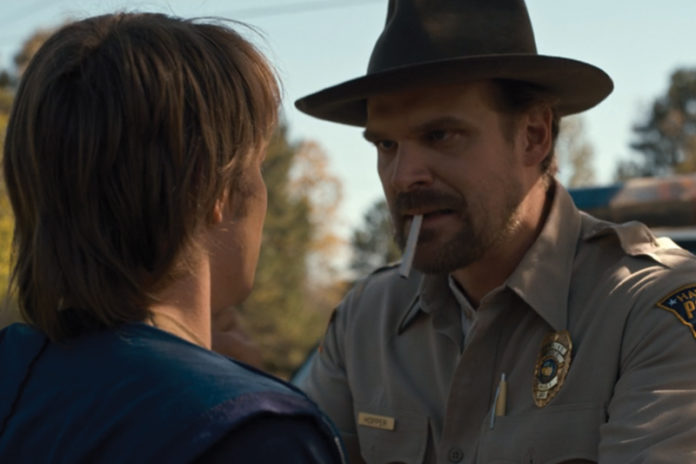 Season 3 of Netflix's Stranger Things made its debut on July 4, 2019, and while many critics continue to praise the sci-fi series for its creativity, others are criticizing the show's depiction of characters using tobacco products, causing the popular streaming service to review the use of tobacco in all of its films and shows going forward.
Netflix has revealed that going forward, all new projects that it commissions with ratings of TV-14 or below for series or PG-13 or below for films will be smoking and e-cigarette free. The only times this new rule will not apply is when those films or series have reasons of historical or factual accuracy. Netflix told the Hollywood Reporter that while it supports artistic expression, it also recognizes that smoking is harmful and when portrayed positively on screen it can have an adverse influence on young people. For that reason, smoking and e-cigarette use will be eliminated unless it's a character-defining trait.
This latest restriction of tobacco use in the media comes after The Truth Initiative released a report that outlined the use of tobacco in 13 shows across broadcast, cable and streaming services. That study found that for a second consecutive year, Netflix topped the list with nearly 866 instances of tobacco use compared to the previous year of 299 depictions of tobacco use. The Truth Initiative first identified the top programs on streaming and broadcast networks through an online survey of 750 youth and young adults between the ages of 15 and 24, then had researchers view more than 400 episodes and 350 hours of programing to document tobacco depictions. Any time a cigarette pack or tobacco product appeared on screen, it was counted as a separate incident, even if multiple packs or tobacco products were shown in the same scene. Stranger Things and Orange is the New Black were found to be among Netflix's most popular shows that showed tobacco products and use. ABC's Modern Family was among the biggest offenders on the broadcasting side. Other shows criticized in the report included Amazon Prime's The Marvelous Mrs. Maisel and Hulu's Gap Year.
Netflix will begin including information about tobacco use in the rating boxes associated with each show or film. It is unclear what impact a decrease in tobacco use will have on youth use or what the impact will be on films and shows.
You can read The Truth Initiative's full report, "While You Were Streaming: Smoking on Demand – A Surge in Tobacco Imagery is Putting Youth at Risk" by clicking here.