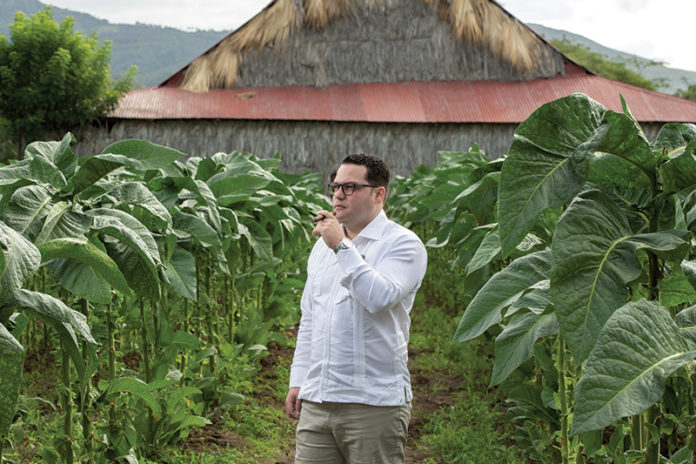 Part 2 of Tobacco Business Magazine's special feature "The Fantastic Four," which looks at the cigar making super team behind Davidoff Cigars. In this part, we take a look at Hamlet Espinal, Oettinger Davidoff's vice president and head of global production. For part 1 on Henke Kelner, click here.
Hamlet Espinal: The Mastermind
Nearing 40 years of age, Espinal is the youngest member of the Tabadom management team. He is also the newest member, having worked at Tabadom for "only" 21 years. Like Kelner, Diaz and Peralta, Espinal grew up around tobacco; his father owned a tobacco processing facility that included Tabadom as one its customers. When he was 18, Espinal began working for his father but felt uncomfortable that some might think his presence at the company was a result of nepotism. Understanding his son's reservations about working there, Espinal's father called Kelner and explained that his son wanted to work at another tobacco company. Kelner immediately hired the younger Espinal and put him to work at Tabadom's tobacco processing facility, PTP.
Since his earliest days at Tabadom, Espinal has worked in every department of Tabadom's tobacco growing and processing and cigarmaking operation, and he has learned every facet of the business. He also earned more responsibility through the years and was groomed by Kelner to be his replacement, which happened in 2015 when Espinal became Tabadom's general manager.
"Henke has been a great teacher in my personal and professional career," Espinal says. "Throughout all these years, I have really learned a lot from him. This is why, since I took over the management of Tabadom, I have always felt it to be a great honor and immense responsibility, taking into account everything Henke has developed throughout his career."
Espinal is also Oettinger Davidoff's vice president and head of global production. He now not only works tirelessly to ensure that every cigar coming out of the Tabadom factory in the Dominican Republic is perfect; he also oversees production at Davidoff's Camacho factory in Honduras. While based in the Dominican Republic, Espinal is a hands-on leader who thrives on meeting his team members in both countries face-to-face as much as he can.