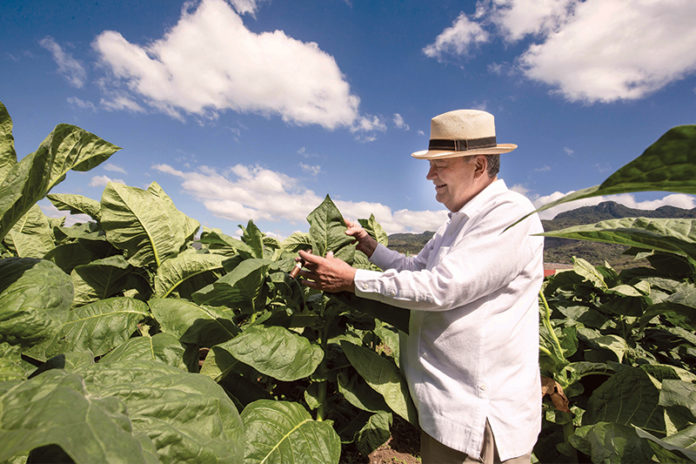 In February 1984, Hendrik "Henke" Kelner established Tabacos Dominicanos, better known as Tabadom, in Villa Gonzalez, Dominican Republic. Positioned close to the Dominican cigarmaking capital of Santiago and near the tobacco fields of the Dominican's Cibao Valley, Tabadom became a leader in the Dominican cigar industry almost from the start. While the company's geographical position certainly aided its ascension, Tabadom's talented and dedicated workforce played a much larger role in its long-term success. At Tabadom, the employees are as important an ingredient to success as the tobacco and rolling techniques the company uses to make its cigars. The pursuit of cigar perfection is the daily mission for the factory team, which makes no compromises in any of the processes that go into making cigars.
The saying goes that teamwork makes the dream work, and at Tabadom some 1,300 employees work together to craft some of the world's most beloved cigars for Oettinger Davidoff, the Swiss-based company that began its relationship with Tabadom as a customer and then purchased the company in 2001. Whether they work on the rolling floor, in the aging room, in fermentation or out in the fields, every Tabadom employee has an important role in the company and is encouraged to take pride in the job they do: crafting world-famous cigars such as Davidoff, Avo, Cusano, Griffins, Private Stock, Zino and Zino Platinum.
The team spirit at Tabadom mirrors the camaraderie and collegial spirit among the men who hold the top jobs at the vertically integrated company where care and passion oversee every step of a cigar's construction from the crop to the shop. It's a team made up of Kelner as vice chairman, Hamlet Espinal as general manager and head of global production, Manuel Peralta as chief agronomist and Eladio Diaz as master blender. Kelner, Diaz and Peralta possess nearly 150 years of combined experience working in tobacco, crafting the finest handmade premium cigars. Espinal alone has more than 20 years of experience.
Each man plays a specific role that provides the underlying basis of a superteam of tobacco experts and cigarmaking maestros. Something like those caped crusaders of comic book fame—the Justice League, the X-Men or the Avengers—the members of the Tabadom team each possess individual talents that contribute to the overall success of the company and its brands.
Hendrik "Henke" Kelner Sr.: The Professor
Following his father's advice, Kelner tried his best to avoid working in the tobacco business. His father and three of his uncles had emigrated from the Netherlands to the Dominican Republic and Brazil to export tobacco back to Europe, and by the time Kelner was ready to consider a career, a plethora of relatives were working in tobacco and competing for the same customers. For family peace alone, the elder Kelner encouraged his son to work outside of the tobacco industry.
Heeding his father's advice, Kelner went to university at the Monterrey Institute of Technology in Mexico and obtained an industrial engineering degree. He returned to the Dominican Republic and attempted to get a job—any job—outside of the tobacco industry, but fate had other plans. In 1969, a face-to-face meeting with the owner of one of the Dominican Republic's largest tobacco companies, Tabacalera S.A., cemented Kelner's future in tobacco.
"He was a very good friend of my father, and he invited me to talk," the 72-year-old Kelner recalls. "He forced me to take a job in his tobacco business. I advanced very quickly in that company, and in eight years, when I was 32, I was general manager."
While Tabacalera S.A. produced only cigarettes when he was hired, Kelner was instrumental in re-establishing the company's cigar division, which had been dormant for many years. He points to the challenges and experiences he faced in restarting Tabacalera's cigar production as sparking a passion within himself.
"We started the cigar division in 1979, and that started my passion for cigars," he explains.
"It was a small part of the company, but I liked it. I didn't have as much time as I wanted to dedicate to the cigar business, but that was my passion."
It was so much so that five years later Kelner established Tabadom with only six rolling and bunching teams that made just one cigar brand, Griffins. Within about three years, Tabadom started making cigars for other brands, including Ashton as well as Avo, a brand of cigars created for Avo Uvezian, an Armenian musician and cigar connoisseur. It was the relationship with Uvezian that led to Tabadom's association with Davidoff.
"Davidoff was moving its production from Cuba, and it was looking for candidates to make its cigars," Kelner says. "I met Dr. [Ernst] Schneider [Oettinger Davidoff's owner], and he appreciated that our factory concentrated only on the quality of the tobacco. We didn't focus on creating brands or investing effort and money on marketing. We concentrated only on producing quality tobacco. My dream was to create a vertically integrated company to control everything. That was the perfect marriage in Dr. Schneider's opinion."
It also helped that Davidoff had opened a retail store in Manhattan at which three of the store's best-sellers—Ashton, Griffins and Avo—were made by Tabadom. Dr. Schneider ordered 3 million cigars, doubling Tabadom's production in the first year alone. The Tabadom/Davidoff partnership began in 1991, and the relationship was centered around continuing and building Tabadom's reputation for quality. Nearly 30 years later, that focus on quality and pioneering new taste experiences has remained the most important ingredient of Davidoff's success.
"Everybody that comes to Davidoff is surprised about our very strict quality control," Kelner concludes. "But the most important aspect concerning quality control is that you need to create a quality culture in your company. You can have all the control standards you want, but if the people that work on the product aren't proud of what they make, you won't have a quality product. So creating a culture among our employees that allows them to be proud of their jobs and their work is the most important ingredient that has allowed us to adhere to our strict quality-control standards."
This story first appeared in the May/June 2019 issue of Tobacco Business magazine. Members of the tobacco industry are eligible for a complimentary subscription to our magazine. Click here for details.
– By Stephen A. Ross, senior editor of Tobacco Business Magazine.