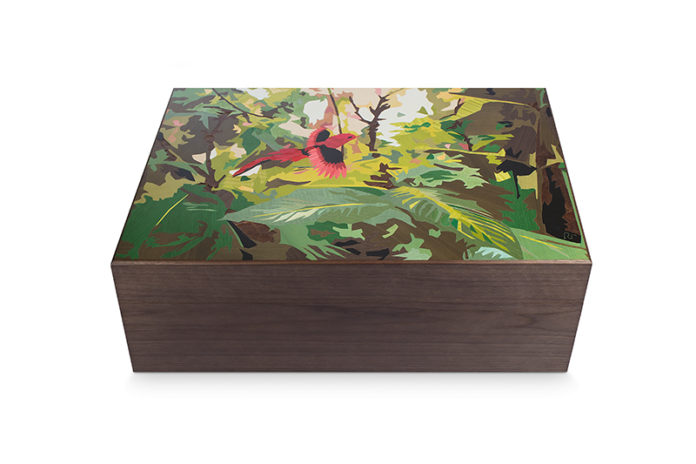 Davidoff Cigars has revealed its new limited Masterpiece Humidor Damajagua Edition, crafted by French marquetry artist Rose Saneuil. This new humidor was designed as an ode to Davidoff's Caribbean terroir and follows the company's previous humidor, Cave de Paille, created by Paris-based artist Lison de Caunes.
Davidoff has been cultivating filler tobacco in Damajagua, an area in the north west area of the Dominican Republic, since 2002. The humid climate and perfectly PH-balanced soil of the area cause the tobacco leaves to become red while being cured and to have a sweet aftertaste. Due to being exposed to less sunshine, the leaves are very thin and of medium strength, creating sweet and creamy tobacco. Artist Saneuil was inspired by Damajagua's forests, rivers and its abundance of flora and fauna when creating this new humdior for Davidoff.

"We are thrilled to partner with an exceptional French marquetry artisan, Rose Saneuil, to develop this unique Damajagua Humidor Masterpiece," said Charles Awad, Senior Vice President and Chief Marketing Officer at Oettinger Dav Rose Saneuil has been greatly inspired by Davidoff's Caribbean heritage, the magical forest Damajagua and our skill at nurturing fragile tobacco plants to transform them into exceptional cigars. Her masterpieces are breathtaking as the artist mixed 25 selected materials to create them, using tobacco leaves picked from Damajagua, for the very first time in marquetry."
The Damajagua Masterpiece Humidor can hold 190-250 cigars. It features three Davidoff deluxe regulators, 1 removable basket and measures 550 x 356 x 180 mm. Only 20 of the first Masterpiece Humidors will be available. It will come with a Master Blender's selection of 50 Toro Damajagua cigars. This humidor will be up for auction at the Procigar Festival 2017 with a starting bid of $25,000. The Damajagua cigar will be available in Toro format and will feature an Ecuadorian Habano wrapper, San Vicente Mejorado seed grown binder from the Dominican Republic, and Filler from Condega Visus, Esteli Visus, Piloto Visus, San Vicente Mejorado Visus, and Piloot Mejorado Visus seeds grown in the Dominican Republic.
Damajagua Masterpiece Humidor will be available at Davidoff flagship stores and selected appointed Davidoff merchants in late April 2017. For all the latest news from Daivodff, visit davidoff.com.