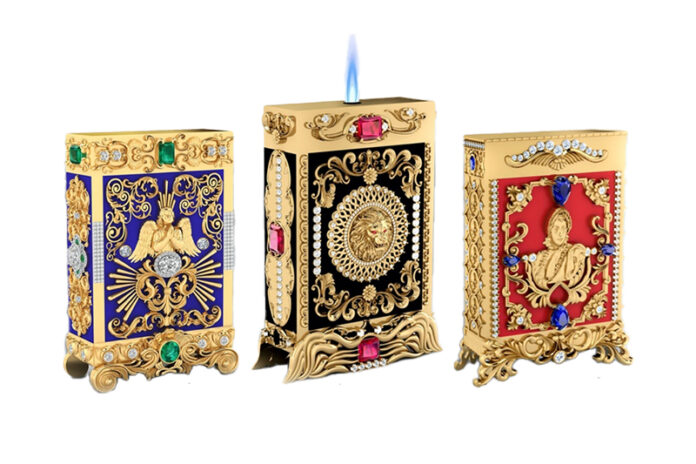 There have been lighters released over the years for the premium market but none like the ones recently introduced by El Septimo. Coming in at $5.5 million each, El Septimo's luxurious large tabletop lighters range from 6 to 8 inches in height and 3 to 3.5 inches in width. Each masterpiece lighter is made from 1,000-1,200 grams of 18K gold and encrusted in 80 to 120 carats of precious stones.
"We wanted to create lighters that the world has never seen before or may have never had the opportunity to get to see unless it is done by El Septimo," commented Zaya S. Younan, chairman and CEO of El Septimo, a division of La Maison Younan. "We wanted to showcase El Septimo's creativity, imagination and ability to create something so special. We have the strength and determination to showcase how we understand the luxury market and how masterfully we can transition our vision into fully functional products.This was a test of our creative design ability and our will to do something that has never been done before."
These new luxury lighters were designed to celebrate and complement El Septimo's cigar collection. The first lighter's design was inspired by El Septimo's Zaya Collection. This is the largest lighter in the collection and is made of 105 separate pieces that were individually casted, polished and assembled together. It weighs a total of 1,200 grams and is made of 18K solid yellow gold. This lighter also features rubies sourced from Burma (present Myanmar) that were mined from Mogul Stone tract mines. There are four pieces of oval and 2 pieces of square-shaped rubies, with a total of 57.04 carats and VVS-quality round diamonds in six sizes, weighing 44 carats. In total, the Zaya Collection lighter has 101.4 carats of precious stones.