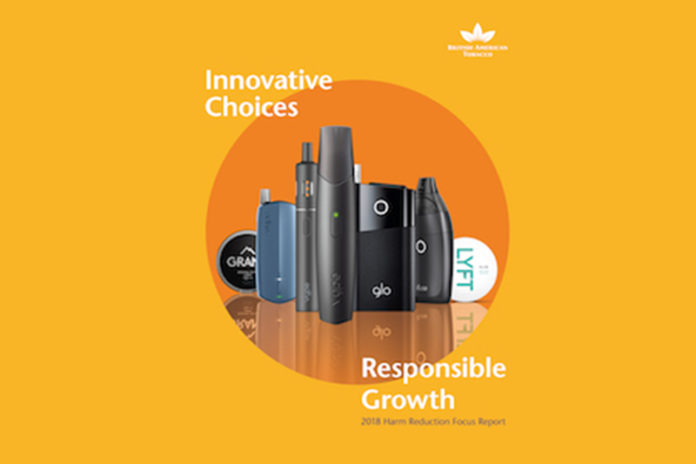 Harm reduction has been a major initiative and focus of British American Tobacco (BAT) in recent years and 2018 was no different. With the shifting focus of the U.S. Food and Drug Administration (FDA) in the U.S., harm reduction is an important category of products that companies like BAT are trying to tap into.
BAT has set out to transform tobacco with a range of reduced-risk products, including glo [read more here], a heat-not-burn device available in international markets that's not yet gotten approval to be sold in the U.S. BAT, like many other Big Tobacco companies, has recognized the desire of adult consumers to have choice and to have some alternatives to the traditional combustible products. In this latest report from the company, BAT highlights not only the reduced risk products it has developed by how it's maximizing the potential of these products in an effort to grow the harm reduction category and remain innovative in a market that's seeing a decline in traditional tobacco product use.
"At BAT, we're committed to transforming tobacco by providing consumers with satisfying alternatives to smoking. Without the right products, tobacco harm reduction will never be a reality, which is why our approach is centered on developing an outstanding product portfolio," commented Nicandro Durante, Chief Executive of BAT. "But these products can only meet their potential if the right regulatory and market conditions are in place. Stakeholders from across government, industry and public health need to continue to work together to create an environment for tobacco harm reduction to be successful. As I come to the end of my eight-year tenure as CEO of this fantastic company I am immensely proud of the progress we have made with regards to harm reduction. But this is just the beginning of BAT's mission to transform tobacco."
Highlights from the BAT 2018 Harm Reduction Focus Report include:
Commentary from BAT's senior leadership including Nicandro Durante and Dr. David O'Reilly, BAT Group's Scientific and R&D Director on BAT's harm reduction efforts and the transformation of the tobacco industry
Information on BAT's potentially reduced-risk products (PRRPs)
References to independent evidence that demonstrates the reduced risk of emerging tobacco and nicotine alternatives to smoking
To download the report, visit bat.com/sustainabilityfocus. For all the latest news from BAT, visit bat.com.