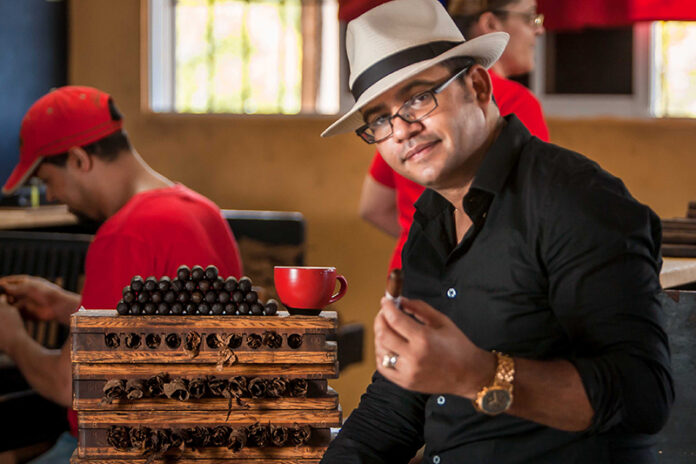 Have you heard of the "pipe" cigar? Or how about the cigar that's shaped like a small baseball bat? These are just a few of the interesting releases that have come out of Dominican Big Leaguer (DBL) Cigars in recent years—and reasons the Dominican Republic-based manufacturer is gaining the attention of retailers and consumers worldwide.
At the head of DBL Cigars is Francisco Almonte, who has worked in the tobacco industry since the age of 7. He started off deveining tobacco leaves for his father, and by the age of 12, Almonte was rolling cigars. It's important to point out that this wasn't necessarily viewed as work to Almonte but rather a discovery and exploration of what quickly became his passion. Almonte loved creating premium cigars, and it soon developed into a mission for him, one that required lots of practice and hands-on experience over the years.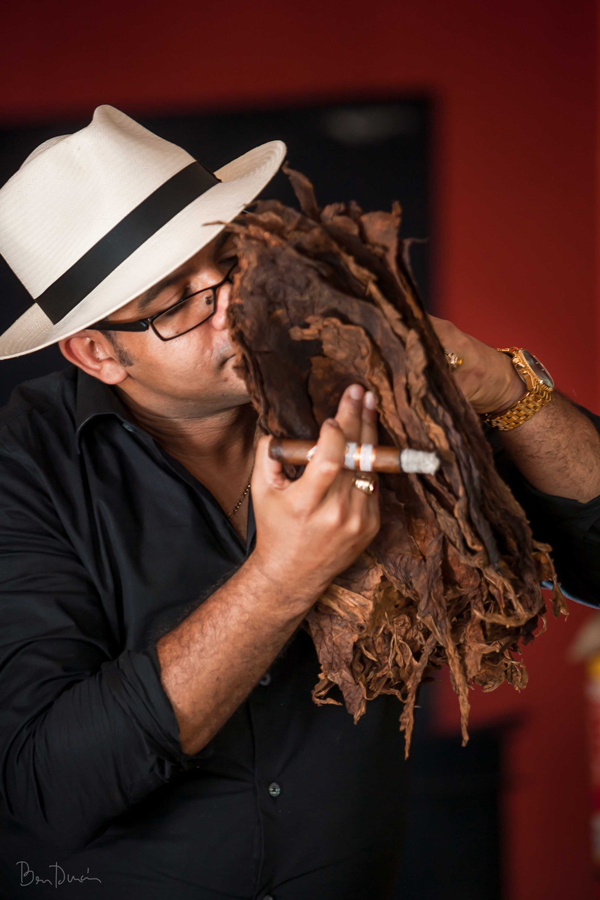 Living in the Dominican Republic offered Almonte the opportunity to work with and learn from some of the best in the tobacco industry. He worked under two well-known cigar makers: Carlos Fuente of Arturo Fuente Cigars and Litto Gomez, founder of La Flor Dominicana. Almonte refers to both men as being mentors who taught him a great deal about cigar making and tobacco handling, as well as how to run a business. All of these things came in handy when Almonte launched his own brand, DBL Cigars, in 2013.
With DBL Cigars, Almonte has taken an organic approach to marketing. In the place of a lot of paid advertising, he's instead chosen to use in-store events and social media to build brand awareness. He's also chosen to define his own entrepreneurial path. Though he seeks the advice and input of other people, such as his father, he never lets the opinions of others completely steer him in business. Instead, he's found what works for him and has doubled down on those things, knowing that growth may be slower but the results of his efforts will be that much more fruitful and satisfying. Here's how Almonte's quest to be better has resulted in him creating what he considers to be the best tobacco business and cigar brand possible.
Entering the Big Leagues
Almonte is from the Dominican Republic city of Tamboril, known by many as being the capital for cigar manufacturing as well as cigar rollers. Generations of his family have worked in the tobacco business to some degree. At one point, his father had launched his own cigar brand named El Rey. Almonte himself really wanted to become a baseball player, but he admits he wasn't very good at it and decided to work with his father in the tobacco industry at an early age. His father was not alone in his love for cigars; many members of Almonte's family found work in the industry.
"We have over 68 family members that know how to make cigars," Almonte says proudly. "In the family, at least one family member has worked in one of the cigar factories we have in the country."
Tobacco is the only business and industry Almonte has ever worked in, and at this point he proclaims that cigars run through his blood. After working with his father for several years, Almonte worked in the Arturo Fuente and La Flor Dominicana factories, giving him even more experience and insight into the cigar business and what it takes to make cigars.
When his time at La Flor Dominicana came to an end, Almonte found himself at a professional crossroads and asked a simple, but daunting, question: what's next?
It didn't take him long to find his answer: he wanted to create his own cigar brand and company, something that would continue his family's long legacy with tobacco. Both his father and an uncle-in-law had launched their own brands in the past. Now Almonte was ready to step up to the plate and take a swing at creating one of his own.
When it came to choosing a name for his own cigar brand, Almonte wanted the one he chose to reflect his country and background. "We're Dominican Big Leaguer. People think it's related to baseball—no, no, no. What I want to show people is how big we are in the two biggest things that we do in the Dominican Republic: cigars and baseball. Those are the two big things we do in the Dominican Republic; it's our passion. That's why I came up with the name Dominican Big Leaguer—because we are big in the cigar business," Almonte explains.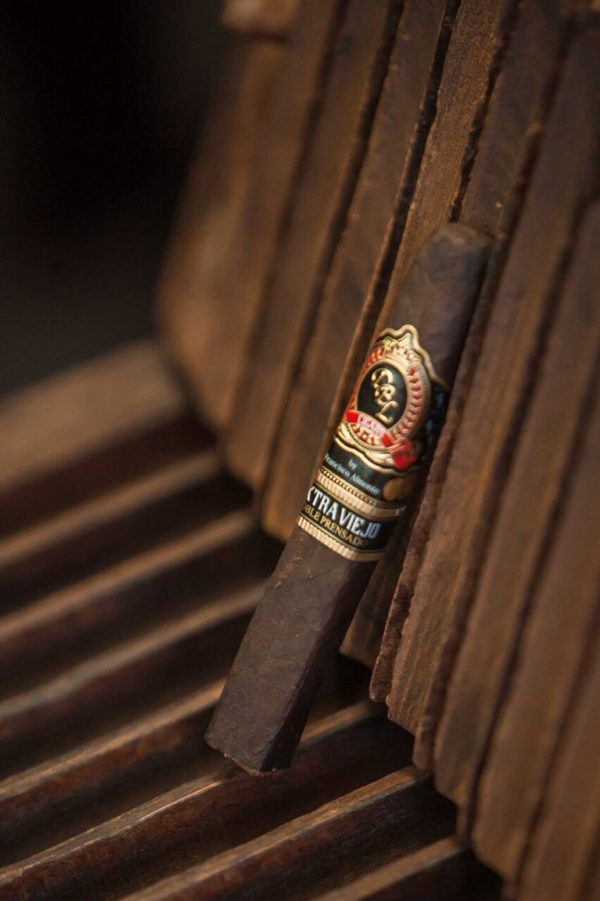 DBL Cigars was launched in 2013, and being a new brand owner, Almonte became the recipient of a lot of advice. Some questioned the name he had chosen for his company. Others told him they didn't think he should even start his own tobacco business. The advice that mattered the most to him came from his father, who Almonte has always had a lot of respect for and has served as a mentor to him from a young age. Where others doubted Almonte's decision to create his own cigar brand, his father did the exact opposite.
"My dad always encouraged me to do it better and better. He always said that the whole family knew how to make cigars. But his philosophy was to make it better. He's always wanted to do the best and to be the best in the room. Now this is my philosophy: Keep doing better. In life, there's always a way to do it better."
Present and Future Investments
Early on, Almonte came to the realization that the more control he had over his company's product, the better. That's why he opened his first cigar factory in March 2013. Last August, he opened a new factory in Tamboril. When describing the new factory, Almonte declares that it is "10 times bigger than the other one." In addition to being bigger, the new factory has the capability of producing even more cigars—up to 2 million a year.
Even though the factory has the ability to produce more cigars, what Almonte is most concentrated on is the factory's workers. He's careful how he describes these important people, and rather than using the term "employment," he describes how the factory is "sponsoring" the employees. What does that mean? It's ensuring every employee is taken care of and has the opportunity to prosper while they're working for him and even when they choose to retire. In addition to sending employees to college, he's implemented a retirement plan—among other initiatives—to help better the lives of those that help DBL Cigars become a better company.
"I'm working on 401(k)s. Why? Because after 40-45 years of working as a cigar roller, they retire and only get about $200 per month. This is not a good retirement. They have to keep working because they can't get by with the money they get. So I'm working on 401(k)s," Almonte shares. "I want to give them 401(k)s so that when they retire, they can have a better life."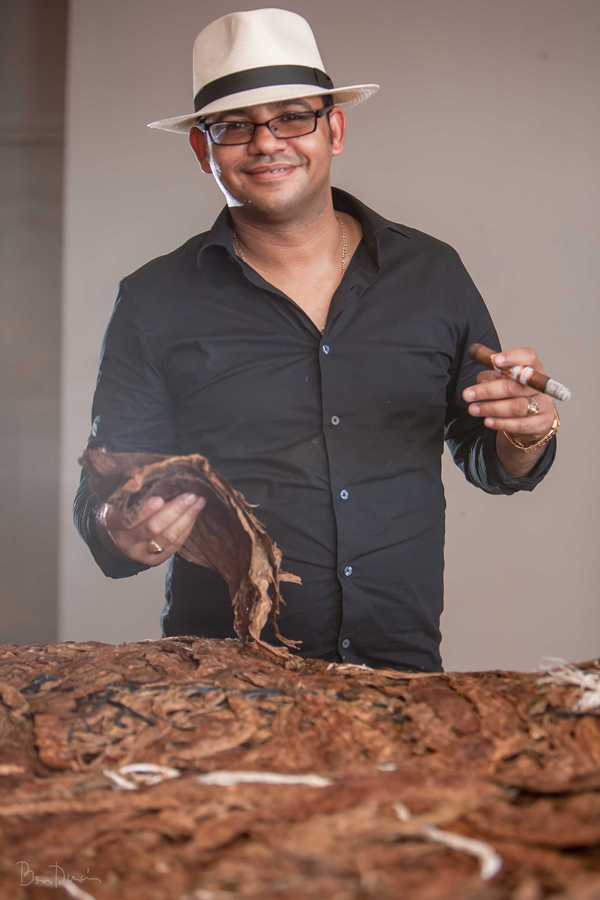 Almonte isn't only concerned with making life better for his employees after they retire. Another amenity he's been working on for those that work in the factory is an on-site daycare. Slated to open in 2023, the aim of the daycare is to go well beyond just taking care of the factory workers' children. Instead, he wants education to be the focus of the daycare and to educate them at an early age so that these future generations will have even more opportunities as they grow up.
Almonte has no problem investing in things that matter to the business, like his employees. Making sure salaries are competitive and fair is something Almonte focuses on as a business owner. He wants his employees to feel like they are part of a family, that they matter and wants to reward them for their contributions to the DBL Cigars brand and its success.
Another area he's invested in is in the material and resources needed to sustain and grow his brand. One year after he launched his company, he started to grow his own tobacco. This was another area where Almonte received a lot of advice, most of it encouraging him not to become a tobacco grower. Consistency is the foundation of a quality product, and Almonte realized soon after launching DBL that it's very difficult to buy tobacco year after year that's not drastically different due to growing conditions, the weather and other factors. The more inconsistent the quality of the tobacco, the more inconsistent the overall blend will be. This was not acceptable to Almonte, so he decided to try to overcome this issue by growing his own tobacco.
A Different Approach to Blending
Almonte's blending process centers around flavor, complexity and balance. He enjoys experimenting with different tobacco combinations to see what sort of blends he can create. Tobacco grown in Ecuador typically makes for a good wrapper, and those from other countries like Brazil, Nicaragua, the Dominican Republic and the U.S. are good for filler. Regardless of what combination is created, Almonte's blending process always has the same end-goal: consistency, which is hard to achieve when relying on tobacco grown by other companies. That is the reason why a part of his business strategy from the early days of DBL Cigars has been to grow his own tobacco—it allows his blends to remain consistent year after year.
"We use 65 percent of the tobacco that we grow in our two tobacco fields," he reveals. "We grow Piloto Cubano, Corojo 1999. Many people don't want to grow Piloto Cubano because it's very tough to work with and because of the threat of blue mold."