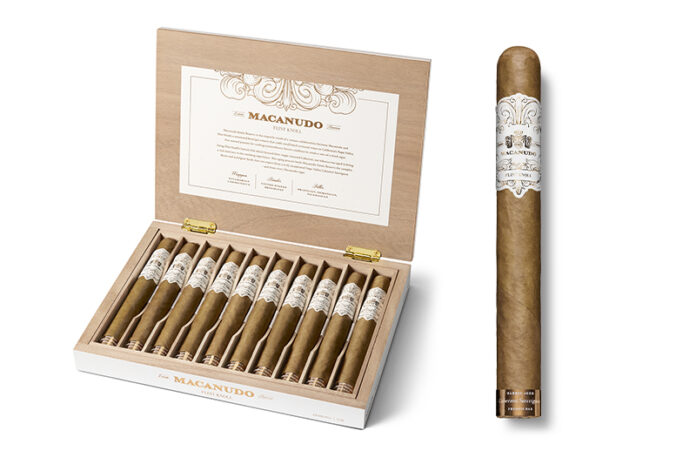 Premium cigar brand Macanudo is making a new limited edition cigar with Flint Knoll, a Napa Valley-based boutique winery known for making limited production, world-class wines. This new cigar, the Macanudo Estate Reserve Flint Knoll, highlights the similarities between cigars and wine.
The Macanudo Estate Reserve Flint Knoll delivers on aroma and complexity while bringing together the best of premium cigars and fine wine. This cigar was handcrafted in the Dominican Republic at General Cigar Dominicana and is made with a curated selection of six tobaccos that represent five unique countries. The cigar begins with a silky, Ecuadoran-grown Connecticut Shade wrapper leaf that covers a proprietary Connecticut Broadleaf binder that was grown exclusively for Macanudo. The binder underwent a special aging process where it took on characteristics of the French Oak barrels that imparted notes favored by Flint Knoll proprietor Aaron Michaelis. The blend is completed with a combination of Brazilian Mata Fina, Dominican Olor, Nicaraguan Jalapa and Dominican Piloto Cubano filler.
According to Macanudo, this cigar is creamy on the palate and delivers hints of cedar, vanilla and toasted nuts with and undertone of charred oak that cascades into an indulgent finish.
"The collaboration with Flint Knoll is the first of its kind for Macanudo and gives us the opportunity to explore the synergies between cigar and winemaking. We look forward to future collaborations with Aaron and his team as we expand the notion of what it means to be a Macanudo by bringing terroir, craftsmanship and innovation to life," commented Steve Abbot, director of marketing at Macanudo.