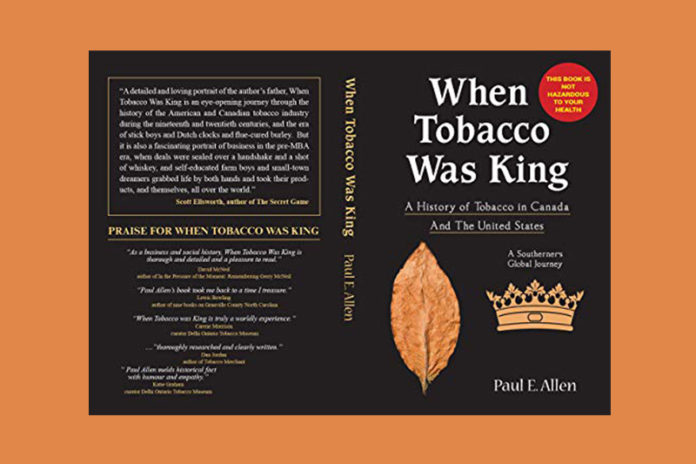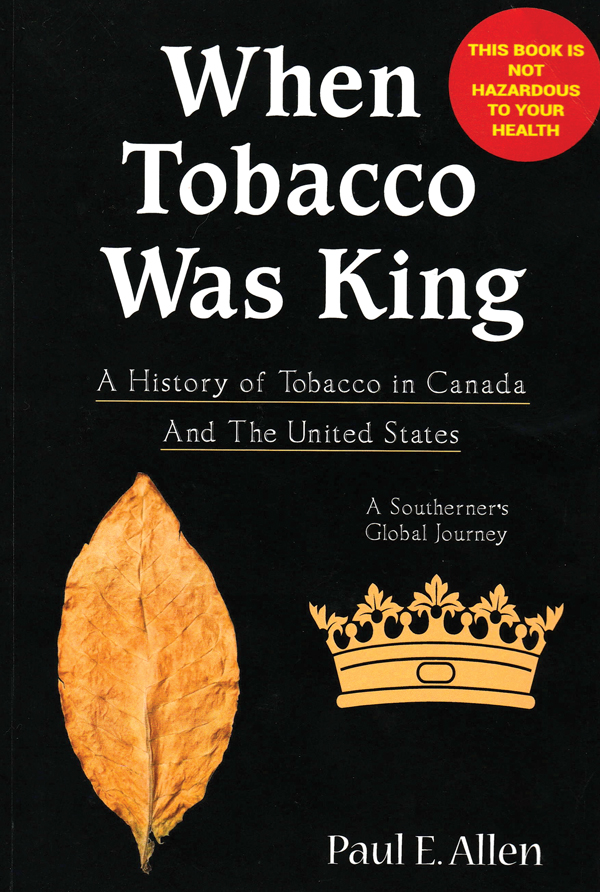 When Tobacco Was King tells the story of how tobacco contributed to the Canadian economy, especially from 1927-1972, through the experiences of Edward Dupree Allen, a North Carolinian who moved as a teenager from his family's tobacco farm in Creedmoor, North Carolina, to assist the burgeoning flue-cured tobacco cultivation and processing operations in rural Ontario, Canada. Known as "EDA" among colleagues and friends, Allen rose to become president of Canadian Leaf Tobacco Co., a subsidiary of Universal Leaf Tobacco Co., the world's largest independent tobacco buyer and processor.
EDA's son, Paul E. Allen, ably weaves biography, social history and business history in recounting the tale of his father's rise from humble North Carolina tobacco farmer to the just-as-humble president of Canada's second-largest tobacco leaf buyer and processor. Allen is a retired high school teacher and former sports reporter who was inspired to write When Tobacco Was King, which is his first book, by Dr. Dan Jordan, the author of Tobacco Merchant: The Story of Universal Leaf Tobacco Co. During his research for the book, Dr. Jordan conducted intensive interviews with EDA, and after its publication in 1995, he sent a copy to Allen, whose father had died in 1988.
"Dr. Jordan sent me a copy of the book and wrote, 'A whole book could have been written about him alone—and not done him justice,'" Allen explains. "I was encouraged as well by Elliot Perrin, the director of the Macdonald-Stewart Foundation. I stopped into the foundation offices and chatted with Elliot. After he recognized that I seemed to know a lot about the Canadian Leaf Tobacco Co., tobacco in general, and the connection with the Macdonald and Stewart families, he suggested I should write a book. He thought it would be a really interesting read. That visit and an encouraging telephone call later to Dr. Jordan telling him I was thinking about writing a book really convinced me I could tell the When Tobacco Was King story."
Spending between three and four years researching material for When Tobacco Was King, Allen took about a year to write the book. Newspaper articles, private correspondence, recordings of Dr. Jordan's interviews with EDA and interviews with the people who worked with him all served as sources for Allen's book.
"When Tobacco Was King recognizes the much-maligned tobacco industry, which in a different period of time held a significant place in the economies of Canada and the United States," Allen remarks. "Most of the people in my story have passed away, but I thought their stories needed to be recorded. I grew up with many of these people so I had an 'insider view' that I could share. I didn't try to glorify tobacco use but thought this was a good social history, a worldwide travel story, and there were lots of interesting people to discover within the book."
Allen begins his book by recounting the importance tobacco played in the American colonies and how it contributed to their growth as people flocked to the colonies dreaming of striking it rich by growing tobacco. Allen demonstrates that even in its earliest recorded history, tobacco faced taxation and prohibition. The English Queen Elizabeth I (1558-1603) introduced a tobacco tax, and King James I (1602-1625) hated tobacco so much that he attempted to stamp out its use. Failing to eliminate tobacco use, James I raised his predecessor's tax even higher.
Having explained the birth of tobacco growing in Colonial America, Allen then recounts the history of tobacco cultivation in and around Durham, North Carolina, and the growth of cigarette manufacturing in the "Bull City." Farming families living around Durham, like the Allen family, grew flue-cured tobacco to feed the city's hungry cigarette factories with a constant supply of raw leaf. These families engaged in backbreaking work that required an estimated 900 hours of labor per acre before mechanization became widespread in the 1950s. As the demand for cigarettes made using flue-cured tobacco grew worldwide, opportunities for North Carolina farmers to travel abroad and begin flue-cured cultivation and processing in new areas sprang up. One of the many Southern men to avail themselves of these opportunities was EDA, who applied for an advertised position as a tobacco cutter in Canada in 1927, when he was just 18 years old. Three years later, EDA permanently moved to Canada, accepting a position as leaf inspector and thus launched a 48-year career with Canadian Leaf Tobacco Co.
During his career, EDA did more than assist the growing Canadian domestic flue-cured tobacco market. He traveled the world selling leaf, and Allen uses his father's travels abroad to describe traveling conditions before the advent of the jet age. With worldwide business dealings, EDA worked with many different companies and met many interesting people throughout his career. Allen includes short business histories and biographies of these companies and people, including the Macdonald Tobacco Co., Gallaher Tobacco Co. and Universal Leaf Tobacco Co.—and the contributions they have made to both the American and Canadian economies and their charitable causes, such as the Duke Endowment and the Macdonald-Stewart Foundation, which have contributed hundreds of millions of dollars in research, scholarships and other benefits.
"There are a lot of things I learned, and I'm sure readers will find there are many things they will learn too," Allen says. "One reader wrote, 'I had no idea of the extent of the tobacco companies' philanthropy. I did not know that tobacco money built and supported McGill University, Duke University, Wake Forest University and other institutions, or how much money went to hospitals and museums.' I, too, learned more about the Duke Endowment and the Doris Duke Endowment and how tobacco money did a lot of good."
Throughout the book's 250 pages, EDA witnesses the growth and gradual decline of the Canadian flue-cured tobacco industry. In 1978, he retired and left a legacy of treating people right by listening to them and encouraging all of his employees to take ownership of their company. He believed that good suggestions could come from anyone, and EDA was always willing to listen, especially to the lower echelon employees who spent their entire workdays doing the jobs required of them. EDA also was a strong advocate for building personal relationships with Canadian Leaf Tobacco Co.'s customers and encouraged members of his sales team to rely on knowledge instead of high-pressure sales techniques to serve their customers.
"I always respected my dad," Allen concludes. "He was a humble man, never got 'too big for his britches,' had a tremendous work ethic, and I saw how he was kind and respectful to all people that crossed his path. I probably gained even more respect and admiration for him when people told me stories about him as I did research for When Tobacco Was King. EDA, the boss, was a great listener and genuinely cared for his employees. I learned of many things that he did for people to help them in their jobs and even financially—quietly, on his own accord. I did not include some of these stories in the book, but my dad's secretary, Connie Finch, contributes some touching stories about EDA that are in the book."
While on the surface the subject matter of When Tobacco Was King might seem narrow and appeal to a very select audience, the book is a sweeping historical narrative that touches on a lot of topics. Part biography, part business history and part social history, When Tobacco Was King captures the glory years of the fascinating world of international tobacco, and readers meet various interesting people along the way. Business owners will enjoy the business histories and biographies of the people EDA met throughout his career and will especially benefit from reviewing EDA's business principles that are highlighted in the book's 23rd chapter. Likewise, anyone who has worked in the tobacco business or who had relatives earning their living in the tobacco industry will be pleased with When Tobacco Was King.
When Tobacco Was King is available on Amazon in either a soft-cover book edition or a Kindle edition. Allen is also available to speak at public engagements and encourages any interested groups, organizations or businesses to contact him by email at paulallen342@aol.com or by phone 613-829-8752.
This story first appeared in the November/December 2019 issue of Tobacco Business magazine. Members of the tobacco industry are eligible for a complimentary subscription to our magazine. Click here for details.
– Story by Stephen A. Ross, editor-in-chief of Tobacco Business Magazine.