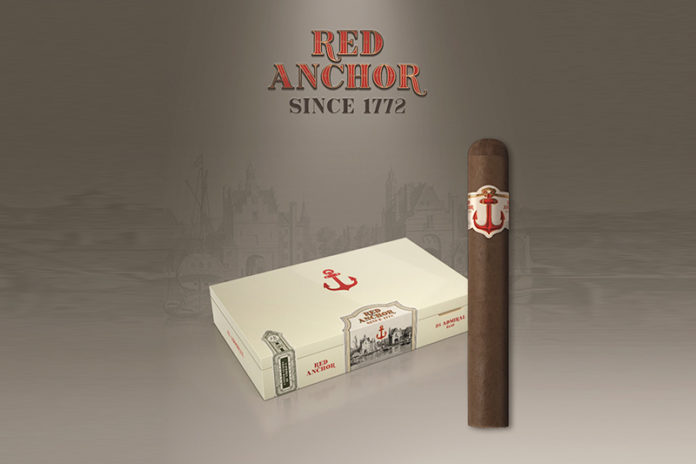 Red Anchor, a cigar brand with 250 years of history, is set to re-launch this July. United Cigar has purchased the rights of the Red Anchor brand and will be celebrating the 250th Anniversary of the brand during the Premium Cigar Association (PCA) trade show in Las Vegas, July 8-12, 2022.
Red Anchor was the first registered trademark for a cigar shop in 1770 and later, the first cigar brand in history in 1772. 2022 marks the 250th anniversary of Red Anchor.
"Four years have passed since the start of this project. Every aspect of Red Anchor has been carefully crafted to properly encapsulate the 250-year history," said Oliver Nivaud of United Cigars. "Working closely with Hendrik Kelner and the KBF team has been very smooth, this is a perfect marriage."
Albertus Hillen Sigarenfabriek launched the Red Anchor Factory and cigar brand in Delft, Holland. On February 22, 1772, legal permission from the Aldermen of the Municipality of Delft for Sigarenfabriek to sell his cigar brand under the Red Anchor name. Sigarenfabriek died in 1834 and his wife Anna Maria van Spreeuwenburg continued the business for four years until she died in 1838. The brand was then passed on to their daughter, Sara Jacoba Elizabeth and her husband, Johannes Petrus de Lange. They acquired the possessions of the Red Anchor factory as well as the Red Anchor cigar brand. Around 1890 and following the sale to Martinus Hioolen, the distribution plan for Red Anchor changed where a network of stores to sell the brand throughout major Dutch cities was formed. Cuban cigars were also imported for distribution. In 1909, machines were acquired to ensure part of the production could be handled mechanically. A special tin packaging was later introduced that allowed the cigars to be exported.