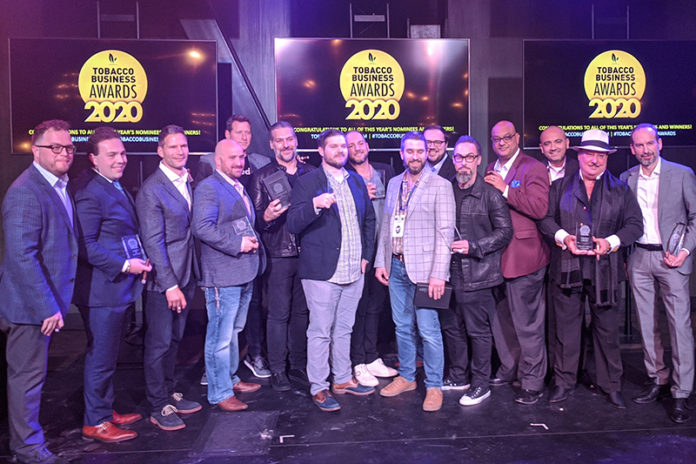 The third annual Tobacco Business Awards ceremony was held at an exclusive invitation-only party in Las Vegas on Jan. 30, 2020. The event was held in conjunction with the 2020 Tobacco Plus Expo (TPE), and close to 300 premium tobacco retailers, manufacturers and members of the media attended the awards ceremony at Club 101 inside the Sahara Hotel and Casino.
The Tobacco Business Awards recognize exceptional entrepreneurs, businesses and brands operating within the premium tobacco industry. To reflect the diverse businesses and products that make up the industry, other categories, such as accessories, mass-market products, retailers and franchisees, are also recognized with awards. This year's awards were different from previous years. This year, the entire industry—including retailers, manufacturers, wholesalers and consumers—could nominate award winners and then vote for the winners in each category. The voting period lasted from Nov. 2 to Dec. 31, 2019, and nearly 11,000 individuals cast their vote for 11 different categories. One award, the Hugo Chairman Award, which is named after Kretek International's chairman, Hugh Cassar, was chosen by the magazine's staff and a select number of industry insiders. This year's winners are as follows.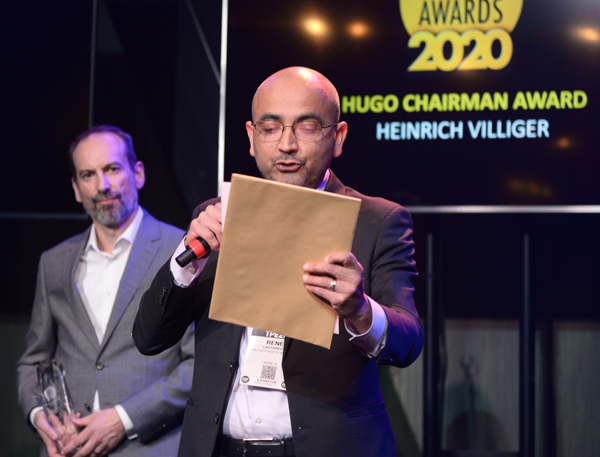 HUGO CHAIRMAN AWARD: Heinrich Villiger
The Hugo Chairman Award is the only award chosen by Tobacco Business magazine's staff and a select group of retailers and manufacturers. This award honors an entrepreneur who has greatly contributed to the tobacco industry during his or her lifetime. This year's recipient of the Hugo Chairman Award is Heinrich Villiger, chairman of
Villiger Cigars.
Villiger Sohne AG was founded in Switzerland in 1888, and Heinrich Villiger came to work for his family's company in 1950. Out of a total of 132 years of company history, Heinrich has been an integral part of it for more than half its existence—talk about staying power. In his 90th year, Heinrich still maintains an active schedule that often includes 10-hour workdays, and he still looks forward to trips to tobacco plantations to buy the precious leaf as "working vacations."
As chairman of Villiger Sohne AG, Heinrich has adapted the company to meet the ever-changing demands of the global tobacco market. He is both resilient and innovative, and Villiger Sohne AG is a leader in the machine-made cigar market, and is a growing presence in the premium handmade cigar market with operations in the Dominican Republic and Brazil. In all, Villiger Sohne AG's brands are available in approximately 80 markets worldwide.
While Heinrich was unable to attend the Tobacco Business Awards ceremony, Villiger Cigars North America president Rene Castaneda read the following statement from Heinrich accepting the award: "When I joined the family business 70 years ago, I would never have dreamed of working for so long. But I was lucky that my profession became a passion .…. There is a saying that behind every strong man there is a strong woman. I would like to borrow that saying and turn it into: 'behind every strong entrepreneur there is a strong team.'
"Today we—my team and I—–work every day with a lot of passion to offer our clients the best possible quality," Castaneda continued. "I still have a lot of fun composing new cigars, and I hope that those of you who have not yet tried one of our cigars will do so. To all others, I hope we can continue to give you enjoyable minutes and hours, because in today's fast-paced world, the art of relaxing and pausing is becoming increasingly important."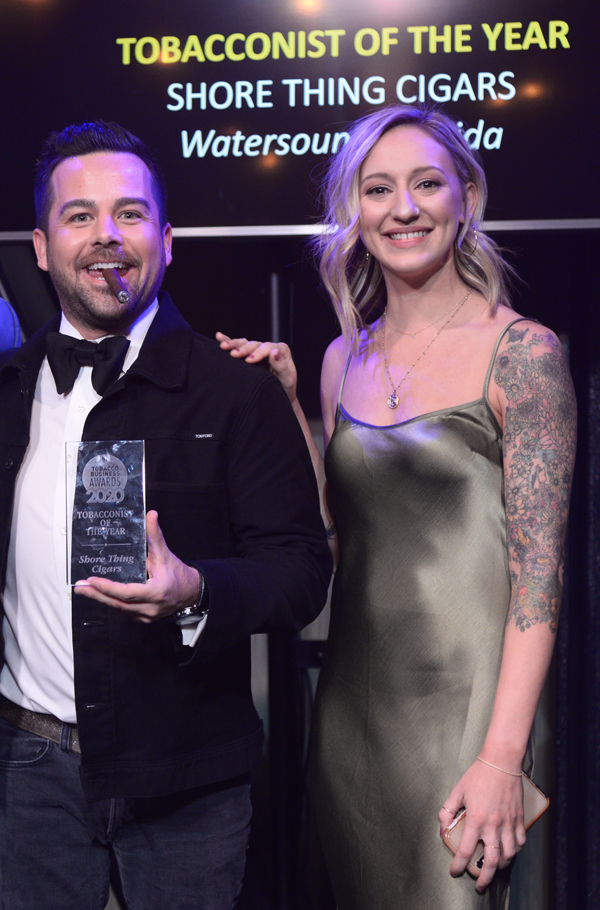 TOBACCONIST OF THE YEAR: Shore Thing Cigars
It's been a big year for Shore Thing Cigars, a lifestyle lounge located in Watersound Beach, Florida. In 2019, Shore Thing Cigars was recognized as Davidoff's Appointed Merchant of the Year, and this year, readers voted Shore Thing Cigars as the Tobacconist of the Year. Shore Thing Cigars is a business that is owned and operated by Paul Copeland and country music star Luke Bryan. There's a lot that makes Shore Thing Cigars stand out from the crowd, from its all-female staff led by general manager and tobacconist Tiffany Ashley to the lifestyle spin on the traditional lounge that includes karaoke nights, local beers and wines.
"A great tobacconist understands that science and art are equally important. Be that a beer, be that the cup that the beer goes in, be that your hats and your merchandising, what your lockers cost to build—you must understand the science of your business," says Copeland. "As an owner, my job is to work on the business, not in the business, which is why I have an incredible general manager. She is working in the business, and she's working on the details of everything operational in the business. My job is to establish a culture and to look at the next best thing and the growth of the company."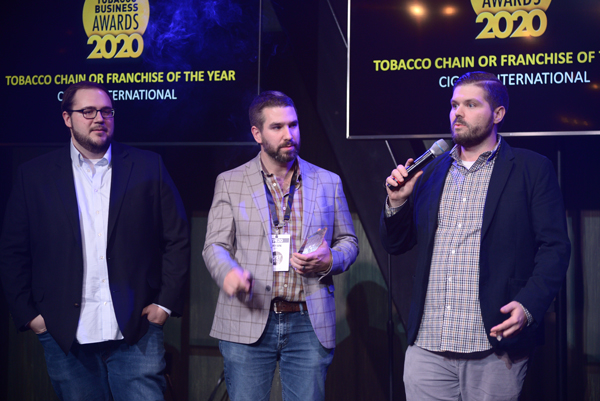 TOBACCO CHAIN OR FRANCHISE OF THE YEAR: Cigars International
Since its launch in 1996, Cigars International has become a leading retailer of all things cigar-related. With an online store and four brick-and-mortar stores spread across Pennsylvania and Texas, Cigars International has helped connect consumers with the brands and manufacturers they've come to enjoy.
Cigars International had the following to say about its recognition this year: "At Cigars International, we want to create the best of the best in-store experience for our customers by focusing on outstanding assortments, excellent service and a customer experience like nowhere else. Therefore, we are proud to receive the prize for Tobacco Chain or Franchise of the Year at the Tobacco Business Awards 2020. Thanks to everyone who voted for us!"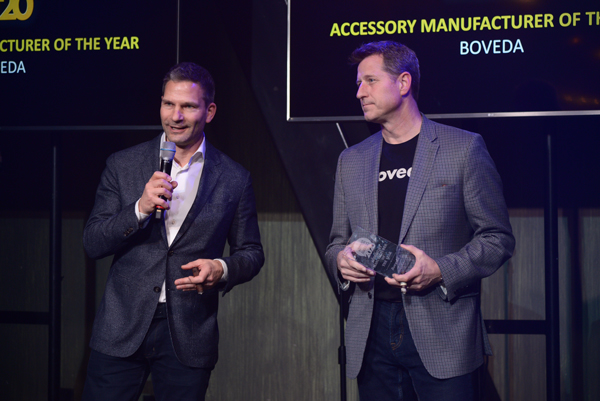 ACCESSORY MANUFACTURER OF THE YEAR: Boveda
For a second consecutive year, Boveda has been voted as the Accessory Manufacturer of the Year. Boveda's two-way humidification products have enhanced the premium cigar category by ensuring that the quality of cigars is maintained and extended from the time they are shipped from a manufacturer to a retail store to when consumers take them home and store them in their own humidors. This game-changing product has applications in several other product categories, including the cannabis, music and food industries.
"We're humbled that Boveda is recognized to play a supporting role in this industry and maximizing the enjoyment that we get from this fine luxury in life," says Sean Knutsen, president and CEO of Boveda. "We want to thank the manufacturers too. Thank you so much for your friendship and support over the years. It means so much to us, and it means so much to our success too."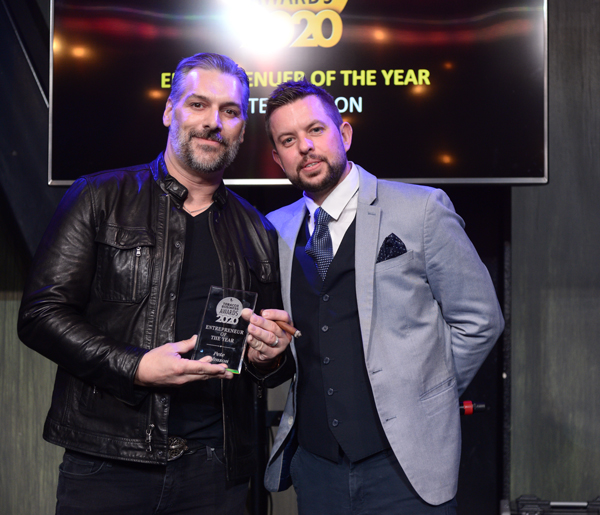 ENTREPRENEUR OF THE YEAR: Pete Johnson
When he was first thinking about starting his own cigar brand, Pete Johnson envisioned that it would be a hobby, but strong ratings at Tatuaje Cigar's initial release in 2003 brought that hobby business into a full-time full-blown premium cigar juggernaut. With the help of Jose "Pepin" Garcia, who teamed up with Johnson to make the cigars, Tatuaje has spawned more than 20 lines over the years and has expanded into other product categories, thus becoming a lifestyle brand.
Johnson's passion for tobacco and cigars continues to shine bright, as he is a producer of the documentary Hand Rolled: A Film About Cigars, which debuted in 2018.
At the awards ceremony in Las Vegas, Johnson commented on his entrepreneurial journey, saying, "Entrepreneurs take risks. I've been in this business for 27 years, and 17 years ago the biggest risk I took was to work with a small family that no one knew about, and 17 years later I think they're taking over the world, and I'm glad to be on their ride—and I hope to be here for a long time."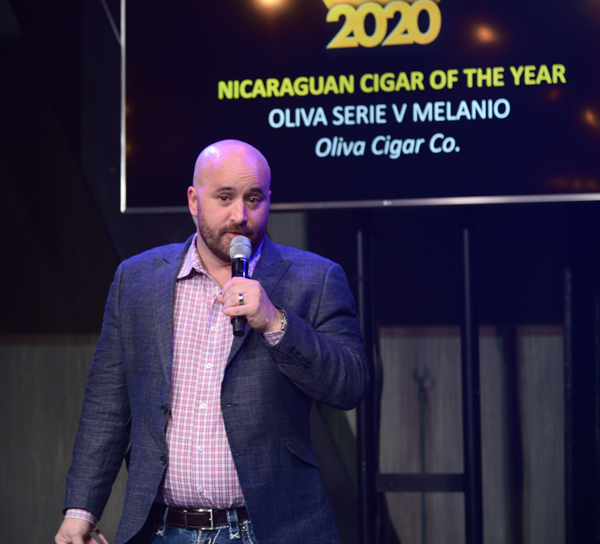 NICARAGUAN CIGAR OF THE YEAR: Oliva Serie V Melanio
Oliva Serie V Melanio is a cigar that's no stranger to awards, having been named the No. 1 cigar of the year in 2014 by Cigar Aficionado. As the Tobacco Business Award winner for Nicaraguan Cigar of the Year in 2020, the Oliva Serie V Melanio is a medium- to full-bodied smoke with notes of pepper, cedar and caramel. This cigar's overall creaminess, superior construction and pleasing aroma makes it a winner for many cigar enthusiasts.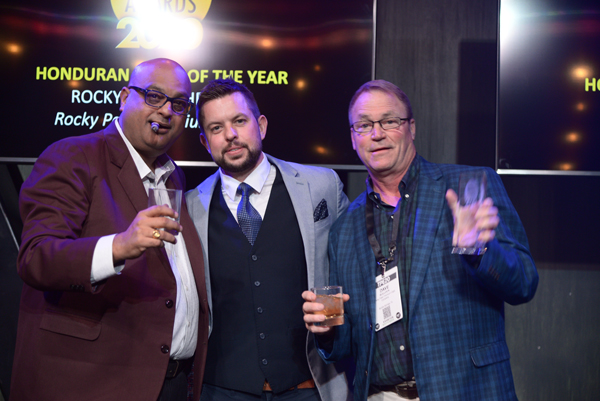 HONDURAN CIGAR OF THE YEAR: Rocky Patel The Edge Sumatra
Rocky Patel Premium Cigars released The Edge in 2004 with either a Corojo '99 or a maduro wrapper and in just two sizes. The cigars were packaged in 100-count rough-hewn boxes and did not feature traditional bands. A sticker on each box brilliantly notified customers, "Warning: Professional Smokers Only. Smoke while sitting down." That warning sticker served more like a dare—what self-respecting cigar smoker wouldn't consider himself a professional? And the $5 MSRP also attracted people to give the cigar a try. The result has been one of the most popular brands to hit the market in years. The Edge brand has grown steadily to include new variations—there are seven basic editions of The Edge—more sizes and slightly updated packaging, including the addition of a foot band on the cigars and a second sticker on the box that reads: "Original Edge: Beware of All Imitations."
Perhaps the strongest of Rocky Patel Premium Cigars' The Edge series, The Edge Sumatra was launched by the company in 2007, and it quickly claimed accolades from press around the world. Strong and spicy with an oily Ecuadorean wrapper around Nicaraguan binder and filler tobaccos, Rocky Patel The Edge Sumatra has continued to be a fan favorite.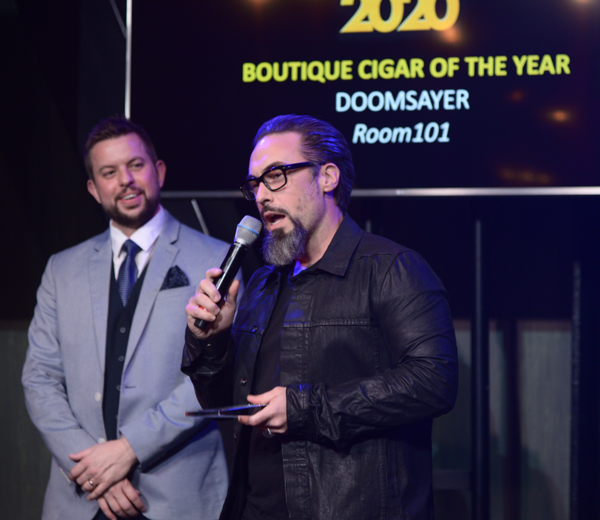 BOUTIQUE CIGAR OF THE YEAR: Room 101 Doomsayer
Since making his return to the cigar industry after a short hiatus, Matt Booth has wasted no time in unleashing some of his most creative, boundary-pushing cigar blends on the industry yet. Doomsayer is billed as a value-priced, medium-bodied premium cigar and will take smokers on a multi-country trip with an Indonesian binder and filler tobaccos, including Pennsylvania Broadleaf, along with tobaccos from Nicaragua and Honduras.
"I am both honored and humbled to have been considered for this award, let alone to have one of our products named Boutique Cigar of the Year," says Booth, the owner of Room 101. "I am grateful to my Tobacco Business and William Ventura family for the ongoing belief and support."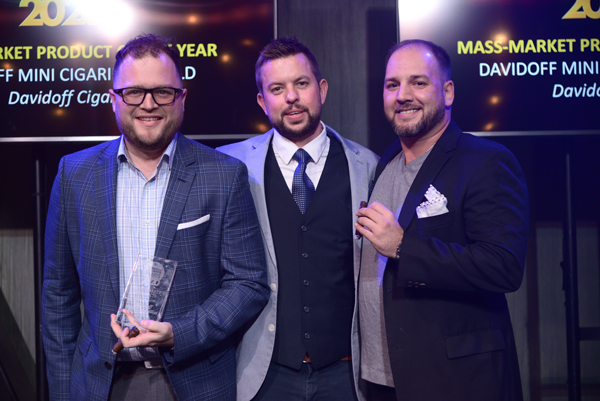 MASS-MARKET PRODUCT OF THE YEAR: Davidoff Mini Cigarillos Gold
Davidoff is typically synonymous with premium luxury, but the company behind premium cigar brands such as Davidoff Escurio, Yamasa and Winston Churchill also makes mass-market tobacco products. Taking the Mass-Market Product of the Year category by storm this year was Davidoff Mini Cigarillos Gold. A blend of premium tobaccos from Indonesia, Brazil and the Caribbean, these mini cigarillos offer consumers a premium cigar experience in a smaller, more convenient format and at a affordable price point.
This story first appeared in the March/April 2020 issue of Tobacco Business magazine. Members of the tobacco industry are eligible for a complimentary subscription to our magazine. Click here for details.