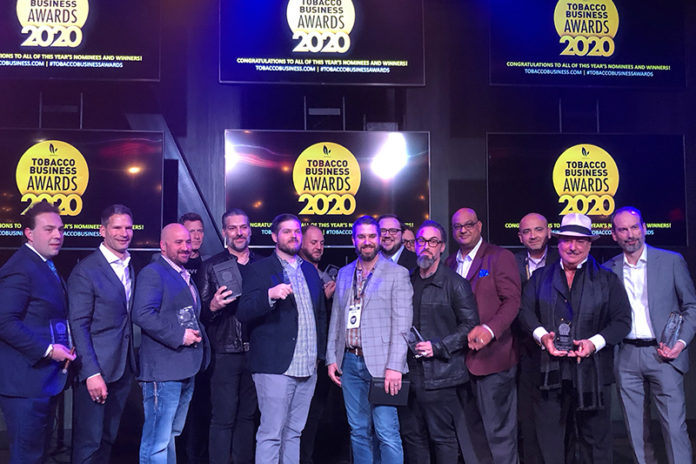 The third annual Tobacco Business Awards ceremony were held at an exclusive invite-only in Las Vegas on Jan. 30, 2020. The awards were held in conjunction with the 2020 Tobacco Plus Expo (TPE) at Club 101, located within the Sahara Las Vegas with close to 300 premium tobacco retailers, manufacturers and media in attendance.
The Tobacco Business Awards were designed to recognize exceptional and outstanding entrepreneurs, businesses and brands operating within the cigar industry. To reflect the diverse businesses and products that makeup the industry, other categories such as accessories, mass-market products, retailers and franchises are also recognized at the awards. This year's awards were rolled out differently than those in previous years as the nomination phase was opened up to the entire industry–retailers, manufacturers, wholesalers and consumers–and a group of finalist were voted on from Nov. 1-Dec. 31, 2019. By the time the final vote was cast, nearly 11,000 individuals had cast their vote for 11 different categories. One award, the Hugo Chairman Award which is named after Kretek International's chairman Hugh Cassar, was chosen by the magazine's staff and a select number of industry insiders.
This year's winners are as follows:
TOBACCONIST OF THE YEAR
Shore Thing Cigars
TOBACCO CHAIN OR FRANCHISE
Cigars International
HUGO CHAIRMAN AWARD
Heinrich Villiger
LEGACY AWARD
Carlos "Carlito" Fuente Jr.
DOMINICAN CIGAR OF THE YEAR
Arturo Fuente Hemingway Untold Story
Arturo Fuente
NICARAGUAN CIGAR OF THE YEAR
Oliva Serie V Melanio
Oliva Cigar Co.