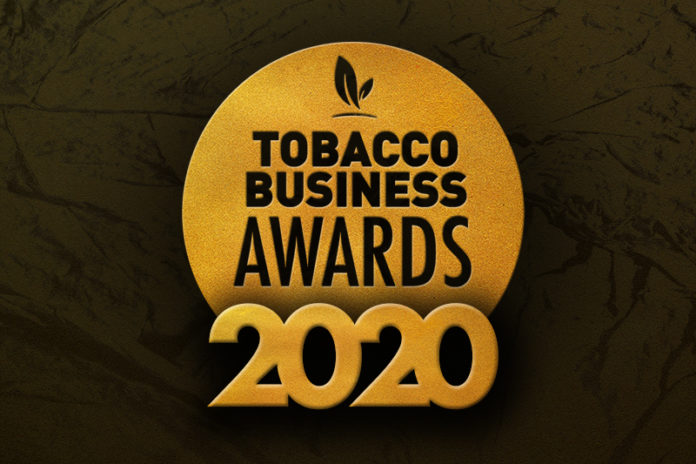 Tobacco Business Magazine is excited to announce the 2020 nominees for the Tobacco Business Awards. These awards are designed to honor the best businesses, entrepreneurs, and products in various categories of the tobacco, vapor and alternative industries. The Tobacco Business Awards will be presented at an exclusive ceremony in Las Vegas on Jan. 30, 2020, during Tobacco Plus Expo (TPE).
"We are so excited to host the Tobacco Business Awards for the third year running. It's a great opportunity to thank and give back those industry titans, innovators and visionaries who have contributed so much to our industry. This year, we changed things up on the voting process, giving total control to the our readers to choose the final nominees. The response was overwhelming and shows a true connect with the global brands and entrepreneurs who allow us to share their stories," says Ben Stimpson, managing director of Tobacco Media Group (TMG), publisher of Tobacco Business Magazine.
2020 nominees were chosen through an open nomination period held from Oct. 7-20, 2019. Over 1.5K people nominated different premium cigars, accessories, mass-market products, retailers and entrepreneurs in the tobacco space with those receiving the most votes making it to the final round. All categories are open to voting with the exception of the Hugo Chairman Award which is chosen by the Tobacco Business Magazine staff and is awarded to a tobacco industry icon or titan who has had a great impact on the tobacco industry for much of their career.
Nominees for the 2020 Tobacco Business Awards are as follows:
DOMINICAN CIGAR OF THE YEAR
Altadis U.S.A.– H. Upmann Hispanola by Jose Mendez
Arturo Fuente– Arturo Fuente Hemingway Untold Story
Davidoff Cigars– Winston Churchill The Late Hour
E.P. Carrillo– E.P. Carrillo Dusk
Kristoff– Kristoff Vengeance
La Flor Dominicana– Double Ligero Digger
NICARAGUAN CIGAR OF THE YEAR
Drew Estate–ACID 20
Gurkha Cigars–Gurkha Treinta
My Father Cigars–Don Pepin Garcia Original
Oliva Cigar Co.–Oliva Serie V Melanio
Perdomo Cigars– Perdomo Habano Bourbon-Aged Maduro
Plasencia Cigars–Alma del Fuego
HONDURAN CIGAR OF THE YEAR
Alec Bradley Cigars–Magic Toast
C.L.E. Cigar Company–Eiroa The First 20 years
Camacho Cigars–Camacho Nicaragua Barrel Aged Toro
General Cigar Company–Macanudo Inspirado Orange
JRE Tobacco–Aladino Corojo Reserva
Rocky Patel Premium Cigars–Rocky Patel The Edge
BOUTIQUE CIGAR OF THE YEAR
Dunbarton Tobacco & Trust– Dunbarton Sobremesa Brûlée
Foundation Cigar Co.–The Tabernacle
Jas Sum Kral– JSK Nuggs
La Barba Cigars–Ricochet
Oscar Valladares Tobacco & Co– Super Fly
Room101–Doomsayer