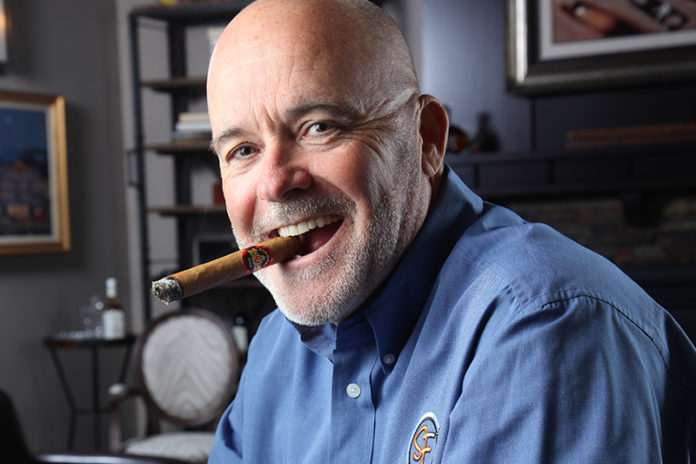 In 1984, Terry Gallagher Jr.'s father purchased the retail arm of the public oil company of which he was president. The company had 96 locations throughout the Western United States, and the acquisition not only created a new family-run company but also created a new job opportunity for Gallagher. This was Gallagher's first foray into the tobacco industry, and it led to a long career as a tobacco retailer. Today, he is the president of Smoker Friendly International, a collection of more than 800 independently owned and operated full-line tobacco retailers.
Much like Smoker Friendly International, Gallagher has evolved and grown over the years. When he first entered the industry as his father's employee, he was a store supervisor and worked with cigarettes, chewing tobacco and machine-made cigars. Today, Gallagher leads Smoker Friendly International, a tobacco chain franchise that has evolved over the years to include its own brand of tobacco products, aptly known as "SF," and has also helped advocate for tobacco consumer rights on a national scale. As Smoker Friendly International has grown over the years, Gallagher's focus within the company has also changed. His leadership style has been influenced the most by his father, who has a laidback and macro approach to management, according to Gallagher.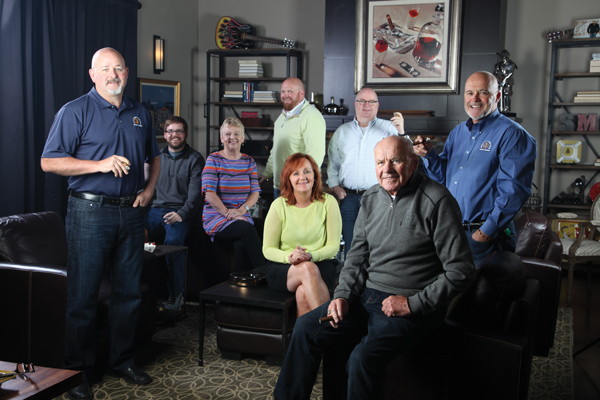 "He has a world of experience and wisdom," Gallagher comments in regard to his father's leadership style. "He is the ultimate people person and strongly believes in the value of relationships."
Other people that had a profound impact on Gallagher's leadership style are Phil Harbison and David Bershof, former business partners that helped get the company into the tobacco retail business. As Smoker Friendly partners, Gallagher recalls how neither man was ever shy about giving him advice on how they thought he should run the company. Like his father, Gallagher remembers how the two men were big believers in the power of great relationships and how they worked with him to develop what he considers to be one of his greatest attributes—the ability to foster and nurture relationships throughout the industry. These relationships, combined with a great team to back him, has led to the overall success of Smoker Friendly.
Building the Team
The team Gallagher has helped to assemble is seasoned and experienced to the point where he doesn't feel the need to micromanage his employees. Like many tobacco businesses, Gallagher also runs Smoker Friendly as a family business, just as his father did in the company's early days. The executive team only has one employee who isn't a member of the Gallagher family. However, that employee, who works as the company's attorney, is still viewed as a member of the family because he has worked with the company since its foundation. Gallagher's brother, Dan, is the chief operating officer. The brothers discuss the big issues the business faces, as well as major initiatives for the company, but Gallagher says he makes a point not to hover over his brother or get involved in issues where he's not needed. For each family member that works at the company, Gallagher reveals that the key to their success has been finding the areas of the business that best fit their skills and experience levels.
The next level of management under the executive level consists of long-term employees that have come up through the company's retail stores and who have a great understanding of Smoker Friendly's operations and the tobacco industry as a whole. These employees have experience in the tobacco industry and in operating a business, and they are empowered to make decisions in their areas of expertise, driving the overall growth of Smoker Friendly. Gallagher also encourages an open-door policy that allows for impromptu meetings to be held when there are issues to address in place of scheduled meetings. Gallagher sees a direct correlation between the success of Smoker Friendly International and the long tenure of the company's employees, both in its corporate office and the field.
"We have hired good people and have worked to give them a great environment to succeed and grow," says Gallagher. "I think our success is the many people who have helped build this business in their respective areas and [who] have been with us for years as part of the team and continue to push the business forward with enthusiasm. It takes all of them to have a successful and profitable business that continues to grow."
Scaling the Business
Gallagher relies on his team to help expand Smoker Friendly's product offerings. The Smoker Friendly team keeps an eye on emerging product categories and trends by actively engaging with relevant industries through trade shows, trade media, participation on industry boards and manufacturer trade councils, and diving deep into each product category. Smoker Friendly offers customers a wide range of products, from cigarettes and premium cigars to various other nicotine products. Smoker Friendly has also expanded into the alternative category space by making its stores a test bed for new products. The company helps roll out promotional and marketing programs designed to help move new products, and its management tries to keep an open mind regarding new trends, technology and ideas. Smoker Friendly's category directors facilitate the growth of the company through its product portfolio by making suggestions and working with the company's operations department on new trends and deciding the right time to integrate them into the store.
When it comes to scaling the business, Gallagher reveals that Smoker Friendly's approach to growth has been somewhat conservative. The company has made an effort not to overpay for new assets and also has made sure not to exceed the teams' capabilities. In the past few years, Smoker Friendly has expanded its retail footprint with new acquisitions like the Tampa, Florida-based Tobacco Depot in 2016 and Denver, Colorado's Cigars on 6th in 2017. These and other acquisitions are carried out thoughtfully, with Gallagher and others in the company weighing the impact the new assets will have on Smoker Friendly's overall growth and its ability to manage and finance it before any final decisions are made.
Like many leaders, much of Gallagher's job comes down to how well he can solve the problems that arise. Over the years, he has come to realize that no matter how distasteful or uncomfortable a particular situation may be, it's best to address the problem head-on and as quickly as possible because it most likely won't get any better on its own. While he takes on the big problems right away, it's the smaller ones that he admits he sometimes allows to go on for too long—which then become bigger problems that he must take on. One aspect of the business that challenges his leadership is his limited knowledge of finances and accounting, two areas he says he wishes he had taken more seriously while he was in school. Knowing and acknowledging his weaknesses, however, allows him to be aware of the areas of his business where he must rely on his team to help him in order for Smoker Friendly International to continue to grow and prosper.
This story first appeared in the September/October 2019 issue of Tobacco Business magazine. Members of the tobacco industry are eligible for a complimentary subscription to our magazine. Click here for details.
– Story by Antoine Reid, senior editor and digital content director for Tobacco Business Magazine. You can follow him on Instagram @editor.reid.