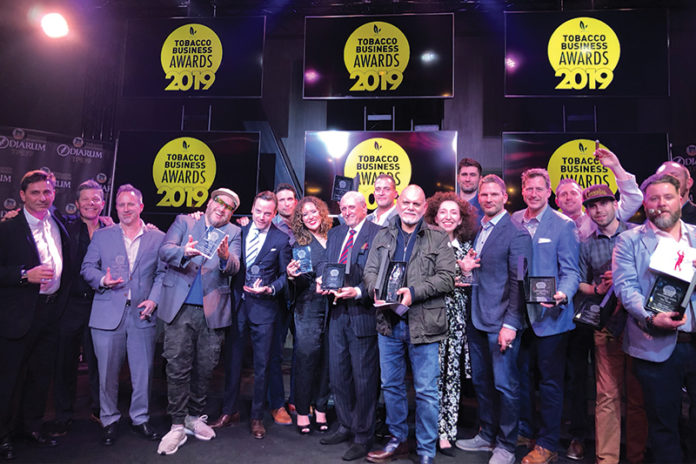 Tobacco Business Magazine held its second annual Tobacco Business Awards at an exclusive invite-only ceremony held in Las Vegas on Feb. 11, 2019. This year's event took place at The Sayers Club within the SLS Las Vegas Hotel & Casino and had close to 270 premium tobacco retailers, manufacturers and media in attendance.
Held in conjunction with the Tobacco Plus Expo (TPE), the Tobacco Business Awards was designed to honor and recognize exceptional businesses, professionals, and products of the tobacco, vapor and alternative industries. This year's ceremony was a full-on featuring of who's who within these industries as the magazine announced the winners of the 2019 awards. This year's awards expanded to 12 categories that could be voted on by the magazine's print and digital readers and one non-publicized award given to an industry icon that was announced and revealed for the first time during the ceremony. New categories introduced at the 2019 awards included Nicaraguan Cigar of the Year, Dominican Cigar of the Year, Boutique Cigar of the Year, Accessory Manufacturer of the Year, Tobacconist of the Year and Woman of the Year. This year's awards had close to 8,000 votes, nearly four times the votes of the 2018 awards.
"This isn't an easy industry to do business in; success comes with hard work, sacrifice and many hours spent on building something that often starts out as nothing but an idea or dream. We view the awards as a thank you to those who've have helped make this industry what it is today and to those who continue to help us shape Tobacco Business and Tobacco Plus Expo," says Ben Stimpson, managing director of TMG International, the publisher of Tobacco Business Magazine and owner of the TPE trade show.
This year's winners are as follows:
TOBACCONIST OF THE YEAR
Havana Phil's Cigar Company of Greensboro, NC
TOBACCO CHAIN OR FRANCHISE OF THE YEAR
Casa de Montecristo
ACCESSORY MANUFACTURER OF THE YEAR
Boveda
NEXT-GENERATION PRODUCT OF THE YEAR
Cannadips
MASS MARKET PRODUCT OF THE YEAR
Panther Cigarillos by Royal Agio Cigars
NICARAGUAN CIGAR OF THE YEAR
Drew Estate Florida Sun Grown (FSG) by Drew Estate