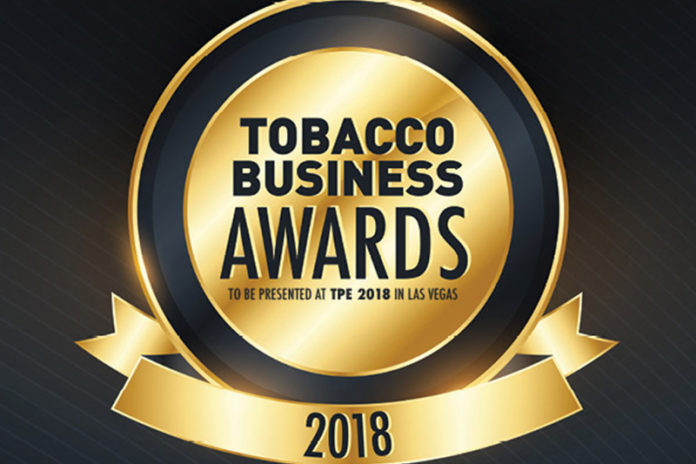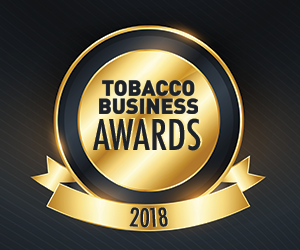 Tobacco Business Magazine, a leading B2B tobacco industry publication covering all categories of tobacco, announces the nominees for the 2018 Tobacco Business Awards. These awards honors the best businesses, entrepreneurs, and products of various categories of the tobacco industry including premium cigars, OTP, vape and alternative. The Tobacco Business Awards will be presented during the 2018 TPE Show in Las Vegas, January 30-February 1, 2018.
"The Tobacco Business Awards gives us the chance to recognize some of the best businesses, products and entrepreneurs in the industry today," says Ben Stimpson, Managing Director of TMG and Tobacco Business Magazine. "With the focus of Tobacco Business Magazine and TPE 2018 being on providing our attendees with the best information and products, we also wanted to shine a light on those businesses and individuals who have contributed to this successful and diverse industry."
Voting begins November 1, 2017 and ends on December 15, 2017. To vote, visit tobaccobusiness.com/awards18. The 2018 Tobacco Business Awards will honor businesses, products and entrepreneurs in five different categories:
CIGAR OF THE YEAR
Nominees:
Macanudo Inspirado White (General Cigar Co.)
Undercrown Sun Grown (Drew Estate)
H. Upmann by A.J. Fernández  (Altadis U.S.A.)
The Late Hour Winston Churchill (Davidoff Cigars)
La Flor de Ynclan (Villiger Cigars North America)
Archetype Axis Mundi (Ventura Cigar Company)
Camacho Nicaraguan Barrel-Aged (Camacho Cigars)
Alma Fuerte (Plasencia Cigars)
Hit & Run (Matt Booth and Robert Caldwell)
Venganza (Cornelius & Anthony)
LEGACY AWARD
Nominees:
Ernesto Perez-Carrillo (E.P. Carrillo)
Hendrik "Henke" Kelner (Davidoff Cigars)
Nestor Plasencia Sr. (Plasencia Cigars)
Mark Ryan (Daughters & Ryan)
Bill Sherman (Nat Sherman)
ENTREPRENEUR OF THE YEAR
Nominees:
Jonathan Drew (Drew Estate)
A.J. Fernández (AJ Fernández Cigar Co.)
Sean Knutsen (Boveda, Inc.)
Stephen Bailey (Cornelius & Anthony)
Jacopo D'Alessandris (EAS)
BEST IN OTP
Nominees:
Signal (Ohserase Manufacturing)
Wildhorse (Premier)
Pyramid (Ligget Vector)
Time (Global Trading)
Djarum Black (Djarum)
OHM Bold (Inter-Continental Trading USA)
Golden Harvest (Rouseco)
ZYN (Swedish Match)
JUUL (PAX)
CUE (EAS)
BEST TOBACCO MERCHANT OR CHAIN
Nominees:
Corona Cigar Company
Smoker Friendly
Collett Enterprises, Inc.
Casa de Montecristo
Blend Bar Davidoff Cigars
Winners will be announced during the TPE Show in Las Vegas, January 30-February 1, 2018.
Media contact:
Antoine Reid
Director of Digital Design
Tobacco Business Magazine
(805) 553-5791
antoinereid@tobaccobusiness.com
tobaccobusiness.com