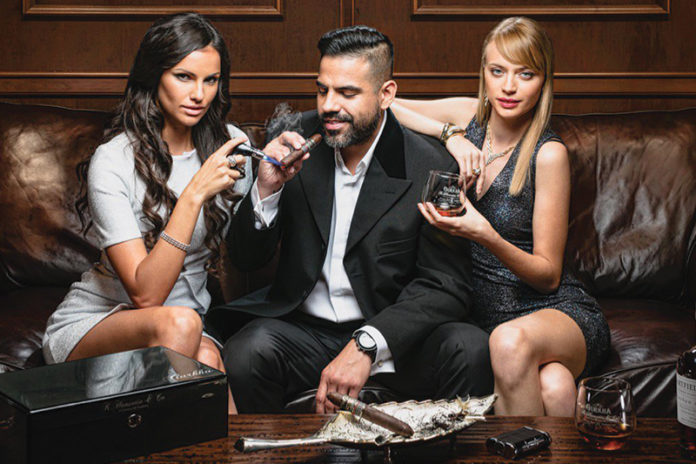 Gurkha Cigars launches a social media contest that challenges the Gurkha Nation to share their favorite pairing of Gurkha with vodka, tequila, rum, scotch, coffee and beer for a chance to win a series of prizes.  Beginning Friday, Nov. 3 and running through Wednesday, Nov. 8, the contest will focus on a different beverage each day to pair your Gurkha and share your photo on Facebook (facebook.com/GurkhaCigars), Instagram @gurkhacigars, or Twitter @gurkhacigars with #GurkhaPairing.  Prizes will be given out daily and include signs, ashtrays, growlers and humidors.
To help provide some inspiration, Eddy Guerra, Gurkha's Director of Marketing has provided some background on some of the most ideal Gurkha pairings though there is really no wrong way to enjoy a Gurkha:
VODKA
Vodka has a neutral flavor and is generally made form grapes, grain and/or potatoes.
This versatile liquor takes on the flavor of whatever you mix or infuse with it including juice, fruit, herbs or botanicals. You will want to match your cigar with any martini, mixed drink or infused flavor so that it complements your beverage.  An optimal pairing will allow you to taste and enjoy both at the same time.
Cigar recommendation: Gurkha Royal Challenge
The following products, which include tequila, Rum & Scotch all evolve when aged unlike Vodka so it is important to note their aging when pairing with a great cigar.
TEQUILA
Tequila is produced from Blue Weber Agave primary sourced from Mexico.  There are five types of Tequila.  With every classification of tequila the price increases with age.
Blanco Silver Puro 100% tequila must be bottled in Mexico, 0-2 months ageing mixable and versatile for shots, margaritas and other cocktails
Cigar recommendation:  Gurkha Master Select
Reposado Puro 100% tequila must be bottled in Mexico aged 2-11 months in oak barrels can be from recycled spirit producers or new barrels. The aging brings smoothness and definition to the tequila also adding a light golden hue to the product. Makes a great Gold Cadillac Margarita.
Cigar recommendation: Gurkha Ghost
Anejo Puro 100% extra aged for at least 1 year, must be bottled in Mexico and barrels cannot exceed 600 liters. During this process the tequila softens, develops into a rich golden amber color with a taste profile that is complex with layers flavor. Anejo can be chilled or poured on the rocks if you like a more open flavor.
Cigar recommendation: Gurkha Cellar Reserve Limitada
Extra Anejo 100% Puro ultra aged 3 years or more must be bottled in Mexico. This classification was created in 2006 and like Anejo cannot be placed into barrels that exceed 600 liters. Ultra aging tequila brings forth nectar that at times is hard to tell that it is Tequila. The aging process transforms the liquid into a deep mahogany hued product that resembles a cognac, brandy or aged fine rum. Drink neet or chilled but keep in mind as with the Anejo these are for sipping not shooting and all be accompanied by a great cigar!
Cigar recommendation: Gurkha 12-year Platinum
RUM
Rum is produced from sugar cane, sugar beets or molasses.  Most production is from the Americas but it can be produced anywhere sugarcane is grown. Taste profiles range from light to very strong.  Rum can range from 80 to 180 proof.  Rum in the US ranges 80 to 151 proof.
There are three types of Rum:
White can be aged but normal process is limited aging. White rums are for mixing drinks when the visual presentation is important so the vibrant color of the juice or fruit is focus along with the taste. These rums are versatile and extremely mixable and like vodka take on the flavors that are infused or added to them.
Cigar recommendation: Gurkha Cask Blend Grand Robusto
Gold/ Amber again limited aging and are not as neutral as white rums. They bring a layer of flavor complexity and have a richer taste.  This is the rum used in the world famous "The Cuba Libra" (Rum & Coke) cocktail.  It is also used in Mojitos and Daiquiris.
Cigar recommendation: Gurkha Cellar Reserve Kracken XO
Aged Rum can be from 4-30 years. This category is where the most flavorful rum products are found. Like tequila and scotch, the aging process brings a flavor concentration, smoothness, depth, character and drinkability. Aged rums are aged primarily in old bourbon barrels because bourbon must be produced in new barrels when produced creating a supply of used barrels for rum producers. The bourbon whisky adds to the flavor profile and depending on the bourbon producer each develops its own character.  Aged rum is the greatest value in the spirit market, because the pricing of 8-15 and the 18-30 year old rums are a fraction of what scotch, cognac, brandy and some tequila are fetching at retail.
Cigar Recommendation: Gurkha 125 Anniversary
For all the latest news from Gurkha Cigars, visit gurkhacigars.com.