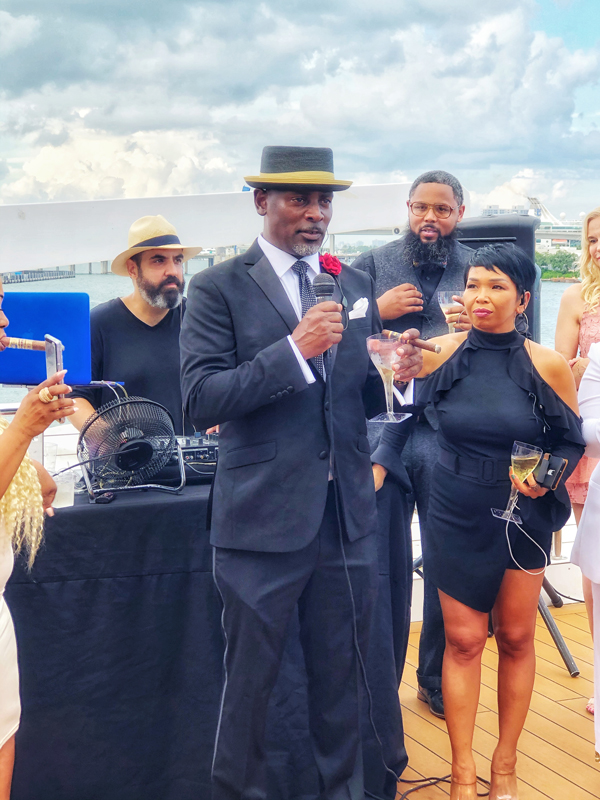 Going on its ninth year, the Miami Mega Herf was held in Miami, Florida from Oct. 17-20, 2019. Organized by Lui Mahal and Michael Pugh, this annual event brings together cigar enthusiasts for a weekend of cigars, food, and plenty of networking and social events that bring consumers together with some industry's leaders. Sponsors of the 2019 Miami Mega Herf included Drew Estate, Cohiba, Davidoff, AJ Fernandez, La Galera, Freyja, Señorial by José Blanco, Casa Cuevas, Epic Cigars, Nat Cicco, Cuban Crafters, Casa de Montecristo Prime Cigar & Whiskey Bar, Grand Leyenda Tequila, Nova Cigars, Fuera de Serie, and Ace Prime.
The 2019 Miami Mega Herf kicked off with an intimate cigar social on Thursday, Oct. 17, 2019, for guests that arrived early. Held at the Deck at Island Gardens, located at 888 MacArthur Causeway in Miami, Florida. Here, guests dined, enjoyed wine and danced while enjoying Epic Cigars with Miami's skyline and Biscayne Bay serving as a backdrop. On Friday, a happy hour and cigar social held at Brickell's Blue Martini served as the pre-kickoff to the Miami Mega Herf weekend and featured live music and Joya de Nicaragua Antaño Dark Corojo cigars.
Guests made their way to Casa de Montecristo by Prime Cigar and Whiskey Bar, which hosted the official kick-off party. Jonathan Drew, president and founder of Drew Estate, made an appearance during the party where many of Drew Estate's cigars served as the centerpiece of the evening. On Saturday, Oct. 19, guests gathered at Cuban Crafters Cigar Lounge for a Ladies of the Leaf cigar social that featured cigar maker Emma Viktorsson of Freyja Cigars and several female social media influencers in the cigar space. Davidoff Cigars served as the featured cigar for this event.
The main event, the Cigar & Spirit Industry Sunset Cocktail Cruise, was held aboard the Seafari Miami Mega Yacht on Sunday, Oct. 20, 2019. The Safari is the 4th largest mega yacht in the U.S. and is privately owned. Measuring 228 feet in length, 65 feet in height and encompassing 20,000 square feet of venue space, the Seafair served as a very unique space for cigar enthusiasts who gathered for the event. Each deck was designed to offer guests a different experience: an art show featuring famed graffiti artist ATOMIK occupied the first deck. Curated by Jonathan Drew himself, ATOMIK's iconic orange-themed artwork was prominently featured while Jonathan Drew greeted and interacted with guests and handed out various Drew Estate cigars including the new ACID Kuba Arte, BOTL and Shady XV.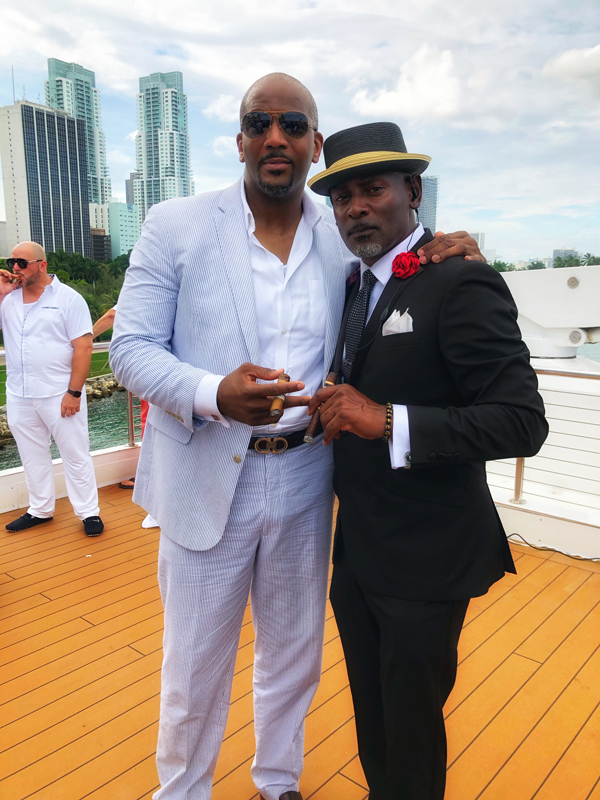 Deck two hosted a Cuban Crafters Lounge, a dance floor, bar and buffet area. Deck three also featured a buffet area and a open bar sponsored by Brown Forman, one of the largest American-owned spirits and wine companies. On the sky deck, Grand Leyenda Tequila hosted a bar area that featured signature cocktails made with their ultra premium tequila. On the sky deck, Sean Williams of Cohiba Cigars was present, passing out the new Cohiba Connecticut cigar while meeting and greeting all the guests.
Jonathan Drew kicked off the cruise with a toast to the event's organizers, Mahal and Pugh, while also providing some insight into the event's significance.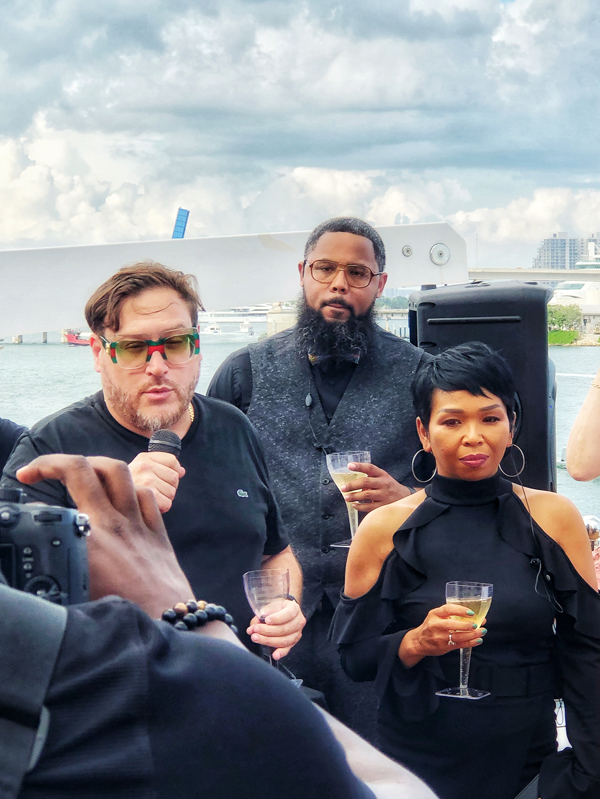 "In the world of tobacco, from the Drew Estate side, I look at tobacco from an industrial side and from a pre-industry side in a very unique manner. When I see people bringing something to the game in the industrial side I get very excited–I'll travel there, I'll look at the tobaccos … but when I see people coming into the culture and then be able to do something that's different, it's the difference from transactional and transformational. And what I saw what you guys did is something I learned from a very dear friend of mine in Atlanta and he really explained the difference between the transformational space–that's what I liked a lot. That's something I always saw in your eyes and in your hearts and the way you talked to people and the way you would bring people into the culture. The best event of the year is right here–the Miami Mega Herf," said Drew.
Mahal and Pugh revealed that though this event has taken place in Miami for the past several years, this year's event would be the last to be held in Miami for several years. Future Mega Herf events will take place in other states with details to come in 2020.
For more information about the Miami Mega Herf, visit miamimegaherf.com.
– Story and photos by Antoine Reid, senior editor and digital content director for Tobacco Business Magazine.