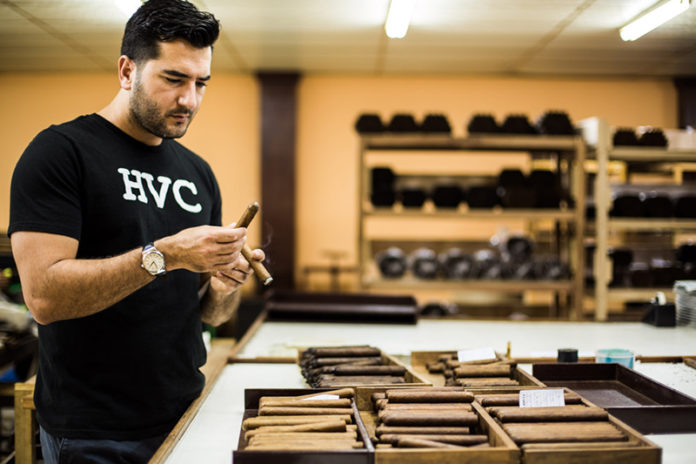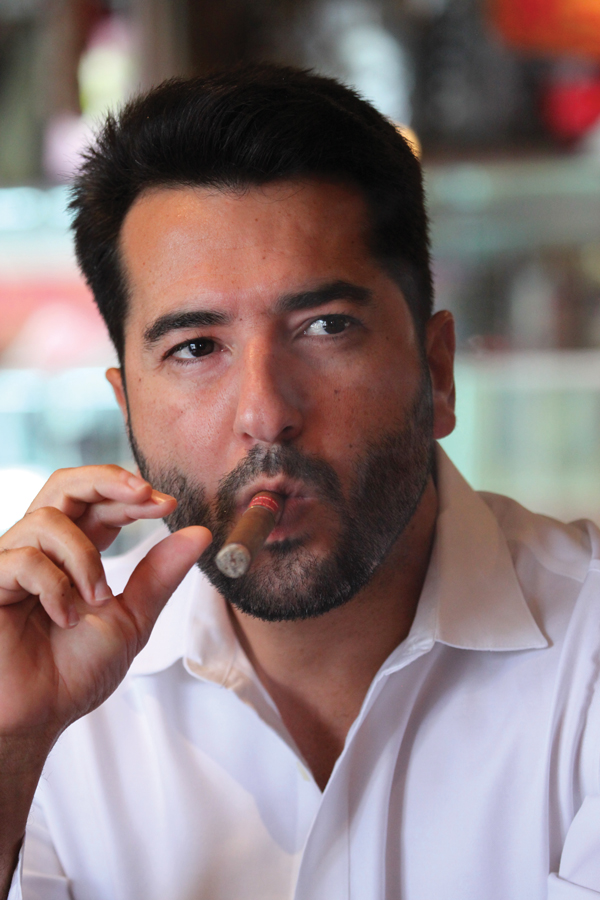 It might be natural to jump to the conclusion that Reinier Lorenzo, the owner of HVC Cigars, has always dreamed of being the owner of a cigar company. After all, the 34-year-old man was born in Camaguey, Cuba, and raised in Havana—the birthplace of premium cigars, where such fabled factories as Partagas, El Laguito, Romeo y Julieta and La Corona, as well as countless smaller production facilities produce some of the world's best-known brands. Cigar culture and tobacco knowledge seemingly seeps from every nook and cranny of the Cuban capital's buildings and streets. Nowhere in the world is there a stronger association between a city and cigars than Havana. So knowing that Lorenzo hails from the Cuban capital and now owns a cigar company in the United States, it's a logical assumption that he grew up working in one of the city's cigar factories before establishing his own cigar company, like so many others have done before him. That assumption, however, would be completely false. No, instead of planning on a career wielding a chaveta inside a cigar factory or growing tobacco on a verdant Pinar del Rio tobacco farm, Lorenzo's plans were focused instead on a career in medicine. A trip to Nicaragua in 2009, however, changed his plans.
When Opportunity Knocks…
Following Lorenzo's mandatory two-year service in the Cuban military, he worked as a veterinarian as he attended medical school. He found that his open and friendly personality aided his bedside manner regardless of whether the patient was a person or an animal. Lorenzo was perfectly suited to pursue a career in medicine, but an opportunity to join his family in the U.S. proved too good to pass up. Obtaining the proper paperwork from both the U.S. and Cuban governments, Lorenzo came to the U.S. in 2008, when he was 23. He quickly landed a job working at a genetics company in Wisconsin, which he kept for seven years. His sister, Josefa Vega, was general manager at Aganorsa Leaf in Miami. While visiting his family in 2009, Lorenzo met Eduardo Fernandez, the owner of Aganorsa Leaf—one of Nicaragua's largest tobacco growers and a maker of cigars. Fernandez invited Lorenzo to travel with him to Nicaragua to visit his tobacco fields and cigar factory. It was a trip that changed the direction of Lorenzo's life.
"He showed me the entire operation in Esteli and Jalapa, and I really fell in love with tobacco," Lorenzo recalls a decade later. "I had never had any association with tobacco or cigars before this, and that trip to Nicaragua brought me into a whole new world. It was a world that I knew I wanted to be part of."
At the time of Lorenzo's first visit to Nicaragua, Fernandez's cigar division was known as Casa Fernandez, and the tobacco-growing operation was known as Aganorsa Leaf. While the Casa Fernandez factory, Tabacos Valle de Jalapa S.A. (TABSA), located in Esteli produced cigars for Casa Fernandez, it was better known at the time for the cigars it made for other companies. Having seen TABSA workers making cigars for other companies as well as for Casa Fernandez, Lorenzo wondered if Fernandez could make cigars for him. It was a request that Fernandez was more than capable of fulfilling.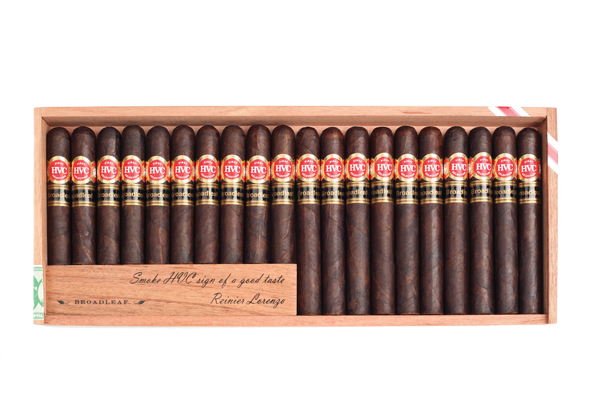 The Birth of HVC Cigars
HVC Cigars debuted on the American market in 2012 with the introduction of First Selection, which Lorenzo no longer produces.
"First Selection was a cigar that helped me determine what characteristics I would look for in all the cigars I wanted to release in the future," Lorenzo says. "When I'm blending cigars, I'm looking for four qualities that the cigar will present: construction, body, flavor and a clean finish. Although each of the other HVC cigars may offer different flavor and strength profiles, they all share the characteristics of being well-made and offering consumers a flavorful smoking experience."
Lorenzo later released an extension to the original First Selection—First Selection Broadleaf—as a limited edition of just 500 boxes. The cigars proved so popular, however, that First Selection Broadleaf has become part of HVC Cigars' regular production. Made using an oily and rich dark Connecticut Broadleaf wrapper, HVC First Selection Broadleaf cigars are packaged in 20-count boxes and are available in two sizes: Short Robusto (4 1/2 x 52) and Toro (6 x 52).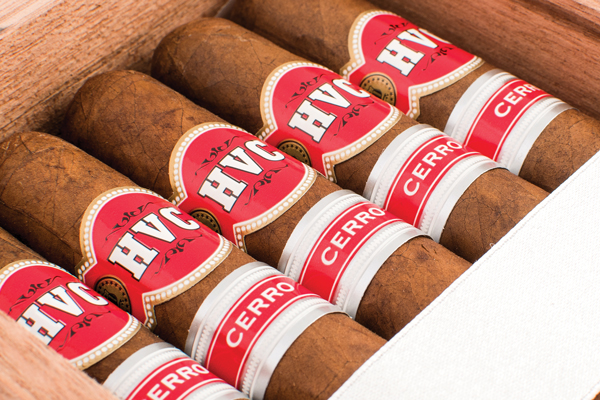 Following the introduction of First Selection, Lorenzo released Cerro, which is named for Havana's oldest neighborhood, El Cerro, where Lorenzo grew up. Cerro is available in two varieties, one with a Corojo '99 wrapper and another with a Mexican San Andres maduro wrapper. Cerro Corojo is a Nicaraguan puro. Both Cerro versions are made from binder and filler tobaccos grown in Esteli and Jalapa that have been aged for at least three years. The medium-bodied smokes are packaged in 20-count boxes and are available in four sizes: Robusto Gordo (5 1/2 x 58), Toro (6 x 54), Robusto (5 x 50) and Sabrositos (4 1/2 x 46).
"When somebody says they are looking for a medium-bodied cigar, I recommend Cerro," Lorenzo says. "I wanted to make a cigar that everybody could smoke. It's not too heavy a cigar. It has a nice flavor and a clean finish."
Encouraged by the initial releases of First Selection and Cerro, Lorenzo wanted to add a slightly different cigar to his company's portfolio in hopes of attracting more cigar smokers to try an HVC cigar. Lorenzo crafted another Nicaraguan puro made exclusively of Aganorsa Leaf tobacco but chose a Criollo '98 wrapper to encase the new cigar, which he dubbed Pan Caliente after a Cuban expression denoting a hot-selling item. Packaged in 25-count boxes and available in three sizes—Doble Corona (5 5/8 x 46), Robusto (5 x 50) and Toro (6 1/4 x 52)—Pan Caliente gave the fledgling young cigarmaker his third success.
"Smokers enjoyed Pan Caliente's smooth and medium body," Lorenzo explains. "They liked that it was flavorful and well-balanced and offered a clean finish on the palate. Experienced cigar connoisseurs and cigar novices alike could enjoy that cigar and be completely satisfied."
With the sales of First Selection, Cerro and Pan Caliente going well, Lorenzo decided in 2015 that he would leave his job in Wisconsin and devote himself to his fledgling cigar company. Up to that point, he had kept his full-time job in genetics and spent vacation time, nights and weekends touring cigar shops in Wisconsin and Michigan, as well as in the Chicago area. Supplied with two cigar lines of which he was proud, Lorenzo looked forward to any opportunity he had to meet premium cigar retailers and their customers to talk about his products. More times than not, after having given the retailers and consumers a cigar to try and speaking to them about his passion for his company and its brands, he had secured a new retail account. Slowly but most assuredly, HVC Cigars' presence in the premium cigar industry grew.