Doing a quick Google search of Tres Lindas Cubanas Cigars will reveal some of the expected cigar reviews but also many images of Yvonne and Yvette and different takes on their story. Presenting their personal story first and using it as a vehicle to drive interest to their cigars has worked for them and their business. Knowing that money is key to any business, the last thing either of them wanted to do was spend money on something that wasn't going to have a greater long-term impact.
"Paid advertising costs money," says Yvonne. "I mean, it's cool, but we didn't have the money, and we weren't risking it from the beginning. A business is a business, and the first five years are very difficult. A lot of businesses don't last, and I wasn't going to go broke doing it."
Yvette adds, "This was a side business at the start. Basically, this one was for us. It's a project we were already doing anyway. We were going to cigar shops, we were building relationships and creating this business. At the end of the day I asked my sister, 'Why cigars?' She was like, 'Because it's cool! Cigars are cool!"
What made Tres Lindas Cubanas Cigars a great business for the sisters was the fact that cigars were something they were passionate about long before the brand idea came to fruition. If they hadn't decided to pursue their idea, they still would have been smoking cigars. The business came together organically. Yvonne had the idea, and through her travels Yvette had the connections to help them manufacture the product. Yvette also had the know-how to promote and market the product in the absence of a big budget, and she already knew what would work best for their boutique brand.
What has worked for them in recent years is social media, especially YouTube. Social media has become Tres Lindas Cubanas' main mode of marketing. Still, the sisters have chosen to use social media to promote their story and update their followers on what they're doing rather than to continue to push their product. Instead of treating their followers as customers, they instead view them as extended family members. YouTube allows them to share their stories and keep everyone informed of what they're doing. The selling is a byproduct of their efforts.
"YouTube is fun. People want to know more about where their money is going and who it's going toward or what business is behind it," explains Yvonne. "They want to know what their thoughts are."
YouTube and social media in general also allow the Rodriguez sisters to control the narrative. Like other women in the industry, they have faced their share of opposition and men who can't get over the fact that they're women who not only like cigars but who also own their own brand. Yvette shares the story of one retailer, who she now considers to be a friend, who told her to her face that she didn't know anything about cigars. This isn't something that happens all of the time, but it does happen, and the sisters choose to let their products speak for them.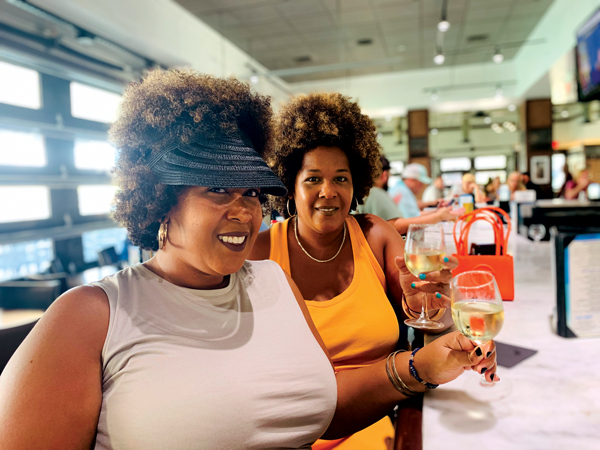 The Afro-Latino Connection
Cigars have also served as a source of inspiration for other business pursuits for the Rodriguez sisters. They looked within their own daily lives when they created Caribbean Queens Coffee. Like cigars, coffee figures heavily into the Cuban lifestyle. Many people, including the Rodriguez sisters, enjoy coffee alongside their cigars. Caribbean Queens Coffee underwent a soft launch in 2020, and currently the sisters are selling the coffee on the Tres Lindas Cubanas Cigars website. The coffee is also produced using sustainable methods, something that's very important to both of them.
The creation of a coffee brand also inspired the sisters to create a new cigar blend to go along with it. For years, the sisters were asked when they would be releasing something new. Since they already had three blends, they weren't inclined to rush the process. With the release of Caribbean Queens Coffee, they felt like a new cigar blend may be good to pair with the cigars. That's when Dulce came onto the scene.
"We wanted a signature blend to go with our coffee brand," explains Yvette. "You're gonna get flavor throughout the whole cigar. Dulce is a little bit shorter, and it complements the coffee and your ambiance."
To celebrate their heritage and amplify the voices and messages of those in their community, the Rodriguez sisters launched the Afro Latino Professionals organization. Much like Tres Lindas Cubanas Cigars and Caribbean Queens Coffee, the Afro Latino Professionals organization developed organically. Soon after the passing of Fidel Castro in 2016, the two sisters were approached and interviewed by CBS News and asked to share their thoughts and opinions on the historic event. During this interview, the reporter asked the two sisters why Afro-Cubans weren't seen or heard from as much. This question surprised the Rodriguez sisters because they constantly encountered other Afro-Cubans on a daily basis. They knew there was a huge Afro-Cuban community in South Florida especially, though many people were only familiar with Afro-Cuban culture from what they saw in public figures like Celia Cruz. This was a problem that the Rodriguez sisters wanted to fix.
They decided to create a networking group for professionals that would support and promote Afro-Latino professionals and businesses. The group shares information that is important to the Afro-Latino community and also works hard to advocate for the community in terms of media interviews, panels and recommending members of the community for different opportunities. One such occasion was when a producer for Padma Lakshmi's "Taste the Nation" reached out directly to the Rodriguez sisters in search of Black Hispanics for a specific episode they were going to be filming.
"We're media giants; we love it," Yvette explains. "We like to control the narrative, so we give our perspective. That's why [Afro Latino Professionals] was created, and it's been working."
The Rodriguez sisters have always been inspired by their family. They followed the example set by their parents when it came to creating their own opportunities. Their grandmother's fearless attitude and love for cigars was at the forefront of their minds when they developed the different blends and the story behind Tres Lindas Cubanas Cigars. Their Afro-Cuban heritage served as the foundation for their coffee product and their organization with a mission to promote their culture and history. The businesses and the products the Rodriguez sisters create are authentic because they are expressions of who they are. These two women have big personalities and big aspirations that motivate them to continue to create. Even with 11 different streams of revenue stemming from the launch of Tres Lindas Cubanas Cigars, for this sister act, the story has just begun.
This story first appeared in the November/December 2022 issue of Tobacco Business magazine. You can view the entire issue online for free by clicking here.

– Photography courtesy of Tres Lindas Cubanas Cigars. Story by Antoine Reid, senior editor and digital director for Tobacco Business Magazine. You can follow him on Instagram @editor.reid.