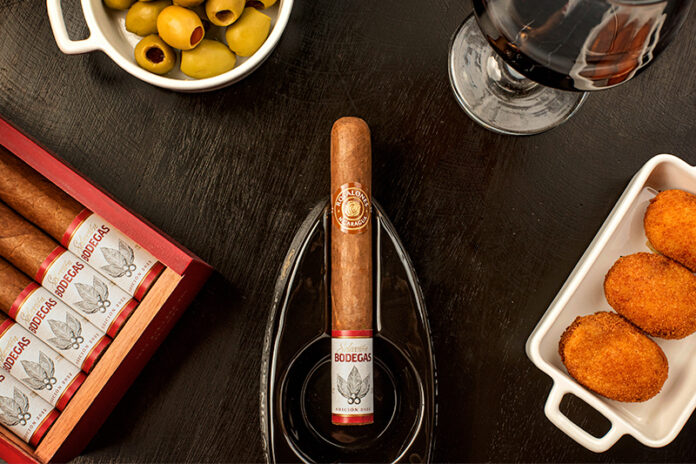 In commemoration of one of the first blends made at the Joya de Nicaragua factory, Joya de Nicaragua will release Rosalones Selección Bodegas in the Spanish market. Rosalones Selección Bodegas will be an annual release going forward.
After Joya's factory opened in 1968, one of the brands it began producing was Rosalones. During the 1970s, Rosalones began to be distributed to new markets and became an early favorite among Joya fans. It was discontinued in 1990, not to be brought back to the market until 2011 when the team that represented Joya de Nicaragua in Spain requested it be brought back. This cigar line was blended to pair well with a good wine, creating what Joya de Nicaragua hopes will be a unique sensory experience.
Every year, Rosalones Selección Bodegas will be released in a new blend that pairs with a different region and wine. To work on this pairing, Joya is working with wine and cigar sommelier Agustín López, who has been asked with identifying these pairings. The 2022 edition of Rosalones Selección Bodegas' blend pairs well with red wines with qualified denomination of origin Rioja.
"Spain was instrumental in the development of the tobacco industry as we know it today, hence the importance it has had over the years. And for us it has been the same. Spain is very important: we have been in this market for many years, and many smokers have supported our brands. Rosalones Selección Bodegas is a tribute to our friends, Albert and Ernest, our local team, the tobacconists, and the fans in general. I hope you enjoy these cigars from my land that intertwined with the wonderful wines of yours, as much as we do," commented Juan Ignacio Martínez, executive president of Joya de Nicaragua.
This year's Rosalones Selección Bodegas features a Habano Ecuador wrapper, Nicaraguan binder and fillers. It is presented as a 6 x 50 toro and has notes of wood, roasted coffee, nuts and pepper. Only 250 boxes of this limited edition cigar will be available for sale in cigar stores located in Spain. Rosalones Selección Bodegas is expected to ship this month.
For all the latest news from Joya de Nicaragua, visit joyacigars.com.