Kafie worked closely with his attorney and others in the industry to find a solution to his problem. That's when someone suggested that he look into La Aurora Cigars, a prominent factory located in the Dominican Republic.
"I had always admired the history of La Aurora and the quality cigars they produce," he says. "When I got the chance to visit the factory and see their operations firsthand, it was a no-brainer. Building great cigars is about tobacco inventory and tobacco experience. I quickly came to realize that there was no better place for Kafie 1901 Cigars or myself than La Aurora."
The more Kafie learned about La Aurora and the history of the family behind it, the more he felt it would be a good fit for his company's production needs. After several meetings with La Aurora's master blender, Manuel Inoa, Kafie was finally able to finish that blend he'd been working on for years: the Kafie 1901 Serie L Natural.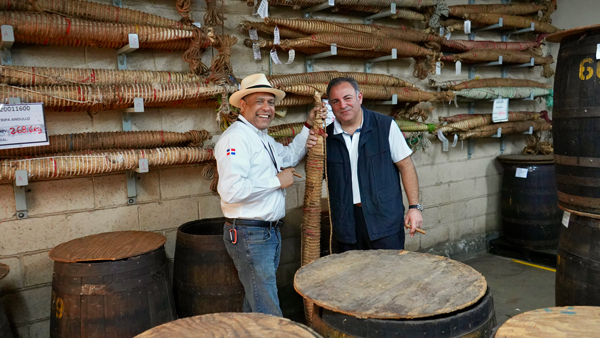 "Since inception, our company has been focused on making blends that feature tobaccos from many countries. Typically, one cigar blend has tobaccos from multiple countries. Our Kafie 1901 Serie L Natural, on the other hand, is a 100 percent Dominican puro, a blend that was only made possible through the guidance of La Aurora's head master blender, Mr. Manuel Inoa."
He continues, "This is a cigar that I have been wanting to make for over five years. It has finally come to life, and such a quality blend was only possible in the Dominican Republic. This will be a permanent addition to the Kafie 1901 Cigars portfolio. Our Kafie 1901 Premium Cigar Core line now consists of five blends, each unique in their own way."
The wrapper for the Kafie 1901 Serie L Dominican puro is a five-year-aged Corojo from the Cibao Valley in the Dominican Republic. This is a medium to full-bodied cigar with a blend that's described as "complex" and that has a perfect balance throughout. According to Dr. Kafie, the flavor notes of the cigar include wood, leather, almond, honey and floral notes. The flavor profile is also described as being sweet with an undertone of what Kafie describes as "an undertone of bitter cocoa elegance."
The Kafie 1901 Serie L Natural was first released in a Robusto and Toro format in the fall of this year and will launch in three additional sizes this winter. Each cigar release requires an extreme level of attention from Kafie and from those in the factory. Each tobacco variety used must go through extensive fermentation and aging. In the case of Kafie Cigars, no tobaccos used in the blends have been aged for less than four years. Kafie also believes in working closely with the best blenders in the industry in order to better understand the characteristics of each leaf and the blend as a whole. Kafie's goal for his company is to produce consistent blends and products that not only bolster the Kafie family name but also help make the cigar industry stronger.
"Our brand of cigars produces permanent lines," he says. "We do not believe in doing short runs because everything we do is produced on a limited scale already. If a consumer falls in love with a line of cigars we offer, we want that individual to always be able to come back and revisit that blend."
He continues, "We thrive on making sure a blend stays consistent over time and that construction and draw always deliver a quality experience to connoisseurs. We take great pride in telling our family story through Kafie 1901 Cigars and want people to know that when you purchase our cigars you're buying a product from a family with 120-year history in the region. We know quality tobacco, we know our people, we speak the language, and we're 100 percent invested not only in our company but also our industry. We're here to make our industry better, not just to sell you a cigar."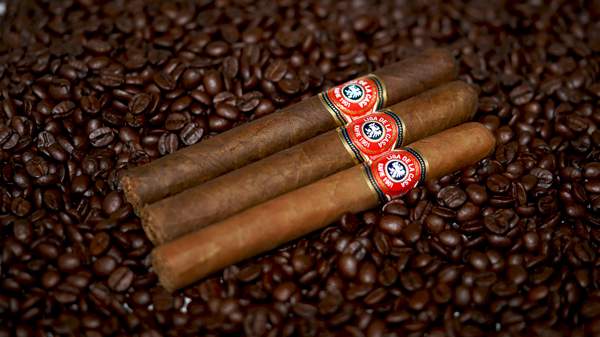 Advocating for Boutiques
In addition to becoming a brand owner, Dr. Gaby Kafie is known for being an advocate for the cigar industry and, more specifically, for boutique brands. In 2016, Kafie helped establish and launched the Boutique Cigar Association of America (BCAA), an organization with a mission of supporting and promoting small, family owned cigar businesses that sell less than 1 million cigars each year. The 1 million cigars or less designation was important to give a spotlight to those smaller manufacturers who are impacted by regulations differently than larger companies. Before the BCAA was created, Kafie realized that entities like the U.S. Food and Drug Administration didn't understand the range in sizes of most companies in the cigar industry and that although premium cigars were a commonality, a smaller manufacturer had a much different business model than that of a larger producer.
"In the FDA report on premium cigars that was published on August 8, 2016, small companies were defined by the FDA as being a company that generated less than $5 million a year and had 15-20 employees. Let's just say they were way off and had no understanding of our industry and how many companies would go out of business due to their onerous regulations. It was clear at that very moment that we needed to define our segment of cigar manufacturers and help [regulators] understand what types of companies comprise our industry."
The BCAA does not define the term "boutique" in terms of craft, passion or dedication to each and every step of the cigar making process. Instead, it keeps its focus on highlighting how the boutique cigar industry is family driven. At the end of 2020, the BCAA announced that it was giving up its nonprofit status and would evolve into more of a social platform for boutique companies. To date, the group currently has 58 member companies that all work together to strengthen the quality of small companies while representing their joint interests at the local, state and federal levels. To accomplish its goals, the BCAA works closely with other trade groups, including the Premium Cigar Association (PCA) and Cigar Rights of America (CRA) to amplify its message. The goal of the BCAA's work is a simple but important one: to make regulators more aware of the fact that boutique manufacturers exist and help them to better understand the boutique cigar category.
Today, the BCAA is governed by a board of directors consisting of seven members that make decisions on how to best move forward. The group has made some major moves in recent years, from speaking to various government agencies about the boutique cigar businesses and their plight to strengthening its partnerships with the PCA and InterTabac to draw more attention to boutique cigars. Having spent years building his own brand, Kafie has come to realize that awareness is key to success, but for many smaller brands, it's not so easy to achieve.
"We've never heard of you" is a pain point Kafie has had to address in his business over the years. When he hears this from a retailer, he doesn't take offense but instead sees it as another reason to work on his company's reach. This drives him with his work with not only his brand but with the BCAA and other brand owners like him. Because he's running a family owned small business, he doesn't have a salesforce that is out selling his product, which is something that is common with other boutique brands. Social media has helped build awareness of his business, but it hasn't necessarily translated into big sales. The success of Kafie Cigars and other boutique brands like it hinges on building direct relationships with retailers and consumers and then having them understand that being family owned is what makes a strong brand overall.
Creating an Extended Family
Kafie Cigars is a family owned brand, and in turn, Kafie prefers to work closely with brick-and-mortar and online retailers that are also family owned. Just as people do whatever's necessary to take care of their family, Kafie adapts this "family first" policy to fit his business, ensuring he puts his customers' needs first. For this reason, some may be surprised to learn that Kafie Cigars has opened no new accounts in the past two and a half years, allowing him to focus on quality control and inventory—to the delight of his retail partners.
"Our goal has always been to take care of our core accounts, making sure to always have proper inventory for their customers," he says. "We don't believe in being backordered for too long and don't like to keep retailers and/or consumers waiting for product. This philosophy of always having inventory on hand is not very popular; however, we have developed a very reliable business model for our family and our partners."
Focusing on having quality inventory readily available and quality retail partners to take on that product has been the business model Kafie has followed for years. He also takes into consideration the end consumer by ensuring there's a blend in Kafie Cigars' portfolio for everyone and a cigar for every budget. Kafie is always on the lookout for new business opportunities, but each one is evaluated on whether it will allow him to maintain the value of the products he makes.
Kafie has put his time and years in the industry to the point where he's now a respected and prominent advocate and champion of cigars. When asked how he measures success within his business, he says it's easy—all he has to do is look at sales and reorders. Many can develop a cigar line and blend that sells once, he explains. The real challenge is developing a product that sells continuously, and that's where Kafie has put his focus and effort since he entered the cigar business with his own brand.
Every business faces challenges and obstacles along the way, but with patience and persistence, those can often be overcome. Dr. Gaby Kafie's purpose in life now is to produce not only a high-quality premium cigar but also a cigar that will enhance the lives of all of the people involved in the process. Cigars are not just a way for Kafie to support his family; they're a way for him to tell his family's story and to extend its legacy far beyond the borders of Honduras.
This story first appeared in the November/December 2022 issue of Tobacco Business magazine. You can view the entire issue online for free by clicking here.

– Photography courtesy of Dr. Gaby Kafie. Story by Antoine Reid, senior editor and digital director for Tobacco Business Magazine. You can follow him on Instagram @editor.reid.