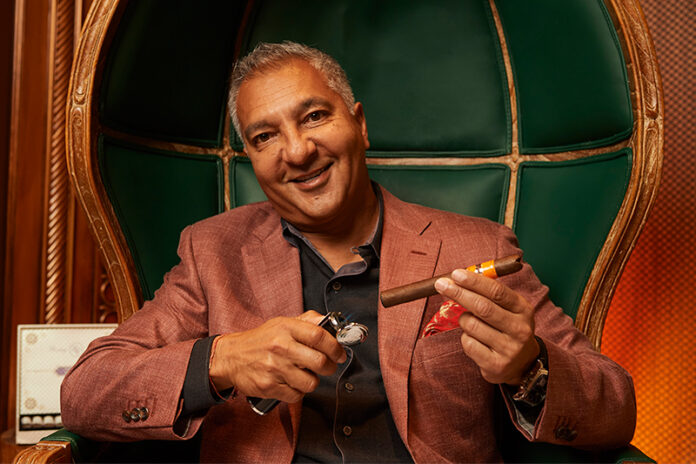 Rocky Patel is a man on a mission: He wants to make cigar smoking exciting for a new generation. As a longtime brand owner and one of the cigar industry's most recognizable faces and personalities, Patel is a businessman with the future in his sights. He knows the challenges the cigar lifestyle faces and has his opinions on what's keeping the industry from overcoming its challenges. He also isn't waiting on anyone to come and save the day. He's more than willing to be the hero that the cigar industry is in need of.
Patel is a master of branding and image. He rebels against stereotypes, like the one that the typical cigar smoker is old and lethargic. When speaking about cigars and where the industry needs to go, he states that he wants to make cigars into the new craft beer. He wants the cigar lifestyle to be seen as diverse, fun and hip, and full of life and welcoming to all. He has his sights set on the cigarette smoker and is determined to convince them to make the switch to cigars and embrace the finer things in life.
"This is a beautiful cottage industry," he explains. "It's a handcrafted product; it's a labor of love. It takes a lot of work to make a great-quality cigar. By the time we plant the seed in the ground, trying to get a cigar in a box takes four to five years. It's very similar to making a fine bottle of wine or an aged scotch. We want to showcase this beautiful art form to everybody."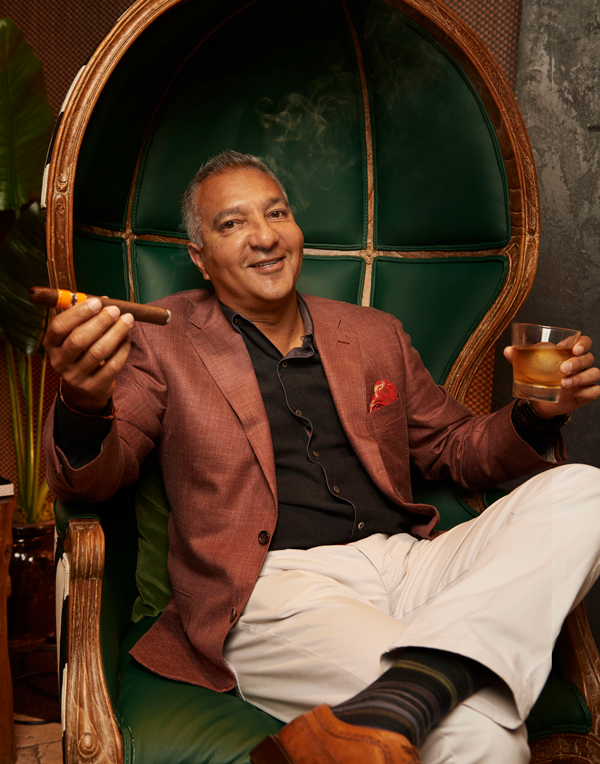 The Business of Cigars
Cigars have served as the foundation of Patel's tobacco business since the mid-1990s. One thing he often relays to his employees and associates in the industry is that quality and high standards are what build a strong brand within the premium cigar world.
"People don't remember the 100 good cigars they've smoked; they remember the one bad one," he explains. "I think we have some of the most meticulous standards of quality control at our factories."
Patel knows that the best way for people to understand what makes his cigars different is to see the cigar making process for themselves. Each year, he offers tours of his cigar factories, knowing that nothing beats an in-person experience. During these tours, people are able to see the strict quality control standards every cigar is put through and how Patel's company crafts consistent premium cigars each year. The tours give people insight into just how meticulous and strict Patel is when it comes to the cigars that bear his name.
"Every single cigar we make goes through a draw test machine. If it doesn't pass the draw test or if it's too loose or too tight, we destroy the cigar," says Patel.
Patel doesn't believe in compromising on quality, even if it costs him and his company profit as a result. Like many cigar makers, Patel noticed a big uptick in demand for premium cigars following the COVID-19 pandemic. He's always preferred carrying a big inventory in the company's warehouse and is not a fan of "selling from an empty wagon," as he puts it. His company was well-prepared for the boom in cigar sales that followed the pandemic, but today he doesn't feel like he has enough product. Even with this revelation, compromising on quality just to keep up with demand isn't an option for Patel.
"We're backordered out of Nicaragua two and a half million cigars. I'm back ordered in Honduras [for] four and a half million cigars, but we're not going to rush anything," he says. "My name is on the cigar. Quality is consistency, and that's long-term longevity. In order to have long-term success, you've just got to stick to your guns and stick to the quality."
When someone smokes a Rocky Patel-produced premium cigar, Patel wants that customer to be taken on an adventure and wants them to view the cigar as something unique and fun. The experience Patel is setting out to create goes well beyond cigars. Patel wants to bring more people into the world of cigars, something he's accomplishing with the help of Burn by Rocky Patel.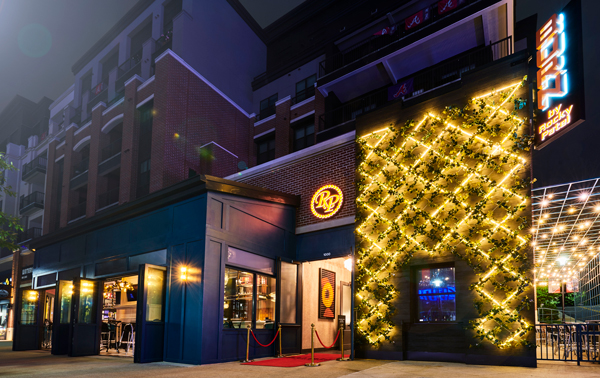 Making Retail Cool Again
Initially, Patel's goal with Burn was to build a place where people like him could enjoy a cigar. As a business owner in the cigar industry, Patel traveled often to cities like Manhattan, Chicago and Las Vegas and noticed a common problem: After enjoying a good meal, there was often a desire to go and smoke a cigar with business associates and other friends. The problem was that there were few places to go where one could smoke a cigar in public. Cigarettes were often allowed in bars and lounges, but many of these establishments had rules against smoking cigars. Then there were those that didn't allow any tobacco products, making the cigar smoker a true outcast.
"When you get to be our age, you don't want to go into a nightclub with bottle service and loud music where you can't talk to a buddy and can't do anything. There was really no venue where you could eat and enjoy a fine cigar after you're done with a good meal. Living in Naples, I wanted to build a place where I could come enjoy a fine cigar. I don't look at Burn as a cigar lounge; I look at it as one of the finest lounges with great bourbon, scotch, whiskies, wine and rum, where you have an opportunity to smoke cigars," Patel explains.
When designing and developing Burn, Patel and his team focused on amenities that would enhance each person's enjoyment of the establishment. A lot of money was spent on Burn's HVAC system, which ensured that anyone who entered would be comfortable around those smoking cigars and that when they left they wouldn't reek of cigar smoke. Female patrons were also front of mind. Patel wanted Burn to appeal to women also and put special care in Burn's overall design and architecture to make it more than just your typical cigar lounge or bar.
"I wanted to build this place for people that either smoke cigars or don't smoke cigars. I wanted to build a place in every city, whether it was Indianapolis, Atlanta, Oklahoma City, Naples or Pittsburgh; I wanted to be the big fish in a little pond. We wanted to be the venue that everybody desires to come in and you get to smoke cigars. That was the whole concept."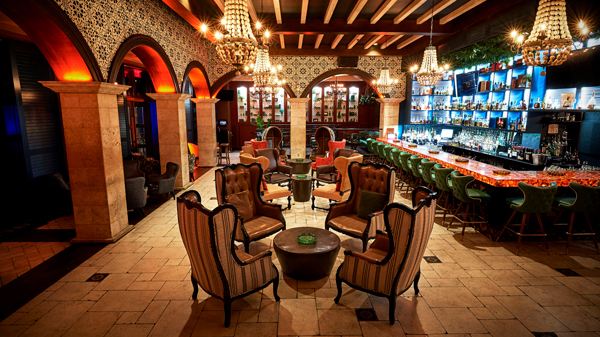 When designing Burn, Patel called on his travels for inspiration. He had lived in India and spent time in various countries, including Africa, Asia and Europe. When it came time to design Burn, Patel incorporated some of the décor and aesthetics of the hotels he'd stayed at and castles he had visited. He had a simple goal: When someone stepped in Burn, he wanted that person to transcend into a journey. The Naples, Florida, location originally had a lot of Moroccan and Indian influences; Pittsburgh's location borrowed a lot from the city's steel bridges; and Oklahoma City's Burn was designed with Native American and Western culture taking a prominent place in the design. Each Burn by Rocky Patel location has a design and vibe of its own, and that was intentional.
"We wanted to bring diversity and cool, unique experiences where people would come in and go, 'Wow, this is a sexy place. This is unique. This is cool.' If you want to chill and smoke a cigar, you can. If you want to listen to live music and dance, you can. It's a mix between a nightclub and a lounge," he explains.
As many retailers are aware, location is everything and Patel was very strategic in where Burn establishments would be set up. Patel wanted Burn by Rocky Patel to occupy mid-tier cities. He knew it was important to be in cities where smoking and drinking were allowed. He also looked for sports cities where he knew Burn would flourish. Naples was the obvious first location because it was the same city where Rocky Patel Premium Cigars was located. Four other cities were added to the roster; Pittsburgh, where Burn is located between the football and baseball stadiums; Indianapolis, where Burn is located near the football and basketball arenas; Atlanta, where Burn is situated near the baseball arena; and Oklahoma City, which is the only location where Patel says Burn is "out there a little bit." He's already considering and looking at future Burn locations, including Dallas, Houston, Nashville, Boston, Las Vegas and Washington, D.C.
Anyone who knows Patel knows he's not one to come up with a business idea and leave it to others to carry out. From the start, Patel reveals that he took on an active role in Burn's launch. When the Naples location first opened, Patel says that he spent 75 percent of his time on-site managing the employees and overseeing the training. If he saw a straw on the floor, he would freak out, and he wanted those working in the humidor to be perfect—knowledgeable on liquor, spirits and cigars, and always buttoned up. His desire for everything to be perfect grew to be a hindrance and ultimately prevented him from enjoying his time at Burn. It was at this point when he realized something had to change.
"Finally, we got some good general managers. It took a long time to get managers. That's the most difficult thing: to get great staff, educated staff and good managers. I finally got a great director of operations; his name is Stephen Drenth. He used to work for the Columbia Restaurant Group in Tampa, and he managed a number of their restaurants. He's really lifted a big burden off my back."