Being able to concentrate on what he loves, which is conceptualizing and design, and having others like Drenth on staff that can focus on the daily operations and other tasks has helped Patel expand his empire into new categories. He's most proud of the experience he and his staff have built around the Burn by Rocky Patel brand. He's able to check off many of the boxes on his original wish list for Burn. As a brand, Burn by Rocky Patel is not your father's cigar lounge. Instead, it's a hip, cool and exciting venue that's beautifully designed and has great music. Burn also appeals to a wide audience. People in their 20s and up pack each location every day, women love Burn because of its design and amenities, and even non-smokers feel at home at Burn by Rocky Patel.
"The overall experience that you get when you come here is that it's fun, and it's something that is upbeat. It's not a bunch of old people sitting around smoking and telling stories," says Patel.
Although it may surprise many, Patel is especially focused on those patrons that aren't cigar smokers. He recognizes that by creating a memorable experience for each customer, he also has the opportunity to help build the next generation of cigar smokers within each Burn location. There's always a customer that comes into Burn that has never smoked a cigar before, but they become curious after seeing people of all backgrounds, genders and ages taking part in the cigar lifestyle while in Burn. This is why each staff member is trained to help these curious customers find a suitable cigar if they're interested in lighting up. Those new to cigar smoking are typically led to a mild, creamy, smooth cigar. The interaction doesn't end with the transaction. The customer is then educated by the Burn staff member to help ensure their smoking experience goes well.
"We teach them how to cut a cigar, how to light a cigar and how to enjoy a cigar. Once they learn that, they come back over time, and they want to keep coming back because [Burn is] a cool place. They then graduate from mild to medium, and then ultimately from medium to full," Patel explains.
Therein lies perhaps the most important role Burn plays in Rocky Patel's overall business: Because Patel's premium cigars are all prominently featured within each Burn venue, Burn by Rocky Patel helps introduce new customers to Patel's cigar brand. Burn by Rocky Patel also serves as a manifestation of everything Patel has worked hard to establish within his namesake brand.
"If you look at our brand positioning from our advertising campaigns, social media campaigns and our packaging, overall the look is pretty hip. It's cool. It's forward. It's outside of the box. It's very unique and different," Patel proclaims. "I certainly don't have the family heritage to fall back on so I think we've created a brand that has quality and consistency. The one thing you learn when you smoke a Rocky Patel cigar is that you're going to get a consistent, great-quality cigar and you're going to get a cigar that is diverse and has a unique flavor and brand profile. It's going to be fun, hip, sexy and cool."
Because of the rigorous and detailed-oriented production process each cigar is put through, Patel is confident that when those cigars arrive in the humidors of each Burn by Rocky Patel they're as close to perfect as they can be. This removes another layer of concern when it comes to the customer experience within Burn as everyone who lights up a Rocky Patel cigar in a venue like Burn is likely to have a great experience and is more likely to come back in the future. Also, the staff knows the quality of the product that they're selling and can be proud of and passionate about what they're promoting and selling to customers.
"You can't be everything to everybody; you need to have great core brands, quality brands, and you need to listen to what the customer wants," Patel says. "When you're doing something right and offering people an experience that they can have in a beautiful venue, I think that's how magic can be made."
Knowledge and being able to fully engage with customers is key to good customer service and to becoming a great tobacconist, Patel goes on to say. For him, the experience is everything, something a lot of retailers sometimes fail to understand. Rather than carrying every brand imaginable, Patel instead makes sure Burn can accommodate every cigar smoker's taste profile by stocking the humidor with Rocky Patel cigar blends of different profiles in addition to carrying a few cigars from competitors. The key to Burn by Rocky Patel's success is equipping the venue's staff with the knowledge to help each customer find a cigar within the humidor that they will enjoy and that will keep them coming back for more.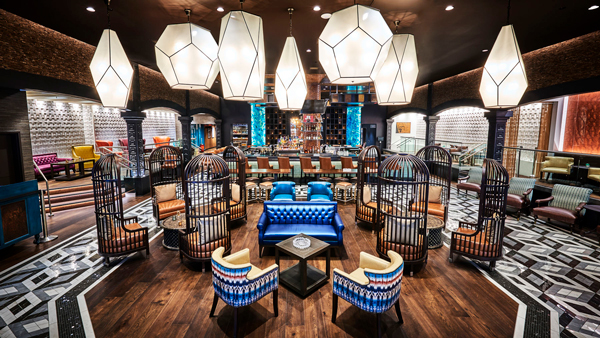 Rocky's Formula for Success
Success didn't come to Patel overnight. It took him 26 years of visiting retailers and building relationships with consumers through events. It's also Patel's focus on people that's made him such a phenomenon within the cigar industry. In terms of his business, Patel is proud that many of his employees have been with the company for years. Most of the hires he's made over the years didn't necessarily have the experience necessary for their particular job, but they did possess a passion for cigars. Patel was willing to teach them and train them to do what they need to for the business. One thing he can't teach them is how to love and feel passionate about cigars.
Fun is another important element within the business. When people go into the office at Rocky Patel Premium Cigars, they aren't entering into the typical work environment. Instead, Patel describes his office as being more like a fraternity and says it's not uncommon to walk into a party situation.
"It doesn't seem like anybody's working," Patel jokes. "It's like a big party. In fact, they should pay me to come to work!"
Knowledge and fun are not exclusive to Patel's offices; they are also what one can expect when visiting any Burn by Rocky Patel venue throughout the U.S. Even though fun is an important part of the business, Patel pushes hard for perfectionism among his employees.
"I'm a perfectionist. I expect them to work hard and perform to the levels and have strict standards of greatness and quality," Patel says.
Quality is what Patel urges others who are working in retail to focus on more than trying to fit too many brands in their humidor. Just as he based Burn by Rocky Patel's aesthetic and customer service on his own personal experiences, Patel recommends other retailers visit their competitors and take good notes. What does their humidor look like? What's the quality of their products? How knowledgeable are the store or venue's staff? Retailers need to focus on products made by companies that are true partners and spend the time to promote and market their products to the market. Most importantly, keep in mind that your business is there to serve the customer, not your own needs.
"You don't have to build a Taj Mahal, but you have to build something that is clean, beautiful, comfortable and a service-oriented business," Patel explains.
For Patel, success comes by following a very simple formula: Create a relationship between yourself and the consumer, and good things will happen. Know your industry, and identify those who are doing a great job at whatever it is you want to do—and find a way to do it even better than they are.
This story first appeared in the September/October 2022 issue of Tobacco Business magazine. Members of the tobacco industry are eligible for a complimentary subscription to our magazine. Click here for details.
– Photography courtesy of Rocky Patel Cigars. Story by Antoine Reid, senior editor and digital director for Tobacco Business Magazine. You can follow him on Instagram @editor.reid.