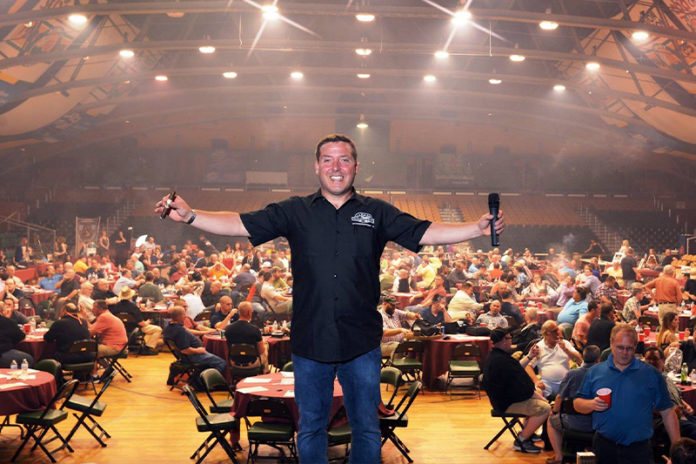 Long before the COVID-19 pandemic hit, Scott Bendett was a tobacconist who set his sights on the "new frontier" of retail: e-commerce. In 1999, Bendett launched PipesandCigars.com, a website he owned and operated for 14 years before selling it to Cigars International. During those years, Bendett admits that he made more mistakes than he can count, and in retrospect he has an endless number of ideas of what he could have done differently. While most business owners find second chances few and far between, Bendett is an exception.
Bendett started selling cigars in 1995 out of a cart parked outside of a Macy's store at a local mall. At the time, he had just started enjoying cigars and saw how popular cigars were becoming among the masses. Anticipating the popularity of cigars would spread far and wide, Bendett saw how the luxury experience surrounding cigars would continue to resonate with many consumers for years to come. Cigars became not only a product he enjoyed selling, but they offered him a new way to engage with and serve his community. Bendett kept the mall kiosk but wanted to get into e-commerce, which was just beginning to take off in 1999. That inspired him to start PipesandCigars.com. By this time, he had two brick-and-mortar stores that he maintained, and he also continued to sell nontobacco items online through another website he started, RYOSupply.com.
When his non-compete agreement expired, he decided he wanted to return to the world of online premium cigar sales. Starting a new online cigar business would allow him to reconnect with PipesandCigars.com's former marketing director, Travis Lord, who had experience with digital marketing and web development. Their past success made Bendett feel confident that they could recapture the magic that had made their previous website so successful. The second factor came a bit later: the COVID-19 pandemic.
"It's no secret that brick-and-mortar shops are suffering these days due to the restrictions on our business and the public's lack of desire to leave the house," Bendett explains. "Online sales are booming across all industries, so with the right people on my team and more room in the marketplace than ever, getting back on the web was a natural step."
Bendett's new online venture, Scotty's Cigars (ScottysCigars.com), is a business that is both built from experience and inspired by current trends and events. As tobacconists continue to grapple with changing consumer behavior brought on by the pandemic, Bendett's latest tobacco business can serve as inspiration for other retailers who want to expand their businesses online.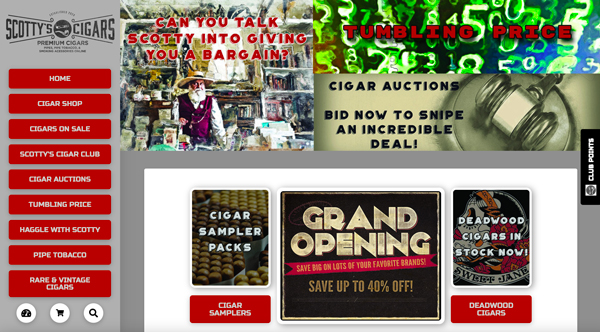 Bringing In-Store Experiences Online
Bendett chose to name his new online business and website Scotty's Cigars because he wanted to create a bond and connection with customers from the moment they heard his business's name. "When someone is shopping on my website, they are shopping with me. Another online retailer I admire says, 'Everyone who orders from us is not just an order number; they are a customer.' I feel exactly the same way."
Just as any retailer can attest to, the most challenging aspect of launching an online business is attracting new customers to it. Many of the most popular methods of advertising online, such as Facebook ads and other forms of online advertising, are off limits to many tobacco businesses due to restrictions. This requires retailers like Bendett to be creative and leverage what is available to them the best they can, including organic results on Google and other search engines and social media engagement. Bendett is also counting on word-of-mouth referrals to help Scotty's Cigars gain new customers and attention.
"While it's clear that the online cigar business is booming like never before, there is also a lot more competition than there was in the old days. Trying to rise above the noise and make customers aware that we are here, open and ready to digitally provide as much of the outstanding experience as shopping at one of my brick-and-mortar shops can offer is our main focus these days."
When it comes to what sets Scotty's Cigars apart from other e-commerce cigar websites, Bendett says he credits his extremely talented staff for helping him build a site and business that will have customers wanting to make a return visit.
"Alex [Waters] has worked in my largest store for over a decade and has managed it for many years now," he says. "Kaira [Ouellette] has also been with me for over a decade. The two of them are among the most knowledgeable people in the entire industry, in my opinion, and having people like them available to answer questions for customers and oversee production is something that few other online shops can boast. Their ability to ensure every order that leaves our shop arrives in the same condition that it would arrive in the hands of a brick-and-mortar customer is invaluable. During the recent holiday season, we had a handful of orders get caught up in shipping delays caused by the carrier backups. Because of our careful packaging and having Alex, Kaira and our other customer service folks keeping customers updated with the best info we had, every last order arrived in pristine condition, and we had zero complaints or returns."
Another key team member is Travis Lord, who built the website for Scotty's Cigars. "His experience of innovating with the biggest online retailers out there is invaluable and helps us to compete with the big-box evil discounting online giants we're up against every day," Bendett explains. "His efforts lead into the other major area of my company that makes us unique, which is our website. My goal was to bring the full brick-and-mortar experience to the web, and the many interactive features serve that goal. Travis and I worked hard to consider the many different ways people like to shop in the store and used his knowledge of technology to bring them to life on the web."

One of those brick-and-mortar experiences that Bendett wanted to bring online was a loyalty program. Scotty's Cigar Club is an interactive rewards program that offers points for a wide variety of non-purchase actions that make it beneficial for people to come to the website for reasons beyond just making a purchase. There are other features under review that will make Scotty's Cigar Club even more important to customer retention and engagement. Customers can also negotiate prices, request a price match or join the loyalty program, all through the Scotty's Cigars website.
When it comes to orders made online, Bendett and his team handle each transaction with the same care and attention that a customer would get if they made a purchase in a brick-and-mortar store.
"We pack up each order carefully and include a humidification device to make sure the cigars arrive on the other side of the country in the same condition they would be in if the customer was selecting them out of our humidor. On the very rare occasion that we have a hiccup in inventory or some other issue with an order, our customers don't get shuffled off to the side. They get a personal contact from one of our expert staff members quickly—and with a substitution or other solution already prepared. Much like we might toss a nice accessory or a freebie cigar or two in with the purchase of an in-store regular, unannounced freebies find their way into our outgoing shipments frequently."
Building Relationships
Product selection is key to the success of Scotty's Cigars and any e-commerce business. Bendett's approach to choosing which products to feature on his website is simple: He makes sure to stock what his customers want. "My business wouldn't exist without my customers, and so what they want is always king," he says. "We all monitor overall consumer demand as well as take feedback from our customers very seriously. We even have a specific 'request a cigar' feature on our website for customers to let us know about brands they would like to see on our site that we don't currently offer."
There are plenty of other decisions that have to be made once a product is stocked. Bendett strives to offer a wide range of cigar brands, but that doesn't mean each brand and product will receive the same promotion and marketing. Bendett relies on the relationships he has established with different manufacturers over his time in the tobacco industry to optimize sales.
"Relationships that I've established over my 25 years in the industry play a significant role in terms of being treated well, and, in turn, my position allows me to provide great benefits for the vendors who provide us with outstanding service. By the same token, if I feel like a certain vendor is not working with me to foster a mutually beneficial partnership, I am less inclined to do business with them or take on products of theirs that may be on the margins in terms of consumer demand."