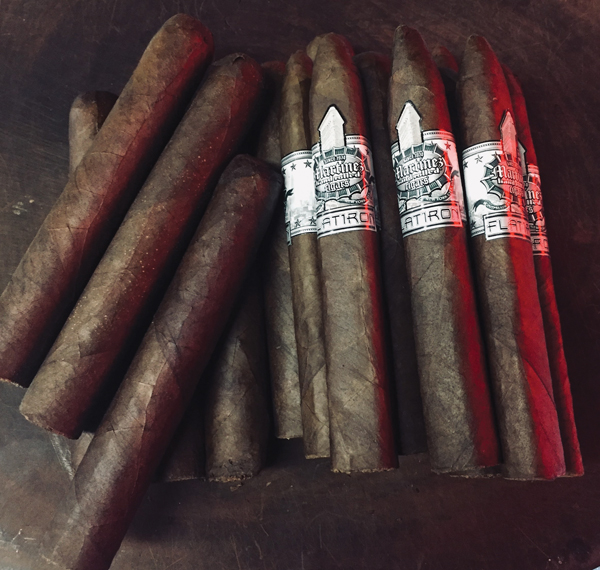 Pasion, Flatiron and the 45 Series are all blends that Jesus created for customers seeking stronger cigars from The Martinez Hand-Rolled Cigars Factory. Pasion is available in five sizes: 544 (5 x 44), 550 (5 x 50), 654 (6 x 54), 750 (7 x 50) and Piramides (6 x 52, Torpedo). Made with a Nicaraguan wrapper, Sumatran binder, and Nicaraguan and Honduran filler tobaccos, Pasion is a line of medium- to full-bodied cigars that offer complex spicy notes with strong hints of pepper, and it is an excellent cigar for connoisseurs who like full-bodied and flavorful smokes. Pasion cigars are available in five-packs or 20-count boxes. Flatiron is a box-pressed cigar line that draws its name from the famous Flatiron Building in New York City, which is just a few blocks from The Martinez Hand-Rolled Cigars Factory. Each of the four sizes is available with either a Brazilian maduro or Ecuadorean natural wrapper surrounding a blend of Nicaraguan sun-grown broadleaf binder and five-year-aged filler tobaccos. Flatiron cigars offer a complex medium- to full-bodied smoking experience with spicy notes and a leathery finish. The four sizes available are: No. 1 (6 x 54), No. 2 (6 x 52), No. 6 (5 x 50) and No. 9 (7 x 44). Flatiron cigars come in five-packs or 20-count boxes.
The 45 Series is the latest offering to come from The Martinez Hand-Rolled Cigars Factory and was released last year in honor of the company's 45th anniversary. The cigars that compose the 45 Series come in two sizes: Torpedo (6 x 52) and Robusto (5 x 54), and the cigars come with either a natural Ecuadorean Habano wrapper or a maduro wrapper from San Andres, Mexico, a rich Nicaraguan binder and four different filler tobaccos from Nicaragua and the Dominican Republic. The 45 Series offers a medium-bodied smoking experience that builds into a rich and robust full-bodied cigar and is available in three-packs or 20-count boxes.
"Jesus has done an incredible job of reading the clientele and listening to what they like," comments David Rivera, The Martinez Hand-Rolled Cigars Factory's director of marketing and sales. "He sits down with the rollers and talks about the next cigars to do too. That's really evident in the 45 Series that came out last year. He put a little bit of his father's touch and his own touch into it and marinated them into one.
The response has been incredible. It has to do with him taking the time to listen to what the customers like and don't like and then talking with his team to come up with an incredible blend that's become one of our best-sellers."
Expanding His Own Dream
Before the COVID-19 pandemic paralyzed New York City and much of the rest of the nation, The Martinez Hand-Rolled Cigars Factory had begun providing its cigars to a little more than a dozen other premium cigar shops. The company attended the 2020 Tobacco Plus Expo in January in Las Vegas, where it picked up a few new accounts. Currently capable of producing approximately 100,000 cigars annually, Jesus comments that the factory has the capacity to double production over the next few years, depending on what sort of social distancing measures will be required and for how long they will last. Like most of the rest of the city's businesses, The Martinez Hand-Rolled Cigars Factory was shut down from the pandemic and only reopened in early June. Though it could not make cigars, the company was able to ship orders nationwide and concentrated on expanding both retailer and consumer awareness about its brands through social media and podcasts. Jesus is making plans with Rivera to expand his company's presence to retailers nationwide. Jesus figures that he's got a few strengths working in his favor, one of which is his own status as a premium cigar retailer.
"We're retailers, so we know what other retailers are looking for and what their challenges are," Jesus says. "It's having very close relationships to the customers that translates into the manufacturing side. We can use the experience from the retail end to tell other retailers what works for us and for our brand. We are two companies in one—
manufacturing and retail—and it's good to have experience on both ends."
While The Martinez Hand-Rolled Cigars Factory has an online component, both Jesus and Rivera promise other retailers that the Martinez-branded cigars they sell in their stores have a price structure that allows them to sell them to their own customers at lower prices than what the Martinez online store presents.
In addition to the regular brand lineup at The Martinez Hand-Rolled Cigars Factory, the company also offers a collaborative private-label program for any interested retailers. Rather than being a service that allows retailers to pick pre-constructed blends, Jesus invites any potential private-label customers to work with him and his team to build their own blends using the company's strong relationships with tobacco growers in Nicaragua and the Dominican Republic. The Martinez Hand-Rolled Cigars Factory even offers an inexpensive way of creating and printing the bands for these private-label cigars.
"They suggest what they're looking for, and they're included in the whole process," Jesus explains. "It's not a cigar they just order based on the tobacco that's available. We work with our retail partners to ensure they get the cigar they really want to sell."
Perhaps the strongest draw that The Martinez Hand-Rolled Cigars Factory possesses is its all-American heritage despite its Dominican roots. Premium hand-rolled cigars made in the heart of New York City? Tamboril on the Hudson? You bet.
"You will be surprised by the cigars you get from New York City," Jesus concludes. "It puts a smile on our face just because of it. For a while, people didn't want to try a cigar from an unknown little cigar factory because they had bad experiences from little companies before. They'd rather stick to the big brands that they know. For the past 15 or 20 years, that has changed a lot—people are more willing to try our cigars and discover how good they are. The rise of boutique cigars has been a trend our industry has seen for the last two decades, and we're about as boutique as you can get."
This story first appeared in the July/August 2020 issue of Tobacco Business magazine. Members of the tobacco industry are eligible for a complimentary subscription to our magazine. Click here for details.
– Story by Stephen A. Ross