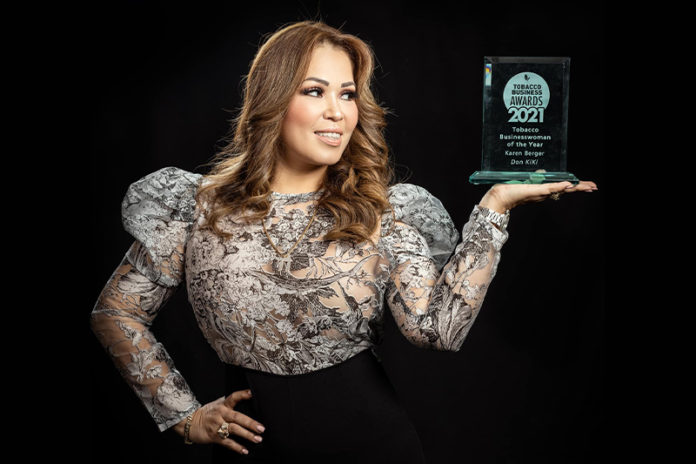 Passion, loyalty and courage—those are three words Karen Berger, owner of Don Kiki Cigars and this year's Tobacco Businesswoman of the Year, uses to describe herself. In the cigar industry, Berger is what many may consider to be a triple threat. She's a retailer, brand owner and tobacco grower known for her business savviness and dedicated work ethic.
Berger entered the tobacco industry when she was just 18 years old and living in Nicaragua. At the time, she was in school studying business administration. She didn't have enough money to cover all of her school expenses so she decided to get a job in a local cigar factory. She started off in the production area of the factory, rolling tobacco. This was a typical job for a woman working in a factory. While the men were bunching tobacco for the cigars, the women were often seen rolling the cigars. After a year in the factory, Berger met the factory's owner, Don Kiki Berger, who she fell in love with and later married.
"Don Kiki Berger was an amazing and wonderful person," Berger shares. "If you ask anybody in the cigar industry who had the opportunity to meet him, they would tell you that he was a friendly person. He wanted to support everybody. He wanted to help everybody. He was a big guy because he had a big heart. He was my professor, and he taught me a lot of things."
Don Kiki Berger served as a husband, mentor and catalyst for Berger. He started his business in the 1990s in Nicaragua with the launch of his own factory. He worked with private labels before he decided to create his own brand, aptly named Don Kiki Cigars. Following his death in 2014, Berger had a newfound purpose—she wanted to make sure that the cigar industry would forever remember her husband and his accomplishments.
"It's personal for me," she proclaims. "I am working—and will be working until my last day—to keep his legacy alive because he deserves it and more."
Karen Berger has spent recent years building on what her husband started. Hers is more than a business story; it's a love story. All that she's worked on over the years, all that she's accomplished, was done not only in the name of her husband but out of a respect and love for tobacco and cigars.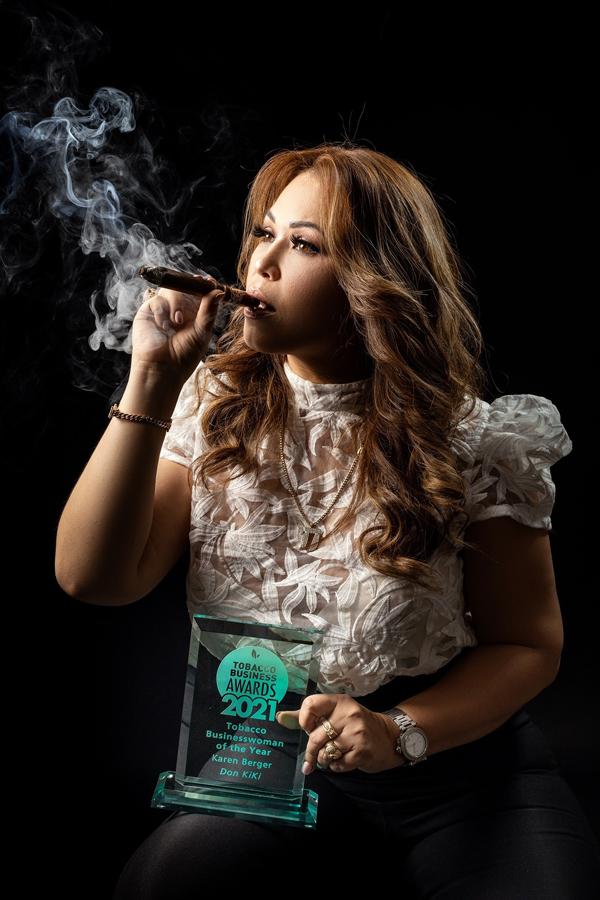 Continuing a Legacy
Learning the ins and outs of the tobacco business was a process but one Berger was determined to master. Working in the cigar factory was not as easy as many people believe it to be. Rolling cigars was particularly challenging, especially when working with wrapper, which is delicate and easily damaged. For Berger, experience was the best teacher, and from the beginning she was determined to learn as much as she could about the products she was helping to make.
"When you are working and doing what you love to do, and when you have interest in the thing that you are doing, it's amazing," she says. "Working in the factory and learning all of the different factory and production processes was not easy. Every operation has some difficult parts. Now I am more involved in the factory, blending my cigars. It's the part of the process that I love a lot. Having the capacity to create something by myself that I can bring to all of my cigar family is important to me."
Learning how to blend cigars was important to Berger because part of her husband's legacy was his cigar brand that she wanted to be able to continue. One thing she learned about blending was that when creating a new blend, knowing what cigar smokers were looking for or wanted from a cigar was key to the blend's overall success. Also, she knew that each blend had to bring or introduce something new to the brand. "When I intend to create a new blend, the idea is to make something different that I don't have on the market right now," she explains. "Also, something different that people are asking for."
At the time of her husband's passing, Don Kiki Cigars consisted of four blends but has since expanded with two additional blends that his wife introduced in recent years. At the urging of her peers in the industry, Berger has also created her own cigar line, K by Karen Berger. As with everything that she does, she wanted to make sure that even her own brand had ties to her husband. While the "K" stands for Karen, it also refers to her husband, Kiki. The tobacco used in the K by Karen blends come from her tobacco farm in Nicaragua, and the cigars are presented in her favorite format, a box press. K by Karen Berger is a Nicaraguan puro produced at her factory, Tabacalera Estelí, located in Estelí, Nicaragua. There are two different versions of the cigar: one with a habano wrapper and the other that features a maduro wrapper. The blends were introduced in 2016, and Berger used all of the knowledge she learned about cigarmaking from her husband to bring her own cigar to the market.
Breaking Stereotypes
Blending and cigarmaking are just part of Berger's story. A true businesswoman, Berger oversees a multi-tiered tobacco business that includes a tobacco growing operation, a cigar factory and also a retail store located in Daytona Beach, Florida. Before his death, her husband was the face of the company, but she has since taken on the role and all of the responsibilities. One of the most difficult parts of her business was the tobacco growing, something that initially made her very nervous and came with a lot of pressure. Growing tobacco was an economic responsibility like none she had encountered before.
The first crop she grew was funded with her own money and required a bit of a sacrifice. The tobacco that was being grown at that time wasn't being used in any blends she was producing for her own company, meaning she would have to find buyers for the crop. Luckily, that crop turned out well, and she did eventually find buyers for that tobacco in the Dominican Republic, which allowed her to recoup some of the money she had initially invested in the crop. Learning to manage the crop and keep up with the liabilities associated with owning a cigar factory were obstacles Berger overcame by relying on the team around her and by asking for advice.
"I'd say that I am a very humble person. I don't know everything, so I like to learn every day," she says. "In this industry, we have a lot of diversity, knowledge and different techniques, so I am always open to learning something new," she says.
Another area of the tobacco business that Berger has committed herself to learning is retail. At her store, Don Kiki Cigars Superstore, which is located in Daytona Beach, Berger gets firsthand experience with cigar consumers and is able to see what they are buying and what interests them. Half of the cigars stocked at her store are what she considers to be boutique, something that is important to her as an owner of a smaller cigar brand herself. Much like her husband, she wants to use her business and influence to help others and to give them opportunities. Due to its unique collection of cigar products, its lounge and view of the ocean, Don Kiki Cigars Superstore has become a destination for many cigar enthusiasts.