Dissident, like many other premium cigar brands, isn't an automatic money-maker. According to Cynn, if it were not for the other jobs and businesses she and her husband have, making the investment in Dissident may not have been such an easy decision to make. Early on, they acknowledged that they may lose money on Dissident but that they could make a positive impact on people by being genuine and producing good cigars.
"We've already seen some numbers change. People are excited about the brand. Everybody knows Dissident cigars are very good and that they're made very well because they're coming out of Oveja Negra. So it's just a matter of getting Dissident out there and shining the light on it that it absolutely deserves. I think we made a good choice in not changing anything because everything was wonderful to begin with," Cynn explains.
The only real change the Coburns have made to Dissident's portfolio was with the Soapbox blend, which used to use a Mata Fina wrapper but now uses a Sumatra leaf wrapper. The change was made primarily due to what was available, and it's the one change Cynn feels actually made the existing product even better.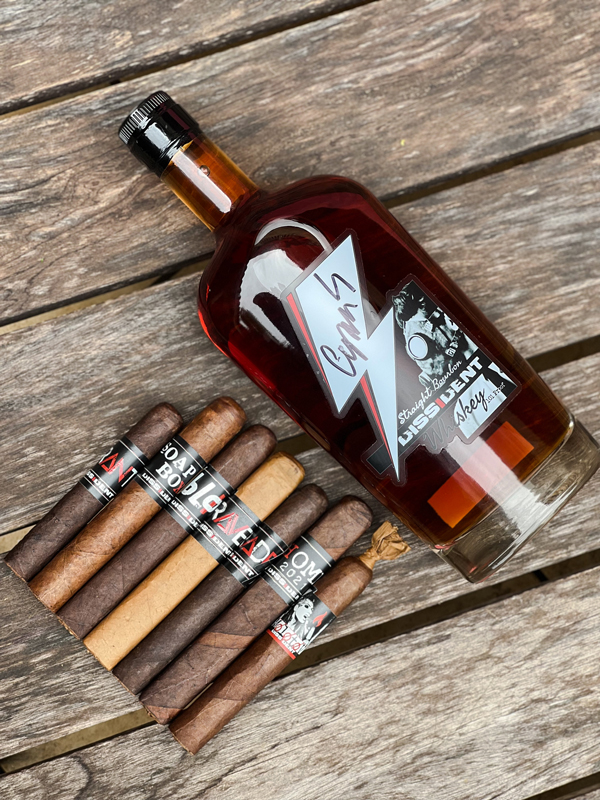 The Blends
Dissident's cigars are handcrafted in Nicaragua at Fabrica Oveja Negra, the factory owned by James and Angela Brown. Part of the appeal of buying Dissident was that it was already established and came with brands that retailers and consumers were already familiar with, buying and smoking. The Rave is a mild box-pressed cigar. When the Coburns assumed control of the Dissident brand, one of the first questions they posed to retailers was whether or not Rave should be made available in a smaller vitola. The response from retailers was a resounding 'no.' Even though Rave has a Connecticut wrapper, it's different in that it has a bit of a kick to it and would appeal to those looking for a slightly bolder cigar. Next in the Dissident portfolio is Soapbox, which Cynn admits is perhaps her favorite Dissident cigar.
"It's Habano, full-on flavor. It is just … oh my gosh, it is so good," Cynn excitedly states. "Like, whether you have it with coffee in the morning or with whiskey at night, it's just perfect. There is nothing bad to be said about that cigar."
The Bloc is on the opposite end of the spectrum from Soapbox. Described as being a much smoother cigar compared to the Soapbox, the Bloc has a maduro wrapper and would appeal to those that prefer their coffee black and their whisky neat. For those that enjoy strong cigars, the Rant and the Tirade are good choices. They have Nicaraguan filler tobaccos that give them their strength.
Home is Dissident's limited edition cigar that's also on the stronger side. This cigar has an Ecuadorian maduro and Corojo barber-pole wrapper that covers an Ecuadorian binder and all-Nicaraguan fillers. Presented as a 6 x 52 box-pressed Toro, this cigar was last released in 2021 and is slated for a return to store shelves next year, according to Cynn.
The Coburns believe in letting the Dissident brand speak for itself, something they've learned a lot about while working alongside James and Angela Brown at Oveja Negra. Cynn looks to James Brown as a mentor as she continues to learn more about different aspects of the cigar industry, including blending. The first cigar that she blended entirely on her own was the Molotov, which made its debut during this year's Premium Cigar Association (PCA) trade show.
Molotov challenged Cynn both in terms of blending and overall branding. A brand's artwork is of interest to Cynn because it's what originally attracted her to the world of cigars. Her first real premium cigar was Lawless, a cigar made by the Browns' Black Label Trading Company that features edgy, non-traditional branding. Cynn felt inspired by the Browns' alternative when coming up with the concept for Molotov. Previously, Dissident had defined its color palette as being black, red and white. For Molotov, Cynn opted to play with the colors to create visual impact: a white box with an illustration of her face on the lid. With this new release, Cynn wanted to go into a completely unexpected direction and create something that showed the industry what Dissident's new owners were capable of.
In addition to the edgy branding, Cynn also wanted the blend for Molotov to push the envelope for what Dissident had previously released. The cigar has a different flavor profile due to Cynn opting to use Ometepe-grown tobacco in the filler. Instead of the usual spice and pepper that comes with using Nicaraguan tobacco, Molotov is very smooth, another departure from Dissident's other cigars.
"I'm excited to see what people have to say about it [Molotov] because it's just so far left from what Dissident has been. I hope that people see that this is something new and exciting and [that] it's opening the door for a lot more things to come," Cynn explains. "You don't necessarily have to just stick in this one lane with flavor profiles, so I'm excited. We've had a number of people smoke it, and everyone's loved it. James and Angela smoked it from the very beginning, and they've smoked it all through the entire process and they've loved it, which is so reassuring to me. You have this wonderful master blender in James, and he's like, 'This cigar is really good,' and I'm like, 'Yes!'"
Molotov was blended to be a very limited release, with only 500 boxes produced this year. Although the cigar was introduced at the PCA trade show, other retailers could place an order for this special release soon after the show while supplies lasted.
Can-Do Attitude
Now that Molotov is out and her first trade show as a brand owner is behind her, Cynn is already thinking ahead to what's next for Dissident Cigars. "My brain is definitely faster than my abilities are to make these cigars, so I already have about five ideas in my head. I'm like, 'Man, that's putting me in [2024] by the time these come out and beyond," she explains.
As much as Dissident is a business, it's also a form of therapy for Cynn. When asked what her motivations are, there was no hesitation, nor was there talk of needing to hit a certain profit goal or amass this or that amount of new accounts to be successful. Cynn's motivation and purpose for taking on Dissident and all that it requires of her is to prove to herself—and to others—that she can do it.
"Those that have followed me for a long time know that I have been in multiple abusive relationships. My childhood was not the greatest. I was homeless with my kids at one point trying to escape abuse. I have been witness to suicides. I've been through the gamut of things. I've lived in shelters, all trying to escape terrible things and learn and be a single mom—and I succeeded. I wasn't a failure because of any of the things that I went through; I was a student learning all these things, and I succeeded. Somehow, even as a single mom making my way and learning how to save money, I figured out how to not rely on child support. I figured out how to be there for my kids. I've figured out how to learn and quickly go from the bottom of the barrel at my job all the way up to running an entire facility. I have absolutely pushed myself in every way possible, and I am just one of those people that if you tell me not to do something, I'm going to do it."
Cynn wants to serve as an example to others that being true to yourself is the only way you will achieve anything worthwhile in life. She also hopes others understand the importance of acknowledging and working with failure and negativity in your life, both personally and professionally.
"It's not about the money," she explains. "It's about reaching people and getting them to understand their full potential and that if I can do it, well, you sure as hell can do it too."
This story first appeared in the September/October 2022 issue of Tobacco Business magazine. Members of the tobacco industry are eligible for a complimentary subscription to our magazine. Click here for details.
– Photography courtesy of Dissident Cigars. Story by Antoine Reid, senior editor and digital director for Tobacco Business Magazine. You can follow him on Instagram @editor.reid.