Building the Mission
The path to contributing more to the fallen officers' families was sparked by one of Beach House Cigars' customers, Matt Catania, a Jersey Mike's franchisee. Catania, who is also one of Zengel's former players and has become Zengel's best friend, explained Jersey Mike's charitable contribution methods and suggested that Zengel close Beach House Cigars, establish his own cigar brand and contribute a portion of the profits to police charities.
"Matt told me to grow a set of balls, stop being a vice principal, shut the shop down, and go national with a cigar brand and give a dollar back," Zengel says. "So that's what I did. That was 2015. I called Paul Palmer [president of Aganorsa Leaf], and we officially launched Los Caidos out of the Cigar Emporium in Lyndhurst on Feb. 25, 2016."
"We only ordered 500 boxes, and we sold out quickly, but Paul didn't want to do it at first because it was such a small commitment," Zengel explains. "I loved everything Casa Fernandez, as Aganorsa Leaf was known then, produced, so I really wanted them to make Perfection. I started calling Paul in February 2013, and I called him on the 15th of every month after that. After the third or fourth month he realized I wasn't going to stop."
The deal to make Perfection for Zengel was finally done after Palmer, Max Fernandez and Aganorsa Leaf's local rep, Bob Morrison, stopped into Beach House Cigars. An excited Zengel rushed out of the store to get coffee and doughnuts and held an impromptu event inside his shop. Zengel's enthusiasm was contagious, and at the end of the day, Palmer agreed to make the cigars.
Zengel ordered 500 boxes of Los Caidos in 2015. In 2016, the cigars became available, and Zengel pledged $1 from every cigar sold to police charities. The brand did well enough to convince Zengel that he could build a national brand, and his goals became even bigger. Having sold out of the first run of Los Caidos, Zengel commissioned a second, larger run, which debuted on Oct. 2, 2018, at a celebratory event held at Club Macanudo in New York City. With its second run, Los Caidos expanded its mission to include giving to charities benefiting fallen firefighters. Consumers could choose between a Los Caidos cigar wrapped with a blue band for police charities or one with a red band that contributes to firefighter charities. Both cigars are featured in a 20-count box, with 10 cigars each of both the blue-banded and red-banded options.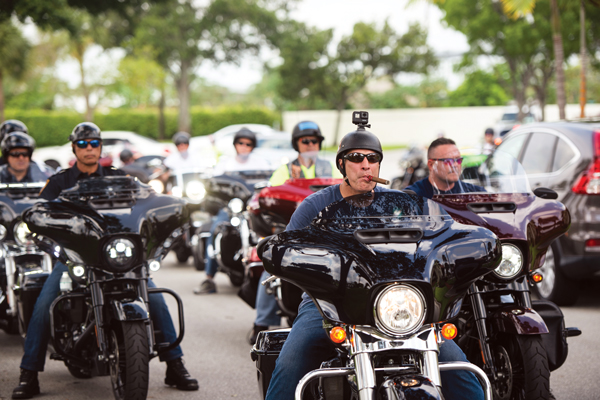 At the same time that he was relaunching Los Caidos, Zengel formally introduced Life of a Ride Time, a 501(c)(3) charity that also raises funds for the families of fallen police officers and firefighters. Life of a Ride Time stemmed from a 13-day motorcycle tour of the United States that Zengel had taken to raise awareness of Los Caidos in 2016. After riding more than 7,000 miles on a bike, Zengel brainstormed and came up with a better idea that was less taxing on the body and more effective in spreading the message.
Throughout 2019, Zengel has paired Los Caidos events at cigar shops around the country with Life of a Ride Time motorcycle rallies. The cigar event typically takes place on a Friday night, and the motorcycle rally occurs on a Saturday morning. In 2019, Zengel organized close to 20 cigar and Life of a Ride Time events with the goal of raising $1 million for the charities that Los Caidos represents.
"There are 11 board members of Life of a Ride Time, and they come from the police, fire and Harley-Davidson communities," Zengel explains. "That's where the dollars go. I thought about the things I love to do in life—ride motorcycles, drink, smoke and help people—and that's what started it. I do the rides in the cities with the largest police and fire departments in the U.S., and I'm going to continue to do them until we reach that $1 million goal. Then we'll think of another way to add to Los Caidos' mission of helping the families of fallen police officers and firefighters."
The motorcycle rallies build awareness in the police, fire and Harley-Davidson communities, and they drive cigar smokers into the local retailers who carry Los Caidos, thus building stronger links between those who serve and protect and participating cigar retailers.
"I hope retailers can build stronger businesses and better their own communities through Los Caidos cigars," Zengel concludes. "I want firefighters and police officers to support their local Los Caidos retailer, and I want to give retailers who want an opportunity to raise money for fallen officers' families an opportunity to do so. Los Caidos is a national brand with a community focus. We're all committed to making the world better, one cigar at a time."
This story first appeared in the November /December 2019 issue of Tobacco Business magazine. Members of the tobacco industry are eligible for a complimentary subscription to our magazine. Click here for details.
– Story by Stephen A. Ross, editor-in-chief of Tobacco Business Magazine.