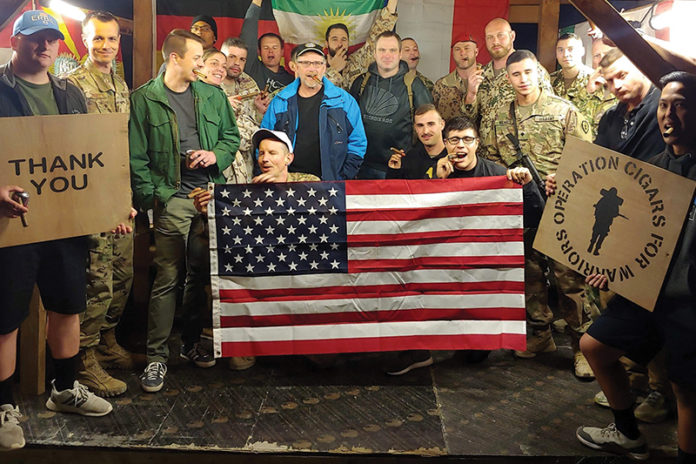 "The world has gone crazy," are the first words I hear these days whenever I talk to someone. They aren't entirely wrong—especially when referring to the cigar industry—and small, independent cigar retailers are getting hit the hardest. I want to share with you how you can make money through Operation: Cigars for Warriors (CFW), a 501(c)(3) charitable organization whose mission is to improve the lives of deployed U.S. soldiers and sailors by providing them with cigars, coffee, video games and other items that these troops request. CFW has received the highest rating—Platinum—from the nonprofit watchdog organization Guidestar.org, which demonstrates its transparency and distribution of charitable donations, and supporting our deployed troops by establishing a donation center in your store can help you build a stronger business while helping CFW fulfill its mission.
One of CFW's core principles is for its donation center retailers to always come out ahead. The first thing every donation center owner or manager should realize is that making money off of CFW is not a bad thing—in fact, for the charity, this is a win-win situation. CFW will get the donations naturally. The better the shop does, the better CFW does. So now you know, I'm not nearly as altruistic as you thought.
Let's discuss some of the opportunities your store will have by supporting CFW. The following are some of the CFW standards to become an official donation center. First, the store will need to set up its own humidor that holds at least 300 cigars as close to the register as possible with CFW-supplied signage and decals nearby. The bigger CFW display a store has, the more attention it draws, and a humidor with a capacity of at least 300 cigars shows customers that CFW is a serious charity. Please don't use cardboard boxes, empty cigar boxes, baskets or Tupperware containers—these all disrespect a customer's donation. Having a large humidor near the register will get customers asking to know more about CFW, and it gives the store an opportunity to share with them what CFW is and why they support it.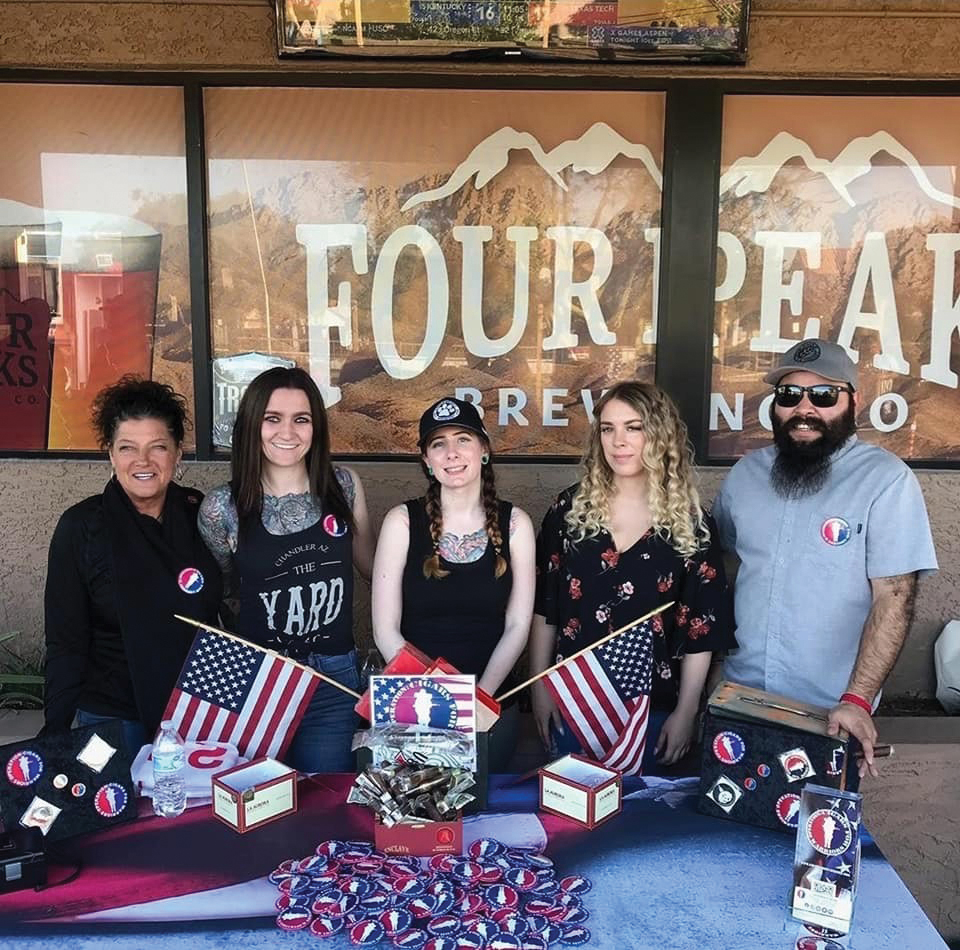 Be proud of supporting our approximately 165,000 deployed service members by establishing a donation center in your store, and tell your customers about CFW and its mission to support deployed troops. They will become excited too. Many customers will buy an extra cigar or two to place in the donation center humidor for the deployed service member, which adds to the average sales figure for your store. It is an easy upsell for any staff member to make without making your customers agitated.
Growing a store's consumer base is always a top priority for any retailer. One of the ways that CFW can assist in this is to notify cigar social clubs of your store's status as a CFW donation center. Many of the cigar-related social clubs are big supporters of CFW, and a lot of them have a membership policy stating that whenever they enter a cigar shop they must buy at least two cigars—one for them to enjoy and one for our troops. Most of these clubs also love to support events, especially when CFW is present. Another advantage to being a donation center is that traveling supporters of CFW visit cigarsforwarriors.org to find the nearest donation centers on their journeys. Now that your clientele population has increased, it is up to you to keep those new customers.
Donation center stores should send emails letting their customers know that they can drop off donated cigars from their own humidors. Do a "spring cleaning special," and encourage customers to clean out their humidors and donate the cigars to the CFW donation center at the store, and then offer them a 15 percent off their next purchase. This makes you money in the long run because they will tend to fill their humidors right back up with new cigars that they will buy from you. This also gives you an opportunity to move slow-selling stock.
If a store really wants to show love and support for CFW and deployed troops, they will build a "warrior wall." We have a few stores that have created a warrior wall near their checkout area. Warrior walls grab customers' attention and provide a patriotic display inside the store. There are a variety of ways to make a warrior wall, but a simple example is to use a shadow box to display an American flag and photos of clientele who are deployed. As a donation center, the store may also post any photos of their customer troops smoking donated cigars as well as their thank you letters. There is nothing like meeting CFW care package recipients, who always tell you that the package means so much to them. Not everyone gets a chance to meet a deployed service member who has received a CFW care package, so the next best thing for your customers is seeing it on your warrior wall.
CFW fundraising events are a way that consumers, retailers and the charity all win. Manufacturers bring raffle tickets or incentive items to in-store events to raise money or cigar donations during the event. The way the CFW raffle program works is that a customer donates one event cigar from the manufacturer holding the in-store event or two cigars from other manufacturers for one raffle ticket. Sending an email blast to customers about the event and encouraging them to clean out their personal humidors in exchange for raffle tickets works as well. A CFW volunteer attends the event to accept donations and hand out raffle tickets, leaving the store staff free to help customers and ring up sales.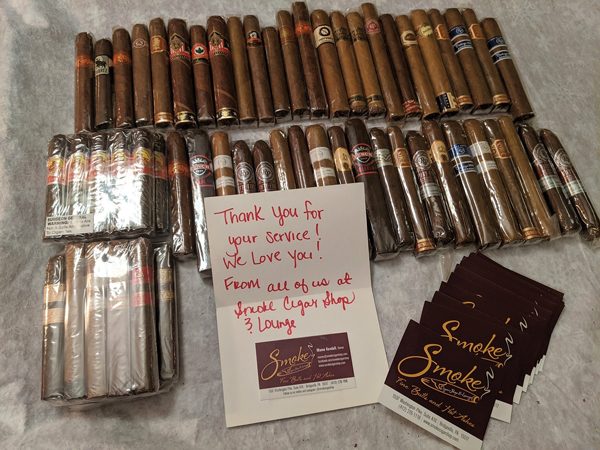 Hosting a CFW fundraiser event can be simple and fun. Stores can do one in many ways with very low overhead. Stores can do a small multi-vendor fundraiser. Usually three different manufacturer representatives at such an event works best, and it can be billed as a "Battle of the Boutiques," which is always a crowd-pleaser. There are so many ideas how to do it, but instead of giving you a ton of examples, let's be real: You know your area and your customers better than I ever could, so you will have the best ideas. When your store is ready to do an event, you can reach out to our marketing department by sending an email to R.J. Witcher (rj.witcher@cigarsforwarriors.net), and we will help the store with ideas and/or graphics. CFW will happily help promote the event throughout our social media platforms. Fundraising events will make all parties involved money and give the participating store a huge amount of free marketing from CFW.
If a store is ready to enlist to be a part of the CFW family of donation centers, the next step is to reach out to our donation administrator, Tammy Rekito (tammy.rekito@cigarsforwarriors.net), who will guide each store through the process and send the store a commitment letter.
The commitment letter outlines the minimum requirements to be a donation center and details the importance of having a CFW event coordinator and how an event coordinator can benefit a store. To become an event coordinator or to learn how having an event coordinator can help a store, reach out to CFW's volunteer administrator, Deana Davidson (deana.davidson@cigarsforwarriors.net), who can help a store find a volunteer. The best CFW volunteer event coordinators come directly from the owner/manager of the retail store. There is always that patriotic customer who frequents the store on a regular basis, who is well-liked, honest and trustworthy. If this person has a few hours to dedicate to the store, then you have yourself a potential event coordinator. Event coordinators can help set up an event, run the CFW booth and raffles, help prepare the cigars for shipment, count cash, and take event photos and post them to the CFW Facebook group. You will be surprised how much having a CFW event coordinator can benefit the store by performing something, such as giving a small speech, which will send people flying into the humidors to buy cigars to donate!
CFW is blessed to have amazing, talented volunteers that can lend their services and expertise to our donation centers. The board's secretary, Danielle Lombardi (danielle.lombardi@cigarsforwarriors.net), can also answer many of your questions and/or guide you to the right CFW board member that can.
You're probably thinking, "It all sounds too good to be true. How much is this really going to cost?" The truth? Only the "loan" of a 300-plus-count humidor and the cost of shipping your donations once a month, which can be a tax write-off. That is an additional opportunity to receive free marketing. Take a photo of the monthly donations and include the name of your store, and then ask the volunteer event coordinator to post it to the Operation: Cigars for Warriors Facebook page. Whenever the donation arrives at our distribution center in Florida, CFW will take another photo and promote it again. If there are any monetary donations, the store will simply write a check for that cash amount to protect the volunteer, the donation center and CFW.
These are just some of the ways to make money from supporting CFW. Feel free to go to cigarsforwarriors.org to learn more about CFW, including information about how to sign up to be a donation center and how to become an event coordinator. Danielle Lombardi can also answer many of your questions or guide you to the right CFW board member who can help you. Never feel weird about making money off the charity. CFW will get its donations, and there isn't a service member alive who would be upset that a company that is supporting the charity comes out ahead.
I hope you and our troops stay safe and very healthy during this time of national crisis, whether you're talking about the economy or the coronavirus pandemic.
This story first appeared in the May/June 2020 issue of Tobacco Business magazine. Members of the tobacco industry are eligible for a complimentary subscription to our magazine. Click here for details.
– Contributed by Storm Boen, Chairman, Operation: Cigars for Warriors