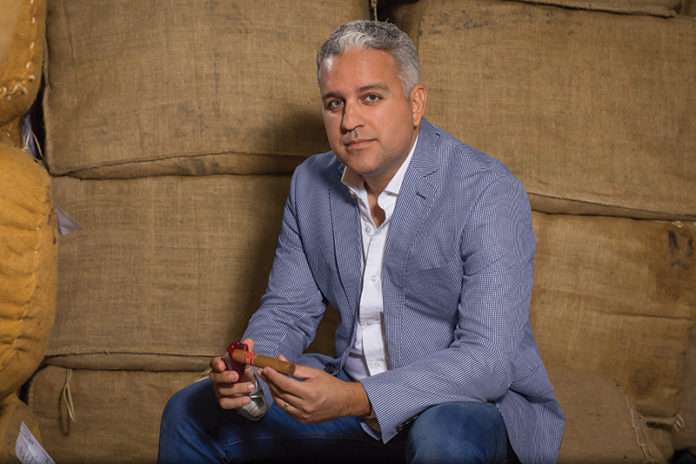 At 42 years of age, Francisco Batista, the premium cigar master blender and general manager of Royal Agio's factory in San Pedro de Macoris, has been with Royal Agio for 10 years, and while he has been with the company for a decade, he took a circuitous path to coming to work in the premium cigar industry. Educated as an industrial engineer, Batista first worked in the automotive industry for Sensata Technologies, a division of Texas Instruments.
"I have always had a passion for making things," Batista says. "Since I started working, I have always been involved in improving factories and processes, trying to build consistency in production."
In 2009, when the automotive industry was experiencing a serious decline, Batista's company initiated a series of layoffs that drastically reduced its workforce. While Batista kept his job, he sensed that it was time to seek new opportunities. Batista sent out his resume to various job placement companies and headhunters, and he was very quickly contacted by PricewaterhouseCoopers about a potential job with one of their clients; however, they would not tell him any more about the possible position except that it was with a cigar factory owned by a Dutch firm that happened to be the world's fourth-largest cigar company. A passionate cigar smoker at the time, Batista was intrigued by the idea of working in a cigar factory, and he quickly accepted the offer to be interviewed. Shortly into the interview, it became clear to both the parties that Batista possessed the right skills for the position of operations manager at the San Pedro de Macoris factory in the Dominican Republic.
"I was very interested to work in something that I liked," Batista remembers. "During the interview, we didn't talk at all about tobacco but [instead] about improving processes. They knew tobacco, and they wanted a fresh voice who could learn the factory work and improve the operation. They hired me for efficiencies in the process and improving consistency. If you don't control all the factors, you won't have a consistent product. If you keep your processes under controlled conditions, then your quality will get very consistent."
The Birth of a Tobacco Man
Batista quickly settled into his position as operations manager and established new protocols that improved the factory's machine-made cigar production processes. There was also a small handmade premium cigar section inside the factory that the company was beginning to expand due to Wintermans' desire to increase Royal Agio's premium cigar portfolio. A hands-on manager, Batista walked the factory floor daily, got to know each of his 120 or so employees by name, and quickly became an expert on all of the production processes and their machinery. While he knew the employees and their jobs, he didn't think he could properly perform his own duties without unlocking the secrets of the tobaccos that the company used to make all of its cigars.
After a year at Royal Agio, Batista received a promotion to general manager, and while his main duties were to oversee the factory's overall production and continue to adopt best practices to improve efficiency and consistency, Batista also became part of Royal Agio's blending team.
"When I started, all the blends came from Europe. We made them and then shipped them back to Europe for sampling," Batista explains. "It was a very slow process, and it was away from the heart of the factory. Boris understood that it was better to have blending done in the factory. It became my passion, and I started working together with the blending team. In a year, I got more responsibilities, and they appointed me as master blender. Blending is primarily sparked by Royal Agio's own curiosity. We prefer a process of curiosity—start with an idea and see where it takes us."
Balmoral Anejo 18 and Balmoral Anejo XO Classic were exclusively the brainchildren of Wintermans. After their release, the subsequent Royal Agio cigars have all been created at the San Pedro de Macoris factory. Batista says that ideas of new cigars come from Europe, the Dominican Republic and from the Royal Agio USA team in Bradenton, Florida. As master blender, Batista is constantly smoking tobaccos and learning their unique characteristics. He uses the knowledge gained from those varietal puros to assemble blends that might work for the particular projects the company wants. Narrowing down the possibilities to approximately 10 different blends, Batista sends samples to the U.S. and the Netherlands for feedback and to narrow down the selection even further. Eventually, everyone agrees on the best blend, Wintermans gives his final approval to move forward with production, and Royal Agio creates a new cigar line.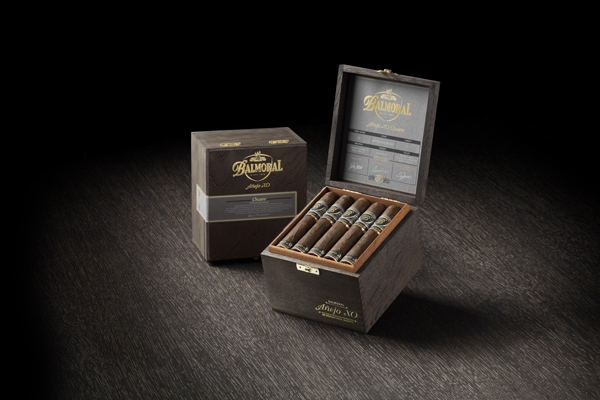 "Balmoral Anejo XO Connecticut, Oscuro and Nicaragua have been blends that I have worked on and sent to Boris and the guys in the U.S. for their opinion," Batista explains.
"Every few weeks I receive samples of different tobaccos. Before we start blending them, we smoke them in puro form—just that tobacco by itself. We want to understand its nuances before blending. If you blend without knowing each component, then you are blending blind. Once we understand the characteristics of each tobacco, then we have a better idea of which tobaccos we can blend to get a good blend direction. When you use tobaccos from different parts of the world, you get more variety than when you use tobacco from just one origin. That's the beauty, and that's what I love about Royal Agio. They want to explore and push their boundaries for new things. This is something that means a lot to me because it gives me freedom to try new things."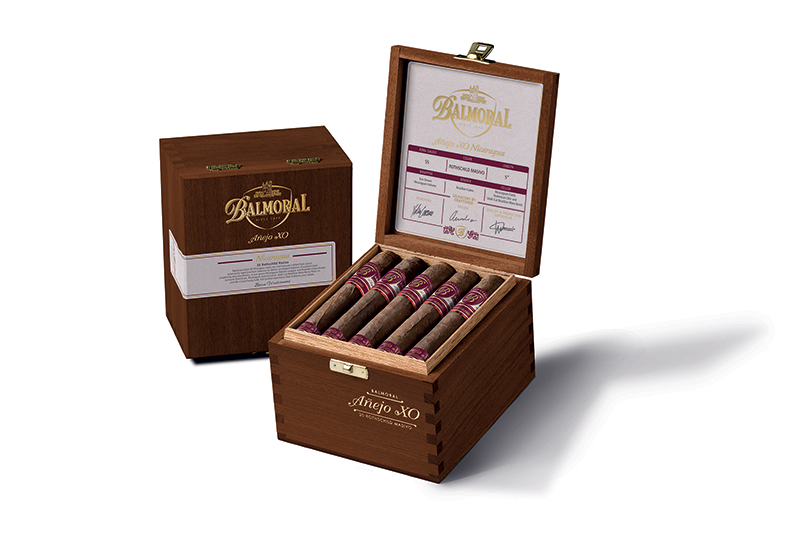 Blending for the Future
While both Wintermans and Batista like to explore new flavor sensations and blend profiles using unique tobacco combinations, Royal Agio's brands also require a signature flavor profile in order to give consumers a point of reference from which to enjoy all of the cigars the company produces. For instance, every cigar within the Balmoral line is blended using Mata Norte tobacco from Brazil, which is grown almost exclusively for Royal Agio. The tobacco imparts sweet characteristics to the Balmoral blends that cigar connoisseurs have come to expect in the brand's cigars.
Driven by the curiosity of Wintermans, Batista and others within Royal Agio, the company's premium cigar offerings have indeed expanded to cover the full range of cigar smokers' preferences in flavor, strength and budget. Having been intimately involved in the creation of almost all of the company's cigars, Batista is as heavily involved in the exploration of new tobaccos and how they might add to the portfolios of Balmoral and San Pedro de Macoris, representing a coming of age for both the Dutch company's premium cigar division and Batista himself. As Royal Agio's master blender, Batista is also traveling more to trade shows and retail shops throughout the world to represent his company and to spread awareness about its cigars. He enjoys these opportunities to meet retailers and their customers—not only to raise their awareness about Royal Agio's cigars but also to learn firsthand what's going on along the frontlines of the retail premium tobacco world and to perhaps spark a few new ideas for future Royal Agio cigar blends.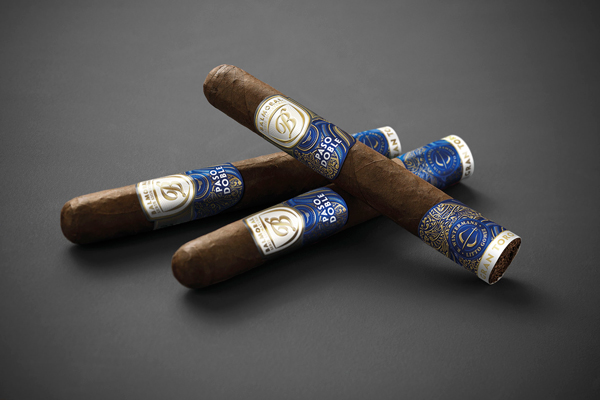 "We are here for the long run," Batista concludes. "We believe in our brands and are doing everything that we can to establish the brand for the long term. We are investing in resources to be able to serve every market in the U.S., and Balmoral is really becoming a global brand. Every time I go to a trade show or a cigar event and talk to the consumers, people learn more about Balmoral, and I learn more about the cigar industry. We have seen how this changes the business in only a positive way."
This story first appeared in the September/October 2019 issue of Tobacco Business magazine. Members of the tobacco industry are eligible for a complimentary subscription to our magazine. Click here for details.
– Story by Stephen A. Ross, editor-in-chief of Tobacco Business Magazine.