"We're not there just to sell cigars; we're there for people to enjoy cigars, because if you put them on the right cigars, they will come back. And we put a lot of emphasis on the brand. We let them know what brand it is. We tell them, 'Hey, take the band off if you like it. Keep it, and the next time you come into the shop, ask for it.'"
Recipe for Success
Espinosa admits that owning his own brand and being an entrepreneur has its own set of challenges, from the constant traveling to having to keep an eye on his health and fitness so that he can give his all to his business and his family. When it comes to what he'd do differently with his company if he were given the chance, he reveals that there are two things that come to mind: He would have started his company earlier, and he'd also reconsider where he based his cigar factory. Espinosa believes that had he launched his company sooner it would be bigger than it is now. He also says he would have built his factory in the Dominican Republic rather than Nicaragua because there's more to do there, but he feels that Nicaragua's tobacco is better, and thus he'd be spending more money on importing Nicaraguan tobacco into his Dominican factory for production.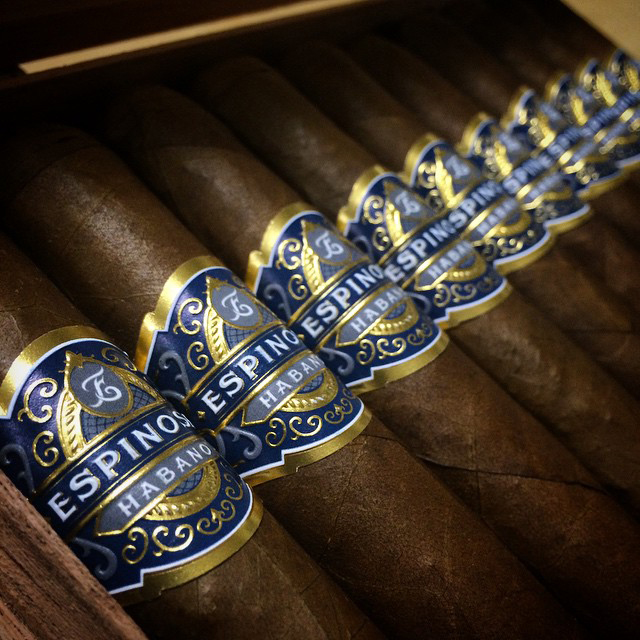 Even though there are things he'd do differently, he's still proud of what he and his team have accomplished in just a few short years, and he feels he has been successful. When asked how he defines success, his answer is surprising.
"Success is happiness—it ain't money," he says. "What I think success is might be different from what you think it is. When someone is smoking a product that you put your heart and soul into, that, for me, is success. If someone's willing to purchase it, that's success for me. It's definitely not money because money comes and goes. There are a lot of successful people without money. Somebody enjoying what you put your heart into and that they're willing to pay for—I think that's success."
Espinosa goes on to say that what's important in business is that you must enjoy what you do. In his professional life, he says he's encountered many people who have money but are miserable, leading him to discover and understand the importance of loving what you do for a living.
"If you love what you do for a living, then you'll never work a day in your life," he says. "So, it's not work and you're enjoying yourself and you're going to put more time and effort into it. If you don't like it, then you're not going to be successful."
For Espinosa, there's more to business than dollar signs. Success comes when one is doing what they love rather than what they might typically classify as work. To other entrepreneurs looking to build a business like his, he preaches that one must put their heart, soul and everything they have into what they do. A good entrepreneur will also surround themselves with good people. Business is also about taking chances and can sometimes come down to luck—some of which happens by chance and some you can make your own. The more doors you knock on, the more chances you'll have for one of those doors to open up for you. As any good chef or foodie such as Erik Espinosa would tell you, don't forget about the ingredients you use. The better the quality, the better your experience will be.
This story first appeared in the January/February 2020 issue of Tobacco Business magazine. Members of the tobacco industry are eligible for a complimentary subscription to our magazine. Click here for details.
– Story by Antoine Reid, senior editor and digital content director for Tobacco Business Magazine. You can follow him on Instagram @editor.reid.