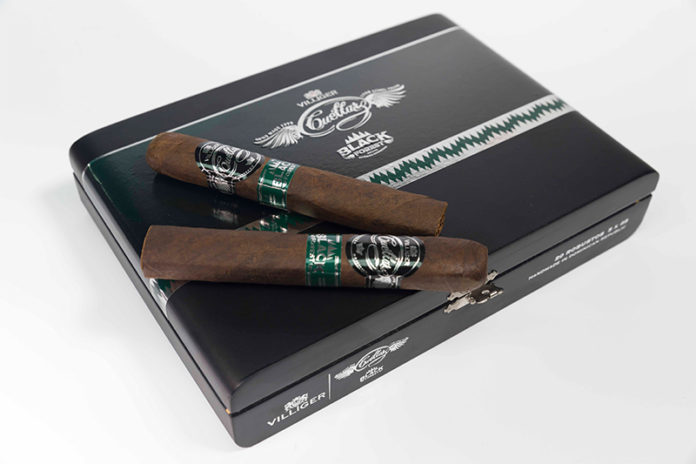 Villiger Cigars' Villiger Cuellar Black Forest is a line extension to the Villiger Cuellar Connecticut Krēmē. The Villiger Cuellar Black Forest is a Dominican-made cigar, which features a dark, rich, oily, and flavorful maduro wrapper and Dominican binder and filler tobaccos. Villiger Cuellar Black Forest is made by Jochy Blanco's Tabacalera La Palma in the Dominican Republic.
Villiger Chairman of the Board, Heinrich Villiger, grew up close to the Black Forest, which is the birthplace of many legends and fairytales and serves as the inspiration for the Villiger Cuellar Black Forest cigar. The Black Forest is so-named because of the dense pine forest that lies near Germany's border with Switzerland. The trees grow so thick there that they block out the sun from reaching the forest ground. This combined with constant fog create an eerie ambiance, unnerving enough to have given birth to legends of werewolves, haunted monasteries, castles and ancient Celtic cemeteries. German based authors, the Brothers Grimm, based many of their dark fables on the Black Forest. The packaging of the Villiger Cuellar Black Forest visually communicates the aura of the Black Forest that the Grimm Brothers wrote about.
Henrich Villiger together with Jochy Blanco blended Cuellar Black Forest to offer deeply rich flavors, with a distinct sweet finish. Villiger Cuellar Black Forest is a medium- to full-bodied and full-flavored cigar that is offered in four sizes: Robusto (5 x 48), Toro Gordo (6 x 54), Churchill (7 x 50) and Torpedo (6 ¼ x 52).
"We very much look forward to releasing the Villiger Cuellar Black Forest, as it marries Caribbean artisan tobacco craftmanship with German and Swiss folklore, culture and mysticism. Both our passion for tobacco and the Villiger culture are represented in this cigar," says Heinrich Villiger in a press release announcing the Cuellar Black Forest's release.
For more information, visit villigercigars.com.