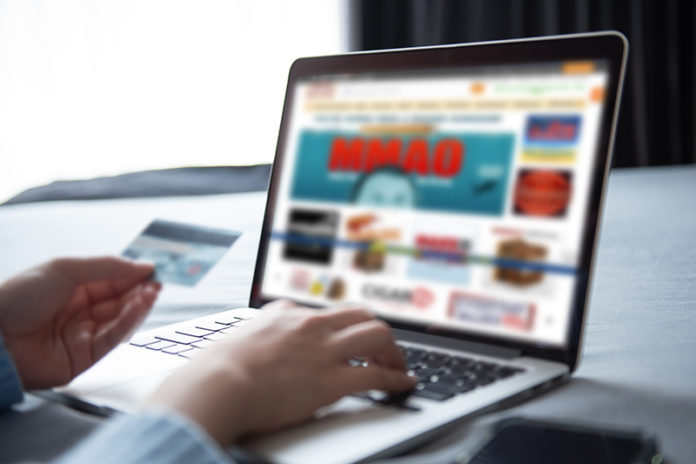 Being a brick-and-mortar retailer is a challenge for many. The typical brick-and-mortar retailer is limited to serving a small geographic area, and they also have to contend with local regulations, taxes, insurance, labor challenges and many other costs associated with having a physical store that is open and accessible to the public. Those retailers that are strictly brick-and-mortar-based must also compete with online retailers that are often able to offer the same products at lower prices—and to customers across the nation and the world, giving them a distinct advantage over the traditional brick-and-mortar tobacconist.
"The fact that mail-order businesses can sell across state lines and avoid paying state tobacco taxes is a fundamentally unfair reality which undermines retail tobacconists," explains Jorge Armenteros, owner of Tobacconist University (TU). "I don't blame internet retailers for taking advantage of this opportunity, but it is clear that brick-and-mortar stores will need to enter the space to get back some of their business and customers in order to help level the playing field. Online tobacco retailing must be embraced by brick-and-mortar stores in order to thrive in this environment."
Having the ability to sell online is becoming a must for tobacconists who are interested in long-term success. Selling online is the best insurance policy a tobacconist can have against some of the challenges many have faced in the past year, including unexpected COVID-19 lockdowns, limited operating hours, inclement weather and transient customers. Taking your sales efforts online also gives a traditional tobacconist the ability to build a customer base that extends far beyond his or her geographic location. That's why Tobacconist University's latest feature, TUECOM, is a development that will give many brick-and-mortar tobacco retailers a much-needed advantage by easily bringing their stores and product offerings online to a brand-new customer base.
Set to go live this fall, TUECOM is a turnkey e-commerce website available exclusively to Tobacconist University's highly trained and educated Certified Retail Tobacconists (CRTs). TUECOM sites can be purchased through the Tobacconist University website by any retail store with a CRT, and that website will be wholly owned by the retailer. The code for the website will be hosted on the retailer's server, pointing to their own domain, and the website will be fully customizable and functional— including credit card processing and a built-in cigar inventory database—approximately one week after purchase.
"Tobacconist University will not receive any commissions on sales, and there are no recurring fees," says Armenteros. "Our goal is to empower retailers by putting the full and functional power of e-commerce directly into their hands."
In the interview with Armenteros that follows, we'll take a deeper dive into Tobacconist University's new TUECOM platform and discover the many benefits it offers brick-and-mortar retailers who are looking to sell tobacco products online.
Tobacco Business: Why did you want to develop this platform?
Jorge Armenteros: As a retail tobacconist for more than 26 years, I knew I needed a new and improved e-commerce presence on the internet. I struggled with the challenge of finding the time and money to create the site and spent years researching and working with developers trying to find the right path and team. It is a challenging process because the more you learn, the more you realize how much you don't know. I am not a "tech" person nor is TU a "tech" company, but we must use technology to accomplish our goals. Ultimately, TUECOM was birthed in the same way that TU came about: after working on the project for my personal business use, I realized it could be extrapolated and developed for the masses. In this case, TUECOM sites will cost a fraction of what it would cost if you did it yourself. I spent exponentially more time and money on this project so we could provide e-commerce sites to retail tobacconists at a fraction of what it would cost if they did it themselves. My hope is that this will provide a huge benefit to retail tobacconists and help transform the industry into a more fair playing field for its most important professionals.
Why should retailers use TU's e-commerce solution over that of Shopify, WooCommerce or other e-store software?
The problem with using someone else's platform is that it is not yours. Social media sites won't let you sell or market cigars, PayPal won't let you sell cigars online, and online e-commerce sites like Shopify make you jump through hoops to do so, if they allow you to at all. Plus, they can de-platform you at any point for no reason, as we saw happen with banks and credit card processors closing retail tobacconist accounts a few years ago. History has proven that retailers cannot trust e-commerce and social media platforms with our businesses and life's work. We must own and control our businesses and not be enslaved by the world of tech giants.
How long will it typically take for a retailer to set up their own e-commerce site using TUECOM?
Our TUECOM process is set up and integrated with the existing information we have for CRT listings, so we have logos, addresses, phone numbers, websites and social media links ready to be plugged into your site. The process is as simple as going online, answering a few questions, uploading a few pics, agreeing to the terms and paying for the website. Our tech team and credit card provider will be notified immediately after you make the purchase, and they will get to work contacting you to prepare to deliver the site to your server. You can purchase and initiate the process in a matter of minutes, and our goal is to deliver the e-commerce site to you within a week. Your purchase will also come with approximately 40 hours of tech customization, so you can use our team to finesse the site to your liking. Retailers will not have to spend countless hours learning, designing, creating and tweaking their own site like they would with a DIY service. We are not asking you to create your own website; we have created templates based on the most successful internet mail-order sites but enhanced them to capitalize on retailer strengths.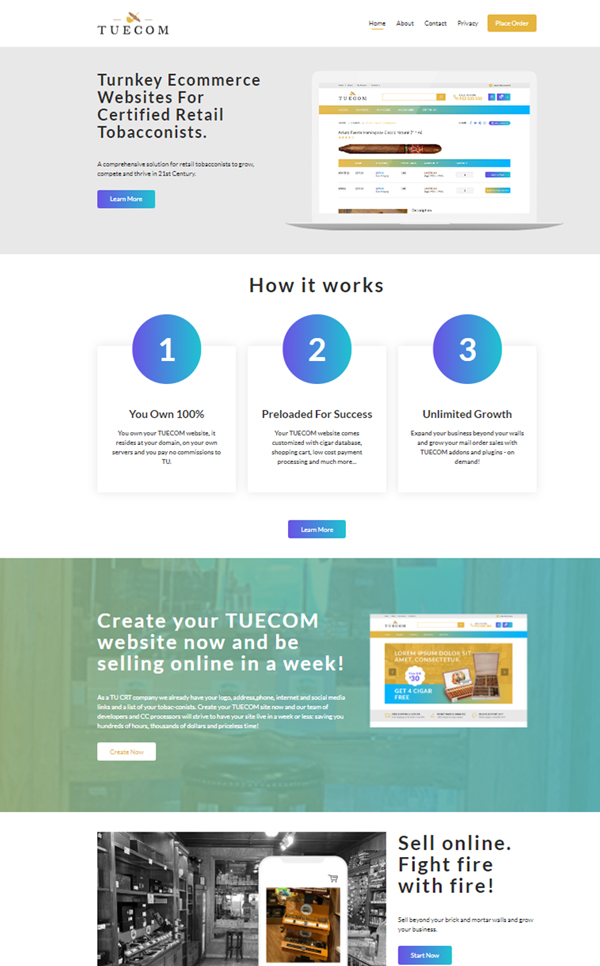 How customizable is this new platform?
TUECOM sites are as customizable as anything on the internet. This is not a Wix or Shopify site where you drag and drop things like a video game within a limited framework to "customize" your site. We are selling you a working infrastructure, and you can do anything you want with it. We will have scalable and reasonably priced plug-ins/add-ons for easy implementation, and retailers can contract with any programmer/developer to do whatever they want. Obviously, independent customization is time-consuming and expensive, but the sky is the limit! Once we get the initial sites up and running, we will start working full time on our plug-ins/add-ons, and this is where things will get very exciting for TU and our retailer websites. The more sites we build, the cheaper the plug-ins and add-ons will get, so scaling up will drive prices down for all or our TUECOM clients. Over time, we hope to create myriad options, bells/whistles, plug-ins and add-ons and drive the cost so low that implementing them will be irresistible.
Does your e-commerce platform connect with different point-of-sale (POS) systems or would retailers need to use a certain one or manually enter inventory onto the site?
Alas, it does not; that is the holy grail of online commerce! This is the height of technological complexity, and there is no way we can meet the needs of all the POS systems on the market, much less understand the security and technological implications involved. With that said, retailers can pursue POS integration on their own.
We are also working on a very long list of plug-ins and add-ons for the TUECOM sites, and I am confident we will find some opportunities to integrate with POS systems in the future, but we can't see that far from here right now.