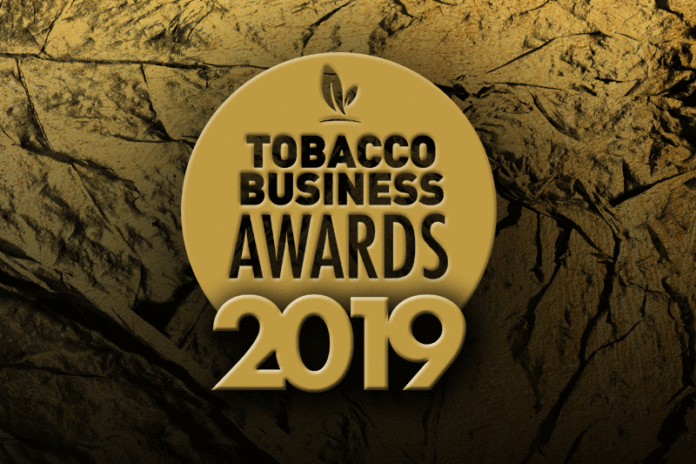 Tobacco Business Magazine is excited to announce the 2019 nominees for the Tobacco Business Awards. These awards are designed to honor the best businesses, entrepreneurs, and products in various categories of the tobacco, vapor and alternative industries. The Tobacco Business Awards will be presented at an exclusive party during Tobacco Plus Expo (TPE), which will be held in Las Vegas, Feb. 11-13, 2019.
"The Tobacco Business Awards is about recognizing those industry professionals, businesses, and entrepreneurs, that think outside the box and have disrupted the industry in some way," explains Ben Stimpson, managing director at Tobacco Business Magazine. "This is our chance to recognize those professionals and businesses for their achievements, tenacity, innovation, and new ideas."
To reflect the growth seen in Tobacco Business Magazine over the past year, this year's awards are also expanded from last year. New this year are categories highlighting Nicaraguan and Dominican cigars, boutique cigars, leading tobacconists and women who have made great contributions to the industry.
Nominees for the 2019 Tobacco Business Awards are as follows:
DOMINICAN CIGAR OF THE YEAR
Davidoff 50 Years Limited Edition Diademas Finas (Davidoff Cigars)
Nat Sherman Timeless Dominican (Nat Sherman Intl.)
Pistoff Kristoff (Kristoff Cigars)
Balmoral Añejo XO Connecticut (Royal Agio Cigars)
Diamond Crown (J.C. Newman Cigar Co.)
NICARAGUAN CIGAR OF THE YEAR
Perdomo Reserve 10th Anniversary Champagne (Perdomo Cigars)
Romeo San Andres by Romeo y Julieta (Altadis U.S.A.)
Drew Estate Florida Sun Grown (FSG) (Drew Estate)
Macanudo Inspirado Red (General Cigar Co.)
Bellas Artes (AJ Fernandez Cigars)
BOUTIQUE CIGAR OF THE YEAR
Las Calaveras (2017) (Crowned Heads)
Big Papi by David Ortiz (Tabacalera El Artista)
Cornelius (Cornelius & Anthony)
Micallef Reserva Limitada Privada (Micallef Cigars)
Farce (Room101)
MASS MARKET PRODUCT OF THE YEAR
Tatiana Groovy Blue (Miami)
Panther Cigarillos (Royal Agio Cigars)
Lex12 (S&M Brands)
Signal (Ohserase Manufacturing)
Golden Harvest (Rouseco, Inc.)
ACCESSORY MANUFACTURER OF THE YEAR
Boveda (Humidification)
Bic (Lighters)
Xikar (Lighters, cutters, butane, humidification)
Missouri Meerschaum (Corncob pipes)
Tobacco Outlet Products (Candles, sprays, air fresheners)
NEXT-GENERATION PRODUCT OF THE YEAR
Cannadips (Cannadips)
Cue Vapor System (EAS)
Bo One (MMS Distribution)
Cig2o (Spark Vapor)
Rogue Nicotine Chewing Gum (NicoGen Pharma Solutions)
ENTREPRENEUR OF THE YEAR
Christian Eiora (C.L.E. Cigars)
Rocky Patel (Rocky Patel Premium Cigars)
Michael Herklots (Nat Sherman Intl.)
Michael Giordano (Quality Importers)
Kaizad Hansotia (Gurkha Cigars)
WOMAN OF THE YEAR
Lana Fraser (Davidoff of Geneva USA)
Liana Fuente (Arturo Fuente)
Victoria McKee (General Cigar Co.)
Lissette Perez Carrillo (E.P. Carrillo)
Courtney Smith (Cornelius & Anthony)
LEGACY AWARD
Nestor Miranda (Miami Cigar & Co.)
Heinrich Villiger (Villiger Cigars)
Dean Rouse (Dean's)
Benji Menendez (General Cigar Co.)
Jeff Martin (Rouseco, Inc.)
TOBACCONIST OF THE YEAR
Havana Phil's (Greensboro, NC)
Casa Fuente (Las Vegas, NV)
Soho Cigar Bar (New York, NY)
BURN by Rocky Patel (Pittsburgh, PA)
Curtis Draper Fine Tobacconist (Washington, D.C.)
TOBACCO CHAIN OR FRANCHISE OF THE YEAR
Casa de Montecristo
Collett Enterprises
Diamond Crown Lounge
Smoker Friendly International
Wild Bill's Tobacco
Voting is open from Nov. 1, 2018 through Dec. 31, 2018. Winners will be announced during an exclusive party on the opening night of Tobacco Plus Expo (TPE) on Feb. 11, 2019 in Las Vegas.
ABOUT TOBACCO BUSINESS MAGAZINE
Tobacco Business Magazine is a business-to-business trade publication that analyzes news, trends, and provides tips from people within the tobacco industry. Tobacco Business covers a variety of topics including the latest legislation news, sales and marketing tips, and provides real-time coverage of tobacco-related products. With an aim to give readers a full 360 degree view of the industry, Tobacco Business touches on various categories within the industry including premium tobacco, cigars, pipes and pipe tobacco, OTP/RYO, alternative, vapor and even next-generation products like the growing heat-not-burn category. Tobacco Business Magazine is published bi-monthly by Tobacco Media Group (TMG).