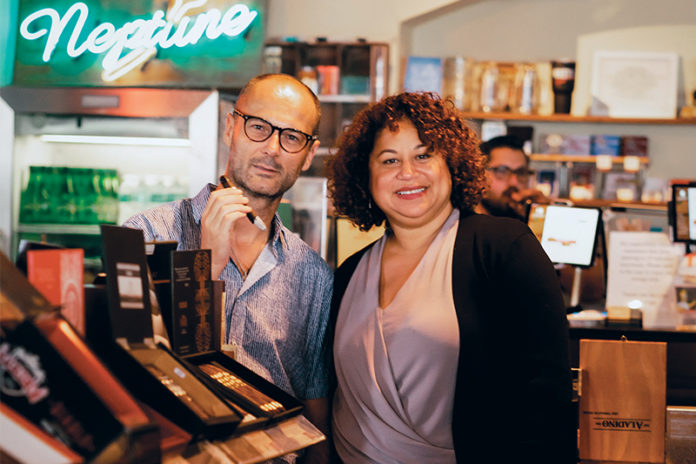 On Oct. 26, 2019, nearly 500 people gathered at Vizcaya Museum and Gardens in Miami, Florida, for a spectacular gala to help Christophe and Luz Normand celebrate the 20th anniversary of their business, Neptune Cigars. With a stunning view of Biscayne Bay in the background for the 1920s Prohibition era-themed party, nearly 40 premium cigar companies helped sponsor the event. Many of those companies' star cigarmakers attended the party, including Arturo Fuente's Liana Fuente, Bobby Newman from J.C. Newman Cigar Co., Rocky Patel's Nish Patel, Nestor Plasencia from Plasencia Cigar Co., A.J. Fernandez from A.J. Fernandez Cigars, E.P.C. Cigar Co.'s Ernesto Perez-Carrillo, Nick Perdomo from Perdomo Cigars, Miami Cigar & Co.'s Nestor Miranda, Alan Rubin from Alec Bradley Cigars, C.L.E. Cigar Co.'s Christian Eiroa, Michael Herklots from Nat Sherman and Maya Selva Cigars' Maya Selva. Guests enjoyed cigars from these companies and many others, as well as signature cocktails and food, and they danced to live music until the early hours of the next morning in a blowout bash almost as big as the business it celebrated. Twenty years after starting Neptune Cigars as a premium cigar brand, the Normands have transformed the company into a large, independent, online premium cigar retailer as well as a traditional brick-and-mortar retail tobacconist that has three locations in South Florida—one in Fort Lauderdale, one in Miami's Little Havana neighborhood and one near South Miami's Dadeland Mall.
"Our success can be attributed to remaining innovative as well as being attentive to all levels of premium cigar manufacturers, especially the boutique companies," Luz comments.
"We believe in diversity, not uniformity, and our customers who are looking for boutique cigars know that we're likely to have what they're looking for because of our focus on carrying as many cigar brands as we can."
Setbacks Lead to Opportunities
While Neptune Cigars' focus today is to stock a wide variety of premium cigars in its brick-and-mortar stores as well as online, in 1999 the company ironically began to support the sale of a single cigar brand: Neptune. At the time, Luz was working as an international business attorney who specialized in helping companies set up businesses throughout the Caribbean. Christophe had been a quality control manager at SEITA, the French state-owned tobacco monopoly, and supervised the making of SEITA's cigars at its factories in the Dominican Republic. Christophe left SEITA shortly after its 1998 acquisition of Consolidated Cigar Corp. and had dreams of establishing his own national cigar brand in the United States, but his timing couldn't have been worse.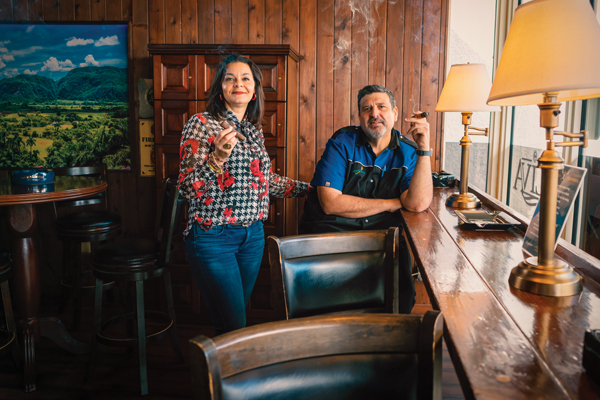 Through the mid-1990s, the premium cigar market in the U.S. had exploded in popularity, and new brands and retail stores seemed to pop up everywhere overnight. Premium cigar imports into the U.S. soared, and both cigar manufacturers and tobacco growers greatly expanded their business operations in hopes of cashing in on the premium cigar craze. Just as quickly and unexpectedly as the Cigar Boom rose, the bubble burst and the need for new cigar brands dramatically slowed. While Christophe had created a good product, few retailers had the shelf space or the capital to invest in it. Instead of traveling the country trying in vain to place Neptune's cigars in retail shops, Christophe decided to sell his cigars directly to retailers via an emerging technology: e-commerce. An engineer with an inquisitive mind and interest in developing technologies, Christophe built a website, and the online retail store, Neptunecigar.com, was born.
"We did really well," Luz recalls. "There wasn't a lot of competition at the time. It was the beginning of the dotcom retail scene, and people who lived in areas that didn't have a cigar shop nearby found us."
Neptunecigar.com did so well, in fact, that the production of Neptune cigars could not keep up. The Normands needed cigars from other companies to supply their steadily growing customer base. Within a few years of launching Neptunecigar.com, its cigar selection grew to include dozens of premium cigar brands. Expanding the product selection also grew the customer base, and as the 2000s progressed, online shopping became a more accepted practice among consumers—and the customer base grew even larger.
Building Synergy
While the online store grew, the Normands recognized the need to open a brick-and-mortar retail location to serve customers closer to home as well as to give tourists visiting the Miami area an opportunity to shop with Neptune Cigars while in town—and then, hopefully continue to buy from Neptunecigar.com once they returned home. The first traditional brick-and-mortar Neptune Cigars Super Store location opened in 2009. Within the last decade, two more Neptune Cigars Super Store locations have opened as well, each with a smoking lounge as an integral feature of providing an overall excellent customer experience.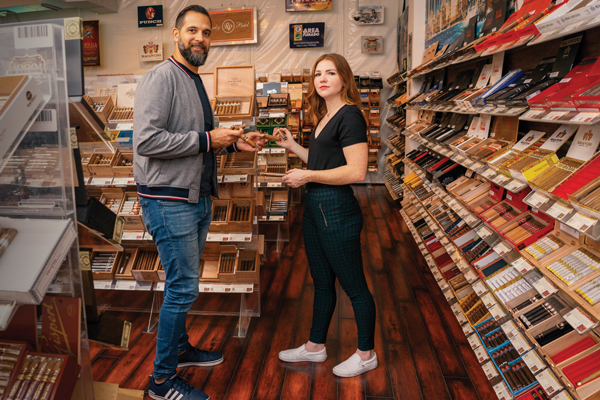 One of the most important building blocks of showing customers that you appreciate their business is having a stable, professional and knowledgeable staff ready to assist any customer's needs. Of the more than 40 employees who work at Neptune Cigars, many have been with the business for multiple years. There's Allison Petitt, a senior customer service manager at Neptune Cigars, who has been with the company for 13 years. Another customer service manager, Adam Stewart, has been at Neptune Cigars for almost a decade. Luz's sister, Mari Mena, has also been at Neptune Cigars for 11 years, and she is the director of retail, taking care of all the brick-and-mortar stores and their employees.
"Neptune is a huge collaboration, and I don't know where we would be without these people," Luz comments. "There are a lot of people who put in a lot of effort and come happily to work each day, and we really appreciate them for it. We have a culture of collaboration and teamwork."
Neptune Cigars invests heavily in giving all of its employees the tools they need to provide top-notch experiences to all of its customers. The Normands are big believers in education, and they provide their employees opportunities to expand their cigar knowledge by visiting the tobacco fields and cigar factories where the products they sell are grown and manufactured so that they can confidently describe the artisanship of handmade premium cigarmaking to their customers. Likewise, there are a host of custom-made tools the company has developed in order to mine data from its point-of-sale system that can provide information about any customer's previous purchases to help store employees make recommendations to their customers.
"Our customers get treated well—that's our No. 1 priority.—and we give our staff the tools they need to do a great job at it," Luz says. "Our website is interactive, and it allows people to upload pictures, rate and review cigars, or make wish lists. When our staff talks to a customer, they can see the customer profile and have all the information they need to be able to give a recommendation. That is one way that we have enhanced the experience, and it works on all the channels of our business."
Another key aspect of Neptune Cigars' overall success has been its ability to replicate the deep information about any cigar brand that's available on its website or on its stores' shelves. The Normands spent a lot of time thinking about how to best use the space inside their stores to give their customers the information they need to make informed purchasing decisions whenever a staff member might be unavailable to help them. The solution was to build display shelves that contain all of the pertinent information regarding a brand.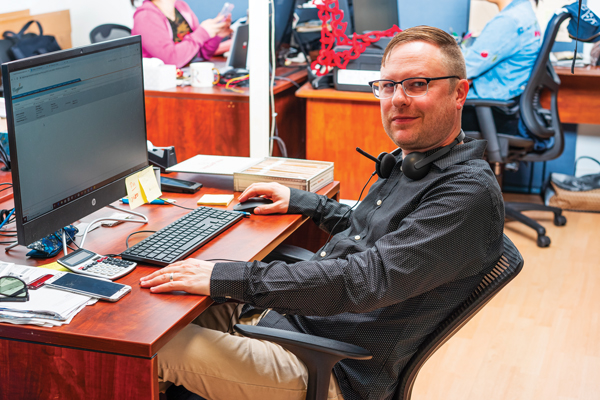 Neptune Cigars' innovative spirit will take a big leap forward in 2020 as it unveils an artificial intelligence program developed by Christophe that will give customers personalized cigar recommendations. In effect, each customer will have a personal cigar sommelier ready to help him or her find the perfect cigar at his or her fingertips.
"Christophe says that we're an IT company that sells cigars," Luz concludes. "We want to continue to innovate so that someday we might be able to offer every available cigar to everyone on the planet. We will continue to surprise our customers and the industry—just stay tuned."
This story first appeared in the March/April 2020 issue of Tobacco Business magazine. Members of the tobacco industry are eligible for a complimentary subscription to our magazine. Click here for details.
– Story by Stephen A. Ross, editor-in-chief of Tobacco Business Magazine.