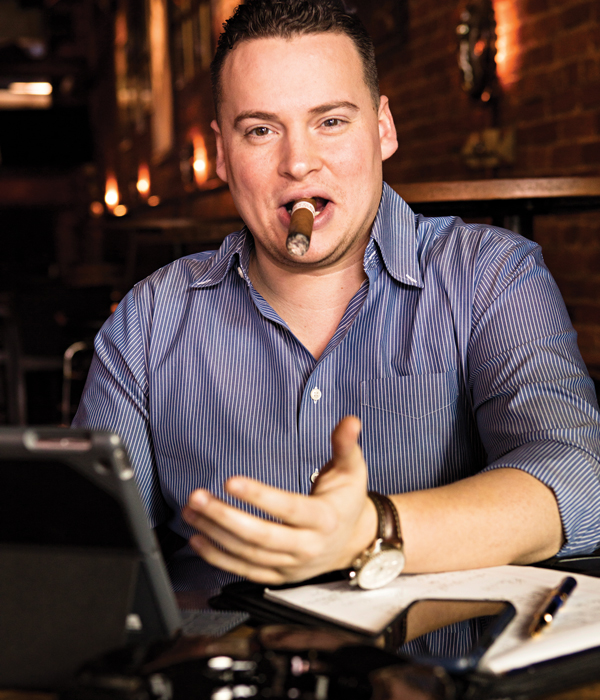 Sales can either make or break a product. No matter how great the marketing campaign may be, how charismatic the "face" of the brand is or how much money is spent on bringing the product to market, if the sales aren't there, the company and brand won't be around for much longer. When it comes to selling tobacco products, there's no one-size-fits-all plan or blueprint that will work for every company. Each one has to figure out what sort of sales force it needs, what its message to retailers will be and what goal it must reach in order to compete effectively.
These are all questions and topics that Jarrid Trudeau, Kristoff Cigars' vice president of sales, must deal with on an ongoing basis. Before he began his tenure at Kristoff Cigars, Trudeau worked in the corporate world as an executive team leader at Target. It was a chance meeting at an in-store Kristoff event held at a local tobacconist that landed Trudeau on the radar of Kristoff Cigars' president, Glen Case. Trudeau breaks down his strategy for success into three components: show up, don't be a jerk, and always ask for something." Here's a closer look at how Trudeau applies these three rules to his sales approach and some reasons why you need to apply it to your own sales efforts.
Good Representation
The best salespeople aren't just trying to get customers to buy a product; they're helping them to solve problems. While Kristoff Cigars' products are good and have the reviews and ratings to back up the claim, Trudeau doesn't view the product as being the most important thing the company is selling. Instead, it's the sales representatives pushing and promoting those products.
"It's important to have a good multichannel approach to getting in touch with the customers. The best advertisement you can have out there is your sales rep," says Trudeau. "Obviously the cigars have to stand on their own, but the product we are selling is the rep. If we put a good sales rep out there who can sell the product, who will answer questions and who will do events, that's going to do more to acquire customers than anything else."
He confesses that his best days on the job are the ones when he's trying to solve a problem for his reps, whether helping to close a deal, to manage schedules or to make sense of numbers. He sums up his approach to management as "what gets measured gets done," meaning that being able to provide his team with numbers, reports and insights into what everyone is doing and how the company is performing helps to bring focus and deliver desired results.
Besides reports, numbers and access to data to work with, effective salespeople need to show up and care about what they're doing, he adds. "My father was a mentor for me—he worked his ass off supporting our family," says Trudeau. "This guy grinded his whole life. He told me when I was very young, 'Jarrid, you can teach anything, but you cannot teach people how to give a shit.' That is the motto that I live by. It is so simple, but it is so true. If I get the impression that somebody cares and is invested and motivated, I can teach them sales, I can teach them routing, I can teach them how to use the CRM, I can teach them blends and products, but I cannot teach them how to give a shit, no matter how hard I try."

Be a Partner, Not a Salesperson
Trudeau firmly believes it is the responsibility of anyone in sales to add value to the customer and to demonstrate to the customer how the company and its sales reps will work harder than the retailer to get customers in the store to buy products. Rather than pushing products on retailers, his strategy is to get them excited to sell products and to work together.
"The pitch comes from the discourse and from workshopping the situation with the customer and making them a partner rather than an adversary," says Trudeau. "That's how you build a rapport—by asking the right questions, listening to what they have to say, listening to their business problems and then finding ways to help solve them, whether or not those involve your company."
Customers usually reveal what's important to them when they're ranting and raving. Take mental notes, remember what seems important to them, and a have some sort of goal or plan in mind for addressing it. Another key element of sales is negotiation, and you must be reasonable as a salesperson if you want to gain a loyal business partner. An effective negotiation will benefit both you and the customer, while any sort of compromise is likely to leave both of you dissatisfied to some degree.
Give Them a Reason to Sell
Finally, once you have a good rep who is armed with the information and resources necessary to sell the product, who acts professionally and who shows up to work each day ready to bring in new business, make sure you keep those salespeople motivated. Incentivization is a big part of the sales process, but make sure those incentives are enough to keep your team striving for excellence. According to Trudeau, offering aggressive bonuses to sales reps that show up, work hard, meet their goals and demonstrate their investment in the company pays off.
Besides bonuses, providing the right amount of support will ensure you retain your sales reps. While Kristoff Cigars has a lean workforce, it's equipped with a great operations team that makes sure the sales reps are kept organized and have what they need to be successful. Ensuring sales reps are fairly compensated, have a good product to sell and are backed with a great support team will make their jobs easier—and sales are likely to follow.
This story first appeared in the May/June 2018 issue of Tobacco Business magazine. Members of the tobacco industry are eligible for a complimentary subscription to our magazine. Click here for details.
–Story by Antoine Reid, an editor and digital content director for Tobacco Business Magazine. You can follow him on Instagram @editor.reid. Photos by Dale Heise.