Creating the Debonaire Lifestyle
When thinking about getting back into the premium cigar industry, Zanghi pondered his previous experiences as a cigarmaker and how he might apply them to create a holistic brand that could communicate the life lessons he had learned so far in both his professional and personal lives. Rather than just create a cigar that people could enjoy smoking, Zanghi wanted to express a philosophy built on his life experiences.
"Debonaire is an ideal—it's a way of life," Zanghi explains. "It's the betterment of oneself, the pursuit of authenticity. Anyone can be Debonaire. The cigar is a catalyst to conversation. It brings positivity to the world—45 minutes of sitting down and talking to other people. Putting your phones down and enjoying people. I'm more interested in what other people have done than what I have done. I know what I've done. What have you done?"
Partnered with Sinclair, Augusto Reyes and Leo Reyes, who is one of the Dominican Republic's largest tobacco growers, Zanghi chose Reyes Family Cigars as the manufacturer of Debonaire cigars, which debuted in 2013. For a line that is inspired by a progress toward perfection philosophy, Zanghi chose only the very best tobaccos and production methods he had learned about in his experiences with Indian Tabac and Durfort Holdings. Debonaire cigars would be ultra-premium because of the materials and production techniques Zanghi chose for the line—a process he calls "tobacco alchemy."
"During my tenure with Durfort Holdings, it had purchased a bunch of companies, including House of Windsor with all its trademarks, and I learned a bunch of different processes," Zanghi explains. "I picked out the best production methods to adopt for Debonaire cigars, including a process using steam and distilled water to pick out all the ammonia and impurities, such as pesticides, fertilizers and foreign matter from the tobacco after it's been fermented to leave behind the tobacco's essential oil. This process cleans the tobacco and gives it a very clean taste on the palate. The best compliment I get when people smoke my cigars is that they tell me that they get no aftertaste."
There are three expressions of Debonaire cigars—Maduro, Habano and Daybreak. Daybreak is made with a Connecticut Shade wrapper that was fermented for two years and is available in six sizes: First Degree (4 x 44), Robusto (5 x 50), Sagita (5 1/2 x 38, Petit Lancero), Corona (6 x 46), Toro (6 x 50) and Belicoso (6 x 54). Habano features
a proprietary Nicaraguan wrapper and is available in five sizes: First Degree (4 x 44), Robusto (5 1/4 x 50), Sagita (5 1/2 x 38, Petit Lancero), Toro (6 x 54) and Belicoso (6 x 54). Maduro uses a Connecticut Broadleaf wrapper and is available in six sizes: First Degree (4 x 44), Robusto (5 1/4 x 50), Sagita (5 1/2 x 38, Petit Lancero), Toro (6 x 54), Belicoso (6 x 54) and 33 (9 x 50). While the wrappers for each of the lines are different, all Debonaire cigars use the same binder and filler tobacco combinations of Nicaraguan and Dominican tobaccos.
"The Habano tastes like prime rib, the Maduro tastes like raisins, and Daybreak tastes creamy," Zanghi comments. "All my blends are the same but use different wrappers. I learned that from Pedro Martin [the legendary cigarmaker who owned Tropical Tobacco], who taught me how to blend cigars. They taste drastically different because of the wrapper."
Two years after releasing Debonaire ultra-premium cigars, Zanghi and Indian Motorcycle reunited to relaunch the Indian Motorcycle cigar brand. Indian Motorcycle had seen a brief renaissance in the 1990s, but by 2003, the company had fallen on hard times once again, declared bankruptcy and ceased all of its production. Five years later, a British private equity firm bought the brand and restarted production in North Carolina. In 2011, Polaris Industries purchased Indian Motorcycle and updated the company's models, including all-new Chief Classic, Chieftain and Chief Vintage motorcycles. Polaris Industries was also interested in expanding the Indian Motorcycle lifestyle brand and sought to restart its cigar line.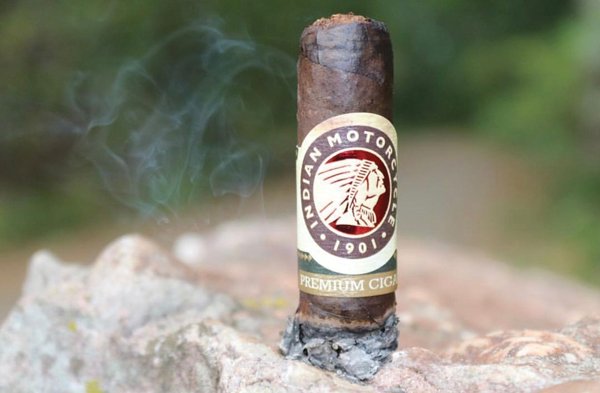 "I got a call from Chris Topper [of Topper Cigars], and he told me that Indian Motorcycle wanted to make cigars again, but they didn't want to work with the old partner," Zanghi explains. "I got ahold of the people at Polaris Industries. I explained to them what happened before. They had already checked out my background, and they wanted to work with me. Despite all the obstacles that I had encountered, they saw that I had done amazingly well in the industry. Everyone they had talked to said that I stood by my word, and they gave me the license. We launched Indian Motorcycle cigars in New Orleans at the International Premium Cigar & Pipe Retailers Association show in 2015. It sold more than I ever sold before."
Also made by Reyes Family Cigars in the Dominican Republic, Indian Motorcycle cigars feature a blend of Dominican binder and Dominican and Central American filler tobaccos with either a Connecticut Broadleaf maduro wrapper or an Ecuadorean Habano wrapper. Both of the Indian Motorcycle expressions are available in four sizes: Robusto (5 x 50), Gordo (6 x 58), Toro (6 x 52) and Churchill (7 1/2 x 50).
"My life has been blessed," Zanghi says enthusiastically. "I might not be the richest man, but I'm happy, and I love what I do, and I just don't give up—getting the rights to make Indian Motorcycle again proves that. Indian Motorcycle came back full-fling, and they're doing amazing business. I'm bringing back a brand with super pride, and I'm riding along with them. I'm blessed to work with a family like the Reyes. All of them have treated me very well. They are behind me. They make amazing cigars for me, and they believe in me. They give me the respect of a client but treat me as a family member. That's a rarity because they really believe in the Debonaire ideal and my philosophy."
Easy Rider
Now married with three children and living in the Dominican Republic, Zanghi is in the midst of writing his life story, which is sure to be an entertaining, sometimes intense and ultimately transcendent read full of hope. To be sure, Phil Zanghi III's career in the premium cigar industry has had its ups and downs. It's definitely been a rocky road and provided some seemingly impossible obstacles to overcome, including the current COVID-19 pandemic and its effect on Debonaire House and Indian Motorcycle cigars. However, his faith in God and his belief in himself have seen him ride through some pretty turbulent times and have taught him some secrets to living life successfully, so he's confident that he will weather this storm too.
"I genuinely love people, and I don't look at problems, but I look for solutions," Zanghi says. "Even in the worst of times, if you wake up in the morning and you've got a roof over your head, a blanket over you, and you have fresh water to drink, you're doing OK. There are so many plusses in life. We're born with problems. You don't know how to walk, talk or eat, but all those problems get solved as you go through life. Later in life, you need to choose the problems you want to solve. Don't let people rent space in your head for free, and don't be afraid of chasing your dreams. I want to give some people some hope. I don't make cigars—I make reasons for people to enjoy their lives. That's my slogan: suspension of reality. I'm not making cigars—I'm giving hope, positivity and trying to pass on the love. Positive thinking all comes from love."
This story first appeared in the September/October 2020 issue of Tobacco Business magazine. Members of the tobacco industry are eligible for a complimentary subscription to our magazine. Click here for details.
– Story by Stephen A. Ross