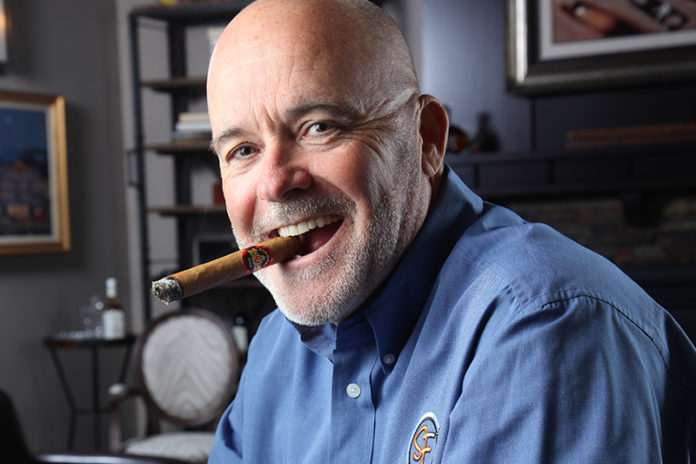 In the turbulent tobacco skies, it's nice to fly with a friendly face–an even better if that face belongs to a calm and competent pilot. Flash to Terry Gallagher, Jr.'s stogie-smoking grin, backed with decades of experience in a family-run business, and it's no wonder that the managing partner and "face" of the industry's leading tobacco outlet brand has attracted such an industry following of authorized dealers and company-owned acquisitions.
Smoker Friendly International now boats more than 850 locations, nearly 100 of them owned by The Cigarette Store Corp. (TCSC), of which Gallagher is founder and president. Well-loved for for his candor, passion and understated humor in an industry that is used to taking blow after blow, Gallagher is clearly a big part of the reason why many operators want to climb aboard and fly their businesses with the "friendly" tobacco brand.
One of those is Fred Hoyland, an industry icon himself, who owned and operated the cigar-focused Tobacco Depot chain in Tampa, Florida for over 20 years. Hoyland recently exited the industry after an acquisition agreement was struck with Gallagher and his brother, Dan Gallagher, COO of TCSC. For now, Smoker Friendly will continue to operate the stores under the Tobacco Depot banner, but will begin co-branding stores with "Smoker Friendly" in the near future.
With the Tobacco Depot acquisition, premium cigar brands are certainly art of the company's evolving strength, hut how will that change given them FDA's recent finalization of the deeming regulations, essentially stopping innovation and release of cigar brands after Aug. 8?
"We have a couple of years to sell what's in our stores now, and we're going to push all those categories and products that are affected," says Gallagher. "We think a lot of the manufacturers, especially on the premium side, will figure out how to adapt. It may not be as easy for boutique manufacturers that don't meet the predicate date; they have a different hurdle, in my mind, especially if legislation doesn't step in or help push the dates backs. But even if everything stayed the same, there are a lot of blends in our marketplace, or old blends before the predicate date, to fill our humidors."
Moving forward, he is adamant that the tobacco retail business of today is more dependent on powerful industry relationships and partnerships than ever. "This is the cornerstone of our success, which I attribute to my dad in the oil business, who passed it on to us" how important it is to have outstanding supplier, distributor and association relationships," he says. "Looking long term, we look at building for a viable future. As times change, so does the nature of the business, and you never know when those relationships on the back burner will move to the forefront and be necessary to help your business grow."
That, and the Gallagher grin, will prevail at Smoker Friendly.
Read the full version of this story in the July/August 2016 issue of Tobacco Business magazine. Members of the to tobacco industry are eligible for a complimentary subscription. Click here for details.