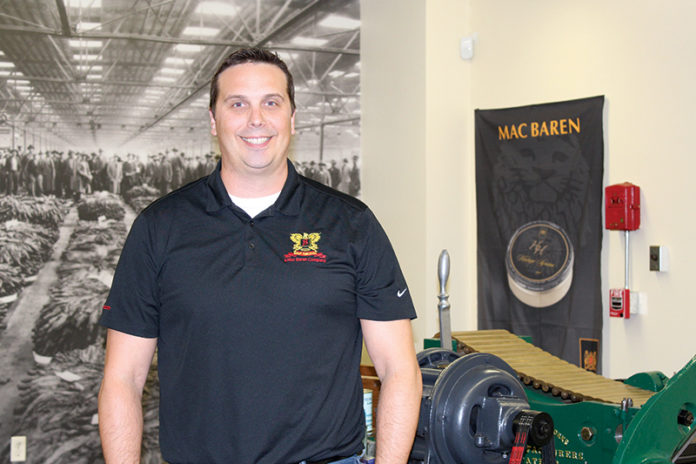 When H.W. Sutliff established Sutliff Tobacco Company in San Francisco in 1849, California had yet to become a state. Sutliff established his company as a tobacco retailer, and, like so many tobacco retailers of his day, he created his own pipe tobacco blends for his clientele. As the city grew, so did Sutliff Tobacco Company, and, by the time of San Francisco's great earthquake of 1906, the company had a well-established reputation for providing good-quality pipe tobaccos and other tobacciana. Remaining within the Sutliff family, Sutliff Tobacco Company's pipe tobaccos also grew in popularity within the region, and by the 1930s, the company enjoyed national sales for its Mixture 79, a non-aromatic cube-cut burley-based blend, which it introduced in 1933.
Sales of Mixture 79 grew to such a point that the Sutliff family focused their efforts on expanding its presence in the American pipe tobacco market. Located on the West Coast, San Francisco was far away from the tobacco fields and warehouses located in and around Richmond, Virginia, where the Sutliffs bought most of their tobaccos. Shipping the raw materials from the southeastern United States to San Francisco incurred costs and risked damage to the precious leaf. In a strategic move to improve profit margins but also to increase access to tobacco, the Sutliff family moved the business to Richmond in 1953.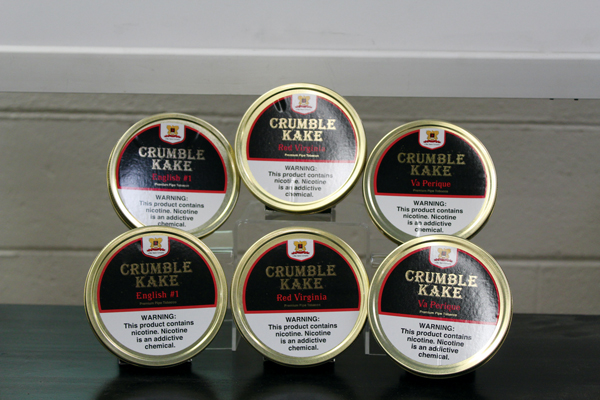 While Sutliff Tobacco Company remains in Richmond, the company has seen many changes since it moved across the country. The Sutliff family no longer owns the company. In 1969, Gordon Sutliff, the fourth generation of his family to own Sutliff, sold the company to Consolidated Cigar Corporation. Under Consolidated's management, Sutliff's brand portfolio grew massively. Throughout the 1970s and 1980s, Sutliff began providing private-label blends to customers and ramped up its Cavendish blends to follow the changing American pipe tobacco smokers' preferences for heavily aromatic pipe tobaccos. Through the purchase of other tobacco companies, Sutliff became a leading provider for bulk tobacco blends as well and became a chief supplier of value-priced blends at Walgreens stores as well as other national chains. In 2000, Consolidated Cigar Corporation merged with Altadis, and Sutliff became part of Altadis U.S.A. Thirteen years later, Mac Baren bought Altadis's pipe tobacco division, including Sutliff Tobacco Company. Mac Baren's purchase of Sutliff brought the company back into the fold of a family owned business, with Henrik Halberg, the fourth generation of Halbergs to own Mac Baren, now directing Sutliff.
Sutliff and Mac Baren can both trace back their establishment to roughly the same time, and they have both enjoyed long histories of family ownership, but the connection between them is much stronger than that—they are both committed pipe tobacco producers who seek to provide only the very best products at good values for all consumers.
"Being allied with Mac Baren gives us access to the best tobacco from around the world," says Jeremy McKenna, Sutliff Tobacco Company's president. "Henrik Halberg buys the leaf from around the world for both companies. We always had access to good leaf as part of Consolidated and Altadis, but they were more focused on cigars. Now we have someone whose sole focus is on pipe tobacco, and Henrik finds the best tobaccos available. He recently procured mature Red Virginia and Latakia for us; both tobaccos have been hard to source at times. His worldwide contacts have been invaluable at sourcing the world's best and hardest-to-find tobaccos."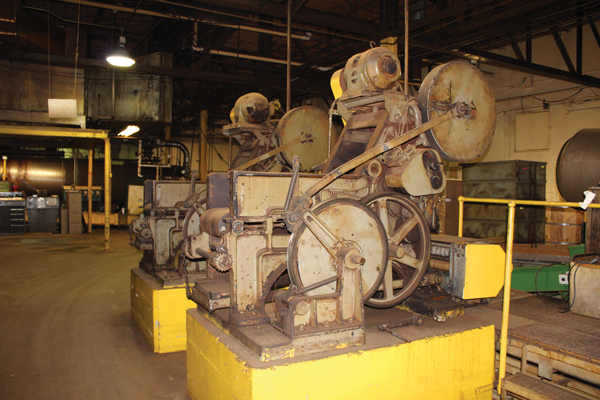 Consultative Approach
Mixture 79 is no longer Sutliff's best-selling blend, though it is still among the 250 or so tobacco blends that the company regularly produces. These 250 blends include bulk tobaccos and tinned tobaccos of either aromatic or non-aromatic varieties, as well as several private-label blends made for companies ranging from large national accounts to small, independent brick-and-mortar retailers. Z-92 Vanilla Custard is the company's best-selling aromatic blend. 515RC-1 Red Virginia is the company's best-selling non-aromatic blend. Its top-selling tinned tobacco is Three Nuns, made by Mac Baren. Sutliff distributes Mac Baren tobaccos in the United States.
The bulk tobaccos are sold in 1.5-ounce, 8-ounce and 16-ounce bags, and Sutliff requires no minimum orders, allowing the company to offer a more collegial approach in recommending pipe tobacco blends to retailers, as well as providing flexibility in packaging options that don't expose retailers to the potential risk of breaking U.S. Food and Drug Administration (FDA) regulations regarding packaging.
"It doesn't take a big commitment to order tobacco from us," McKenna explains. "You can buy an 8-ounce bag to try it. That is not a big investment to try to see how a tobacco might do in your store. We do not have minimum quantities, and we extend credit to just about anyone. We offer the different packaging options because some retailers were already re-bagging the tobaccos themselves. They were wasting time and money doing it, and then others are afraid of conflicting with the FDA's packaging rules, so we did it for them. We're willing to do whatever makes our customers' businesses better."
Improving Sutliff's customer service has been McKenna's focus since he joined the company four years ago. The company has always enjoyed a reputation for providing good service to its customers, but as the pipe tobacco industry changes with more regulatory threats and higher taxes, the entire Sutliff team is working diligently to improve the value of its service. Retailers who are considering starting a bulk pipe tobacco bar in their stores or who are thinking about replacing a slow-moving pipe tobacco can rely on Sutliff to provide a consultative conversation about their best options.
"Conversations with retailers are important," McKenna says. "We use sales numbers to help retailers select the tobaccos they want to sell. If they are calling and saying that they want to get into bulks or want to expand their bulks, we will start at the top. 'Do you have Z-92 Vanilla Custard? Let me send you a sample.' We are more than happy to send them samples of our bulk blends so that a pipe customer can give them the feedback he or she needs to decide whether to bring those tobaccos into their store. Then we go down the list. We will ask what other products they carry in their tobacco bar and then find out how we can complement them. That's the kind of support that tobacconists can rely on from us."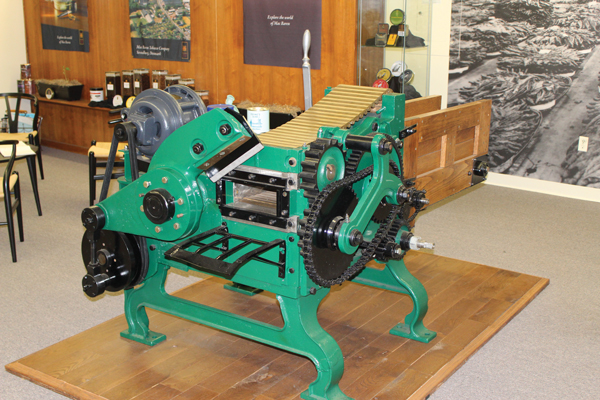 Focus on the Hobby
While drug stores and supermarkets have traditionally dominated pipe tobacco sales, premium tobacco retailers have steadily grown in importance, especially in the last 30 years. Some pharmacy chains have stopped selling tobacco products altogether, and others have greatly reduced tobacco products within their stores. Consumer tastes have also changed. More consumers are looking at experience-driven hobbies and enjoy consulting with experts on what products to try. This level of expertise for pipe tobacco is available only in premium tobacco retail shops. With more than 550 blends on its menu but only regularly producing less than half of them, Sutliff Tobacco Company has resources that it is dedicating to provide brick-and-mortar retail tobacconists an exclusive line of premium pipe tobacco blends as part of its Tobacconists Reserve line, which is available beginning in June.
"Brick-and-mortars are an important part of our industry," says McKenna. "That's where people start smoking a pipe. They learn all the tools they need and how to smoke it. Brick-and-mortar shops build the excitement around the pipe-smoking hobby. Giving brick-and-mortar retailers a product that they cannot be undercut on by online or catalog sellers helps them build stronger businesses. They can carry it and have people come directly back to their stores to buy it again. We'll launch Tobacconists Reserve with two really high-end products—an aromatic and a non-aromatic—to give consumers a chance to savor both flavor profiles."
Sutliff Tobacco Company learned a long time ago that providing its customers more than just great products is the key to staying in business. It is a philosophy that has allowed Sutliff to navigate 170 years of business, and sticking to the philosophy will ensure that it has as strong a future as it has a past.
This story first appeared in the May/June 2019 issue of Tobacco Business magazine. Members of the tobacco industry are eligible for a complimentary subscription to our magazine. Click here for details.
– By Stephen A. Ross, senior editor of Tobacco Business Magazine.