Mariut: Carlito Fuente was an interview that stood out for me, aside from the countless other amazing interviews. Before shooting the interview, we spent an entire day with him. We ate with him, smoked cigars with him, had coffee with him. He took us on a tour of his factory and Chateau Fuente, and explained every little detail and thought behind his design of the factory and farm. After a full day of hanging out, we finally started our interview at about 9 p.m. It was an incredible day that we didn't want to end!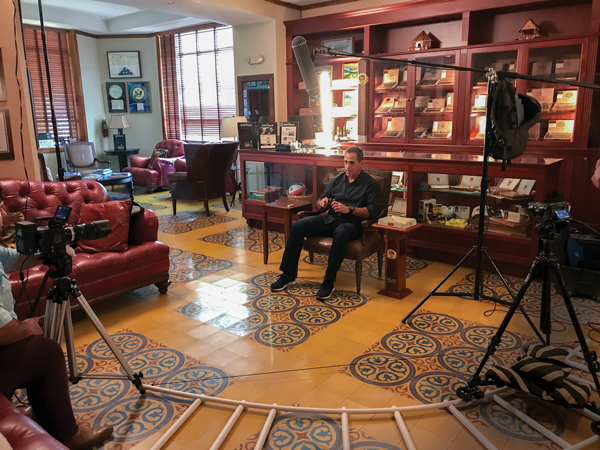 How does Hand Rolled bring the cigar industry together?
Mariut: Through education. A lot of consumers have a general knowledge of what goes on behind the scenes in the making of their favorite cigars, but we hope our film will reveal a lot they don't know about yet and create a whole new love and passion for the leaf.
While the audience is sure to learn something new about cigars after watching the documentary, what have you learned while filming and producing it?
Gherebean: This film taught us the importance of having a plan. Because we've been working with shoestring budgets, we haven't had the luxuries that many filmmakers get. Both Jesse and I have worn every hat—from director, to grip, to personal assistant, to fundraiser. Having a strategy for every meeting and interaction helps you stay focused in the midst of all the chaos.
What are your tips for other entrepreneurs who want to take on a project the scale of what you did with Hand Rolled?
Mariut: Don't be too cocky to admit you can't do something or don't know enough about a specific thing. Know your strengths and your weaknesses, and bring on people that will work well with you and help make your project the best that it can be. Anything less than your best is a felony, so just make better mistakes tomorrow.
This story first appeared in the May/June 2018 issue of Tobacco Business magazine. Members of the tobacco industry are eligible for a complimentary subscription to our magazine. Click here for details.
– Story by Antoine Reid, an editor and digital content director for Tobacco Business Magazine. You can follow him on Instagram @editor.reid.