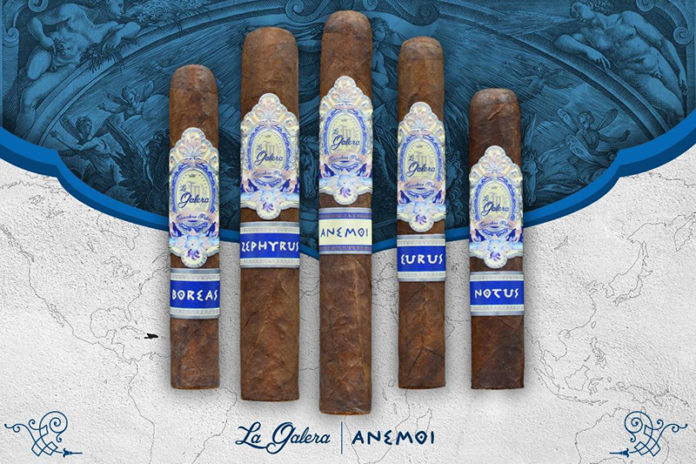 La Galera is paying homage to the wind for its next release that's set for a debut at the 2019 International Premium Cigars & Pipe Retailers Association (IPCPR) trade show and convention in Las Vegas. La Galera Anemoi (pronounced An-nem-oy) is a new cigar brand that celebrates the role wind has in growing tobacco.
La Galera Anemoi features a Connecticut Broadleaf wrapper, a mix of Dominican Criollo '98 and Piloto Cubano grown tobacco for the filler, and an Anemoi Corojo binder grown in the Jacagua region of the Dominican Republic. This is the first La Galera line to use a Connecticut Broadleaf wrapper and the filler tobaccos are all grown at José "Jochy" Blanco's La Canela farm. La Galera Anemoi will come in five different sizes, four of them named after Greek wind gods: Boreas (named after the god of the north) (4 3/4 x 46); Notos (named after the god of the south) (5 x 56); Eurus (named after the god of the east) (5 1/2 x 48), and Zephyrus (named after the god of the west) (6 x 60). The fifth vitola is named after the collective name of the Greek wind gods, Anemoi (6 3/8 x 52). MSRP will range from $8.50 to $12 per cigar. La Galera Anemoi will be rolled at Tabacalera Palma factory, owned by Blanco, in the Dominican Republic.
La Galera Anemoi will be presented in 20-count boxes and will be offered to some of the company's top retail partners first. It will make its official debut at IPCPR 2019.
For all the latest news from La Galera Cigars, visit lagaleracigars.com.